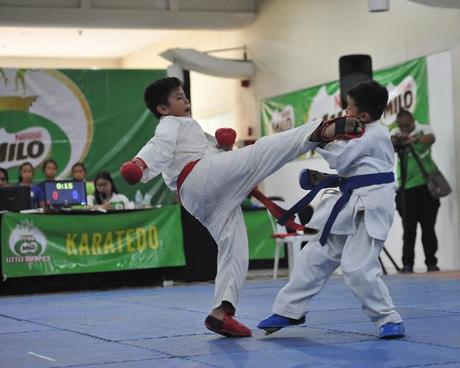 The 2015 MILO Little Olympics recently concluded its first two regional legs in South Luzon held in Sta. Cruz Laguna, and Mindanao, in Cagayan de Oro City. Dasmariñas II Central School and San Beda College Rizal bagged top honors in the South Luzon leg while Corpus Christi School championed both divisions in the Mindanao leg.
Team South Luzon showed no signs of slowing down as over 4,063 student-athletes from over 700 teams ignite their winning streak and went full throttle in 15 different sports events including Athletics, Badminton, Basketball, Football, Gymnastics, Lawn Tennis, Swimming, Table Tennis, Taekwondo and Volleyball, Chess, Sepak Takraw, Scrabble and two new demo sports in the lineup, Karatedo and Arnis.
From last year's second spot in the NCR leg, San Beda College-Rizal emerged as the champion of this year's regional games with a score of 102 points. Emilio Aguinaldo College-ICA landed on the second place with 91 points and Far Eastern University FERN College Diliman made it in third place with 75 points. Not to be overlooked are the fourth to tenth placers which are Kings Montessori School (68 points), San Pedro Relocation Center National High School (50 points), Sisters of Mary Of Banneux Inc (44 points), Paliparan National High School (35 points), UP Integrated School (33 points), Miriam College (30 points) and Arellano University (28 points).
Dasmariñas II Central School gained ground and clinched the top rank in the elementary division of the South Luzon leg with 90.5 point, setting a massive lead of 40 points against second placer Academy of God's Children with 50 points, while Legarda Elementary School completed the top three with 46 points. Rounding up the top ten schools are Escuela De Sophia Of Caloocan, Inc. (43.5 points), Diliman Preparatory School (42.5 points), Statefields School, Inc. (39 points), Diosdado Macapagal Elementary School (37 points), Nuestra Señora De Guia Valenzuela (35 points), Concepcion Elementary School (32 points), while Colegio Monterei De Pila, Commonwealth Elementary School and Pacita Complex Elementary School established a tie, each scored 30 points.
In the Mindanao leg, held in the Gregorio Pelaez Sports Complex, southern bets Corpus Christi School once again ran the show in both the elementary and secondary divisions. An estimated number of 2,000 young local athletes from 149 schools across the region went head-to-head in the three-day prestigious competition.
Secondary division champion Corpus Christi School garnered 151.33, relegating Misamis Oriental General Comprehensive High School to second place with 94.5 points and Zamboanga Del Sur Sports Academy-Pagadian City to third with 92.83 points. Completing the top ten schools are Tangub City National High School (50 points), Iligan City National High School (47.5 points), Xavier University High School (45.5 points). Tagum City National Comprehensive High School and Ateneo De Davao University drew a tie as the seventh placer with 45 points, while University of Mindanao-Tagum City and Koronadal National Comprehensive High School both secured the eighth spot with 44 points.
In the elementary division, Corpus Christi School earned the highest marks with 136.5 points. City Central School-Cagayan De Oro ranked second with 75.4 points and Xavier University Grade School won third place with 66 points. Conquering the spots from fourth to tenth are Ateneo De Davao University (58 points), Igpit Elementary School (55 points), Koronadal Southern Elementary School (49 points), Oroquieta City Central School (47 points), West City Central School-CDO (42 points), Tangub City Central School (40 points) and Iligan City SPED Center (34 points)
The 2015 MILO Little Olympics eliminations leg will head over to North Luzon on September 4-6 in Baguio, before heading to Visayas on September 11-13 in Iloilo. All winners from the elimination legs will represent their region in the 2015 MILO Little Olympics National Finals in Santa Cruz, Laguna on October 23-25, 2015.