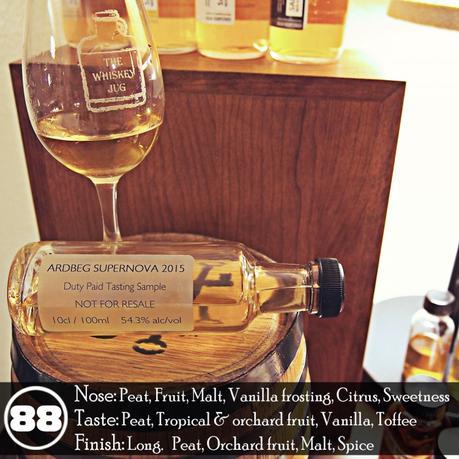 The 2015 Ardbeg Supernova is the 3rd Supernova release to hit the market. The first Supernova was released back in 2009 and is now a legendary whisky that fetches some insane prices at auction. 5 years after the initial release Ardbeg tested the Supernova waters again by releasing the 2014 Supernova which was good, but seemed to be missing something; there was no "monster" aspect to the whisky which I had come to expect from everything I'd read about the 2009 release.
Monster whiskies are interesting. They can be awesome, they can be fun and surprising, but they're rarely balanced. On the surface balance seems to fly in the face of the very nature of a monster since their lop-sided brutality is what attracts us to them, but balance is what creates infamous White Whales. Beautiful monsters that demonstrate power and balance in a way that forces collectors spend their days scanning the metaphorical horizons looking for them to show up in actions and estate sales.
2015 Ardbeg Supernova Info
Region: Islay, Scotland
Distiller: Ardbeg
Mashbill: 100% Malted Barley
Age: NAS
ABV: 54.3%
PPM: 100
Price: $190*
2015 Ardbeg Supernova Review
EYE
Golden
NOSE
Basically smells like a smokier Ardbeg 10. Peat, fruit, malt, vanilla frosting, citrus and a nice malty sweetness glide out of the glass followed by lighter notes of Twizzlers and a slight bit of harsh alcohol bite.
PALATE
Peaty and similar to the aroma but with a richer tropical and orchard fruit flavor. Vanilla, light toffee, hazelnuts and a spiced fruity cake follow into the finish.
FINISH
Long and peaty with notes of orchard fruit, malt and a light bit of spice.
BALANCE, BODY & FEEL
Not quite balanced with the peat overshadowing everything else. Medium body and a slick oily texture.
OVERALL
2015 Ardbeg Supernova is a peaty beast of a whisky. Like all of the previous Supernovas it's the most heavily peated whisky Ardbeg puts out but that peaty powerhouse comes at a cost and that cost is balance. There are some nice fruity notes that come through, but they're overshadowed by the denseness of the smoky peat. If they came through a bit more and brought a nicer balance to the whisky then it'd be a 90+ whisky which would help reduce some of the sting from its nearly $200 price tag.
While the 2015 Ardbeg Supernova isn't a fully balanced monster the prevalence of the fruity notes show signs that one could be on the horizon if Ardbeg allowed some of the barrels to age more, letting some of the peat die out and bring up those fruity flavors, it could create a nice balance. If it did that I could see Supernova once again being the coveted super whisky everyone wants it to be once again.
SCORE: 88/100
*Disclosure: This sample of the 2015 Ardbeg Supernova was graciously sent to me by the company for the purposes of this review. The views, opinions, and tasting notes are 100% my own.