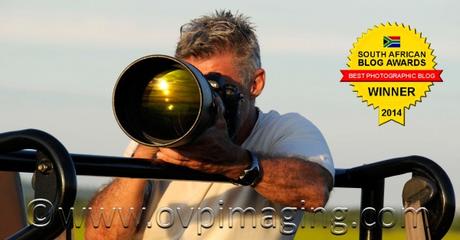 Belated but heartfelt Happy Easter . . . and THANK YOU to all of you who voted for our Outdoor Video & Photographic website www.ovpimaging.com for SA Best Photographic Blog in the 2014 SA Blog Awards. Dave and I sincerely appreciate your invaluable support, which contributed to us winning this category. We are truly grateful to all members of the public and the judges, who are "experts in digital and traditional media and include a variety of well versed high profile personalities" such as Andrew Barnes (senior anchor at eNCA), Breyton Paulse, Chester Williams and Ryan O Connor of KFM, among others.
It is especially humbling being in the company of great blogs like runner-up Ranger Diaries, which features many of South Africa's top safari guides and lodges, and which won SA Best Photographic Blog and SA Best Environmental Blog for the previous 3 years. With wildlife being such a big passion of ours, we've followed their blog for a long time. Kicking off our Easter weekend with an interview on the Blaque Life show at online radio www.cliffcentral.com, we were asked to share details about this accolade, which turned my mind back to the beginning, starting out in the blogosphere right here on this site.
Before going into that – in case you've forgotten how we look because of my infrequent posts
– here is a pic of us with the broadcast team of Tumisho Masha (left of pic), Monwabisi Thethe (right of pic) and Wilmarie SA Speedqueen (second from right), as well as fellow guest Hema Vallabh of The Passionate Professional (second from left). We had a great chat together, exploring questions about entrepreneurship, mentorship, social media and of course blogging.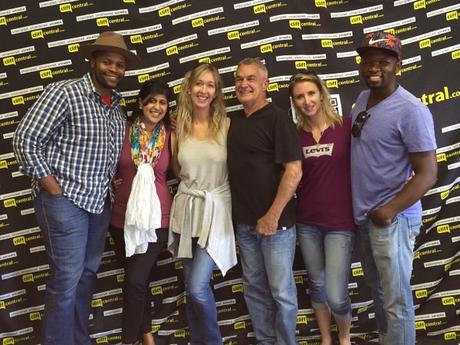 I have so many memories of the insight, inspiration and priceless support that I've received over the past 6 years from special bloggers, including Nancy from across the globe at Spirit Lights the Way, who nominated this blog back in 2010 for the same category of SA Best Photographic Blog. Without you and Cindy, closer to home at The Only Cin, I would not have known about the SA Blog Awards . . . and what a journey it has been since being a finalist then.
Sincere thanks also to unforgettable fellow travellers: Agrigirl, Kate Shrewsday, Lance Ekum of The Jungle of Life, Lin Eleoff, Jamie Dedes at Musing by Moonlight, Souldipper, Tokeloshe and a number of other bloggers. Special mention also to Sandy Salle of Hills of Africa Travel, who has been a cherished friend since meeting online in 2009, as well as Michelle Salater of Written by Sumer, who helped tremendously in upgrading my blogging experience.
Success comes with a significant back story and countless contributors, each deserving recognition and gratitude, so this is a great big shout out to you all, from Dave and me. THANK YOU!

If you'd like to follow our posts at www.ovpimaging.com, simply register on our site to receive free content and updates, aimed at helping you promote your company or career via images and video.