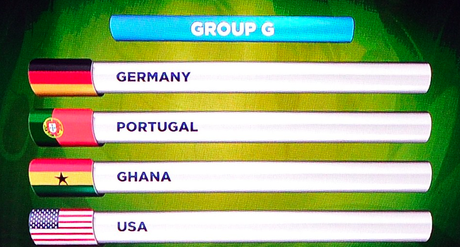 Is this the toughest group of the 2014 World Cup?
The final draw of the 2014 World Cup groups has been made, and there's a definite certainty for some big nations to face early elimination as a variety of "Groups of death" have been formed. Here are the groups below:
Group A
- Brazil, Croatia, Mexico, Cameroon
Group B
- Spain, Netherlands, Chile, Australia
Group C
- Colombia, Greece, Côte d'Ivoire, Japan 
Group D
- Uruguay, Costa Rica, England, Italy 
Group E
- Switzerland, Ecuador, France, Honduras
Group F
- Argentina, Bosnia-Herzegovina, Iran, Nigeria 
Group G
- Germany, Portugal, Ghana, USA
Group H
- Belgium, Algeria, Russia, Korea Republic
It's fairly difficult to properly identify which of these groups is truly
the
"Group of death", groups B, D, and G will be attracting the majority of attention with some big clashes like Spain - Netherlands, Italy - England, and Germany - Portugal. One must consider that various "dark horse" teams like Belgium, Argentina, Bosnia-Herzegovina, France, and the Ivory Coast are in strong positions to make it out of the group stages, and with the possibility of a few top nations being knocked out early in the groups of death, these groups could lead to one of the most surprising and entertaining World Cups yet.
If all of this isn't enough to get you mildly interested in FIFA's big tournament, perhaps the possibility of this whole draw being fixed (as
this Twitter account
suggests) will manage to grab your attention. This account tweeted the World Cup groups before the draw, even predicting details like Italy's move from the fourth pot to the second pot. There are some who suggest the account might have tweeted every possible group possibility, and then deleted the incorrect ones, however for now nobody is sure.
With the groups as exciting as they are, what are your early predictions on which teams will make it into the second stage? What are your opinions on the possibility of the draw being fixed? Share your comments below!