www.olympicceremony.org
2008 Beijing
                                                                                      Rio de Janeiro 2016 The Games of the XXX Olympiad London, England
2012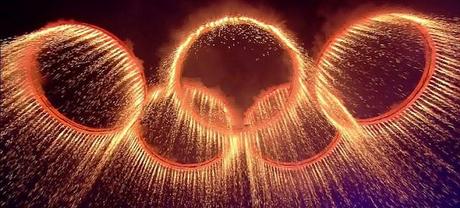 Opening Ceremony of the 2012 Olympics in London
Olympic Ceremony Records
italics indicate records at the time
First to Use LED Screen Effects in Stadium Seating
First Emphasizing Live Film Production
First to Use Livestock
First to Cover the Stadium Floor in an Interchangeable Stage
First Summer Olympic Ceremony to Not Sing the Current Olympic Hymn (instrumental version performed: this version of the Olympic Hymn was performed in 1896, 1960-present)
First Olympic Cauldron Assembled During the Ceremony

Most Olympic Events (302) - tie Beijing 2008 (302)
Olympic Torch Relay Records
italics indicate records at the time
First Torch White-water Rafted
First Torch Carried on Zip Wire
Most Torchbearers to Light the Cauldron (7) - Previous Seoul 1988 (3)
Opening Ceremony
Olympic Stadium (62,000)
July 27, 2012
Official Report
No Official Report ... yet
Complete Video
Complete Video Coming Soon!!!
Opening Ceremony Highlights
The Opening Ceremony in London was one of the most anticipated ceremonies in Olympic history.  Coming off of the immense spectacle of the Beijing Olympics, the London games had a smaller budget but made great innovations.  Most notably, the ceremony was produced cinematically - this means that the television broadcast of the event was the primary artistic goal.  Unfortunately, several broadcasts around the world did little to help the ceremony's artistic descriptions.  In the USA, NBC did not broadcast the event live, they omitted one of the climax artistic segments (Abide with Me) commemorating those lost in London bombings in 2005 (the day after London won the right to host the Olympics), and commentary was substantially inconsiderate toward the descriptions of many nations (Australia introduced as a penal colony; Madagascar was noted for the movies named after it; and many of the nations were mispronounced); among other gaffes, NBC also made jokes about not knowing the inventor of the World Wide Web (Tim Berners-Lee) and belittled his importance.  Berners-Lee was one of Time's 100 Most Important People of the 20th Century.  
Notwithstanding the embarrassing commentary of the American broadcasters, the London Opening Ceremony could likely be more influential than Beijing.  Beijing, while they created a spectacular show, did little to advance artistic innovation.  London will likely set a precedent for future ceremonies in their cinematic nature and in the advancement of LED screen technology which created several spectacular effects within the stadium.  While the ceremony was a great spectacle of the British pop culture, unfortunately it did little to showcase their rich classical music history and choral music history.  The choirs selected to perform were of modest quality compared to the rich traditions of the British and to a musician (like myself) I was certainly unimpressed that the country with the richest choral tradition in the world decided to be the first Summer Games to not sing the Olympic Anthem; little ceremonial British pomp was displayed and instead many hilarious moments were infused throughout - certainly entertaining, the lightheartedness of it was highly criticized in the world press however.  London will certainly be remembered for their hilarious stunts and sometimes bizarre images, but they made several great advancements in the ceremonial art and perhaps have created a new path for future ceremonies to tread - will the Olympic ceremonies continue in this cinematic tradition or will Rio return to the mass performance style of Beijing?
Quick review:
Red Arrows jets perform aerial stunts
"Nimrod" from Enigma Variations by Elgar performed by the London Symphony Orchestra
"Isle of Wonder" artistic segment

Video (tracing the River Thames with pastoral shots in the stadium, which is arranged in a typical English countryside)
Bradley Wiggins, Tour de France winner, rings the Olympic Bell (first since the infamous games of 1936)
Children's Choirs perform hymns from the four countries of the UK (Jerusalem - England, Danny Boy - Northern Ireland, Flower of Scotland - Scotland, Bread of Heaven - Wales)
Men in Victorian dress enter and transform the "Green and Pleasant Land" into "Pandaemonium" (the capitol of Hell in Paradise Lost) symbolizing the Industrial Revolution
Olympic Rings forged and raised

Video of James Bond escorting the actual Queen Elizabeth onto a helicopter, actors base jump from helicopter above the stadium
Queen of England arrives with dignitaries
National Anthem performed by the Kaos Singing Choir for Deaf and Hearing Children
"Isle of Wonder" artistic segment ctd.

National Health Service segment with nurses and children dancing on beds
Children's dreams and nightmare segment featuring prominent figures in British literature
"Chariots of Fire" performed with comedic routine by Rowan Atkinson's Mr. Bean
British Pop Culture segment featuring pop music and television of the past century with dancers and subplot love story
"Abide with Me" performed Emeli Sande with dance by Akram Khan commemorating those lost in the 7/17 London terrorist attack in 2005, the day after London won the election to host the games (not aired in the US)

Parade of Nations
"I Bet you Look Good on the Dancefloor" and the Beattle's "Come Together" performed by the Arctic Monkeys as doves on bikes ride and fly among the athletes
Queen of England declares the games open
Olympic Flag raised to the Olympic Hymn (unsung)
Olympic Oaths taken
Olympic Flame arrives at the stadium; Cauldron lit by seven young athletes: Callum Airlie, Jordan Duckitt, Desiree Henry, Katie Kirk, Cameron MacRitchie, Aidan Reynolds, and Adelle Trace
"Hey Jude" performed by Paul McCartney
Photos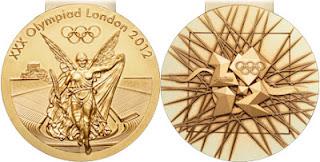 2012 London Olympic Gold Medal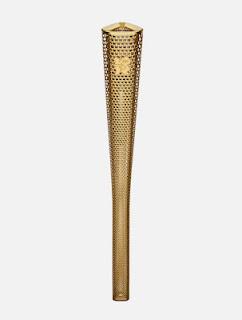 Torch from the 2012 London Olympics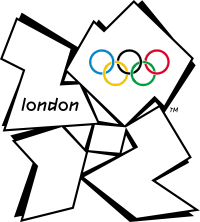 Official Logo of the 2012 London Olympics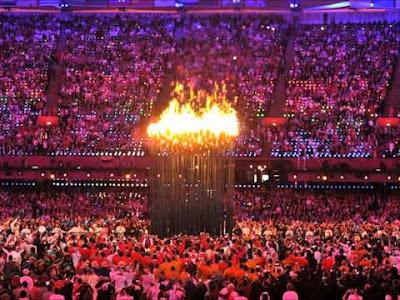 London 2012 Olympic Cauldron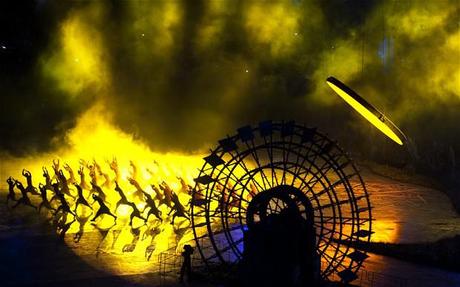 Opening Ceremony of the 2012 Olympics in London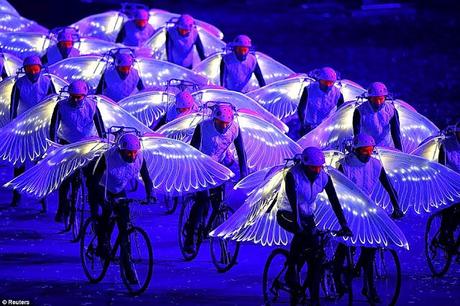 Opening Ceremony of the 2012 Olympics in London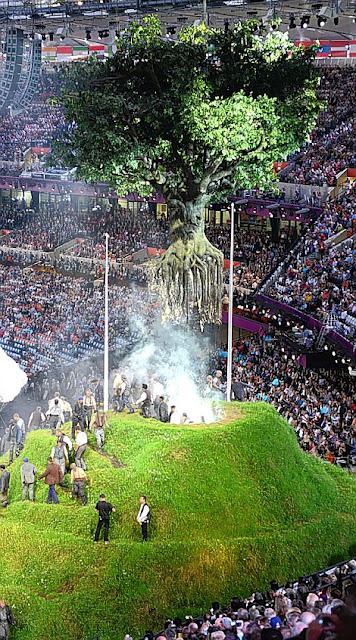 Opening Ceremony of the 2012 Olympics in London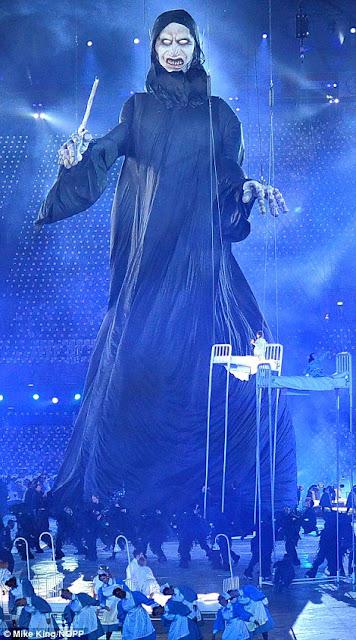 Opening Ceremony of the 2012 Olympics in London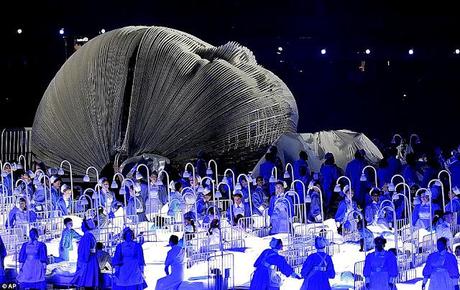 Opening Ceremony of the 2012 Olympics in London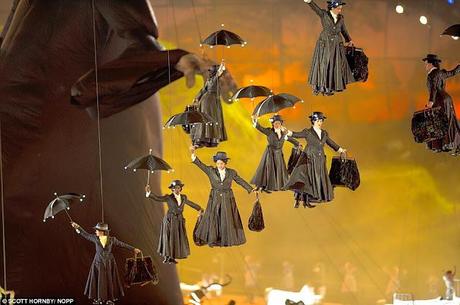 Opening Ceremony of the 2012 Olympics in London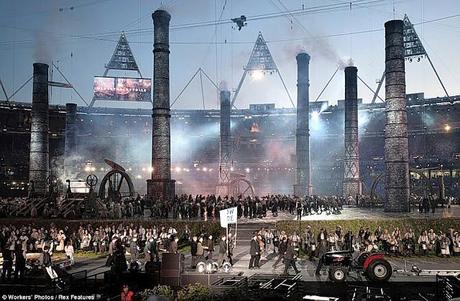 Opening Ceremony of the 2012 Olympics in London

OLYMPIC CEREMONY DATABASE
1896 - 1900 - 1904 - 1906 Intercalated - 1908 - 1912 - 1916 - 1920 - 1924 - 1928 - 1932 - 1936 - 1940 - 1944 - 1948 - 1952 - 1956 Equestrian - 1956 - 1960 - 1964 - 1968 - 1972 - 1976 - 1980 - 1984 - 1988 - 1992 - 1996 - 2000 - 2004 - 2008 - 2012