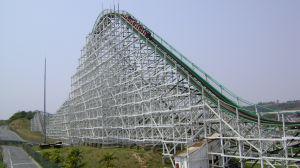 With the summer season beginning in a few days, our thoughts turn to one of our favorite attractions here in the USA:
theme parks
.  We're not just talking about the cheap roaming theme parks with Tilt-a-Whirls and Ferris Wheels.  The theme parks we are interested in are all about taking the experience to new levels with taller and faster roller coasters, hi-tech rides, and new experiences that make you say "Woah!"  In order to be the best, theme parks have to keep pushing the limits every year, making each season better than the rest and 2012 will be one of the best in recent memory.  (Photo "Roller Coaster" by
tata
)
The following are some of our favorite parks in the USA and their respective must ride attractions!
Ohio is the Theme Park King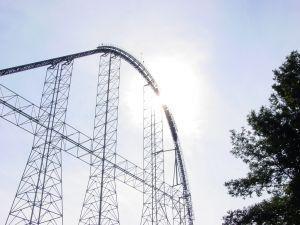 It is with great pride that we say our home state of Ohio is one of the theme park capitals of the world.  Not only is Ohio home to the best amusement park in the world, Cedar Point, a few hours South you'll find the sister park Kings Island, one of the most visited amusement parks in the country.  Together, these two Ohio staples boast an impressive 30 roller coasters in every single height classification from below 100 foot to over 400 foot tall and over 120 other rides that appeal to guests of all ages.  Not bad for only a 4 hour drive separates the two, so close that you can make one trip and get double the fun!  (Photo "A Tall Rollercoaster" by
herkalees
)
The must ride list for Cedar Point and Kings Island includes:
Magnum XL-200 (Cedar Point - World's First 200 ft Coaster)
Millennium Force (Cedar Point - World's First 300 ft Coaster)
Top Thrill Dragster (Cedar Point - World's First 400 ft Coaster)
Maverick (Cedar Point - 95 Degree Drop)
Firehawk (Kings Island - Flying Coaster)
Diamondback (Kings Island - 200 ft Coaster)
The Beast (Kings Island - Longest Wooden Coaster in the World for 33 Years)
Six Flags Magic Mountain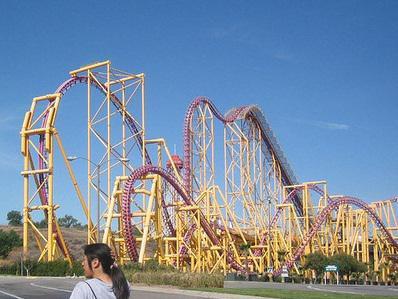 Located in Valencia, California, Six Flags Magic Mountain is what we like to consider the flagship park of the Six Flags brand.  Although the park has been in operation for over four decades, it has only been recently that Magic Mountain has been put on the theme park map with its passing of Ohio's Cedar Point for the most roller coasters in the world (currently 17).   While seventeen roller coasters may be impressive, the reason this park is one of the best in the country is due to the variety of coaster types.  Be it tall, long, fast, inverted, flying, or 4th dimensional, the park has it all.  Be warned, you may need more than one day and an iron stomach just to try them all out!  (Photo "X2" by
themeparkgc
and
elisasizzle
)
The must ride list for Six Flags Magic Mountain includes:
X2 (World's First 4th Dimensional Coaster)
Tatsu (Flying Coaster)
Superman: Escape from Krypton (World's First 400 ft Thrill Ride)
Scream! (Floorless Coaster)
Green Lantern: First Flight (4th Dimensional Coaster)
Disney Theme Parks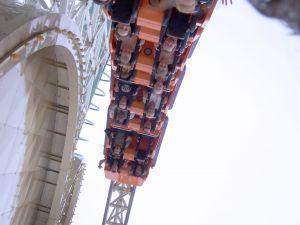 What kind of travel site would we be without mentioning the king of theme parks: Disney!   With several parks located outside of Orlando, Florida including our favorites of Magic Kingdom and Animal Kingdom, and
Disneyland Southern California
with California Adventure adding even more thrills to the mix, the Disney franchise has been the definition of theme parks for many decades.  (Photo "Rockin California" by nvision88)
Unlike the other parks featured in this post, Disney is not purely focused on creating the next biggest and baddest roller coaster.  While the parks have several great roller coasters, the Disney experience is more like a trip into the cartoons and movies loved by everyone.  Theme and artistic direction shines at every park and the attention to detail on the characters, ride features, or in general walking areas is what gives the Disney parks a charm unlike any other.  The best part? Getting into all the parks is quite easy as many
Florida theme park packages
exist to help you hit them all in even the most limited of schedules!
The must ride list for the Disney Parks includes:
Mission: SPACE (EPCOT - Themed Motion Simulator)
Space Mountain (Magic Kingdom - Themed Roller Coaster)
Splash Mountain (Magic Kingdom - Water Ride with Drop)
Twilight Zone Tower of Terror (Hollywood Studios and California Adventure - Drop Tower)
World of Color (California Adventure - Show) 
For those who cannot make it out to this US this summer to check out the great theme parks, don't worry!  Many of these brands have parks throughout the world for your thrill seeking pleasure.  Find the one that is closest to you and hit the rides!