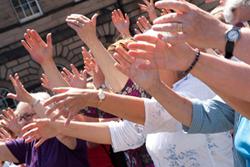 For a while, I've been thinking that I don't want to go down the route of just 'taking photos'  - I'd like to get involved in projects that are worthwhile, and I'm particularly keen to support a project with a social conscience that's working to improve their community.
Are you involved with a charity in Scotland that wants to update its image, or a social enterprise that could make good use of new photos of its activities for promotional use?
I'm offering to spend some time early in 2012, getting involved with one charity or social enterprise that's based in Scotland. I'll donate my time free, and undertake to take photos of  the chosen organisation's activities for use on their website and in their promotional materials.
You can see examples of my commissioned work on Flickr
If you'd like to register an interest on behalf of a charity, or find out more, please use the contact form below.
Charity giveaway - register your interest before 30th November 2011
*
(denotes required field) First Name:
*
Last Name:
*
Please enter your own email address
*
(Your email address will only be used to contact you regarding this project. It will not be passed on to 3rd parties for any purpose.) Enter the charity or social enterprise's name
*
Enter the charity or social enterprise's website address
*
What is your role with the organisation?
*
Briefly describe the organisation's aims (max 300 characters)
*


CAPTCHA Code:
*
Powered by Fast Secure Contact Form