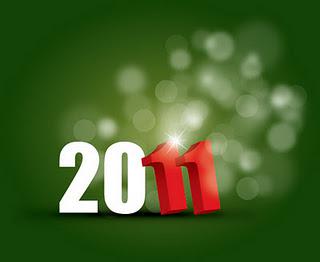 I'm wrapping up 2011 at Read It, See It a bit early this year so that I can spend time with my
family
and just relax these last two weeks of 2011. It was a crazy year personally (I left my job and moved to Texas!) and Read It, See It hasn't always been top of my priority list, heck, sometimes it hasn't even made the top 10! I do love blogging, but finding time for it when things get crazy hasn't been easy and 2011 has definitely proven that for me.
I'm approaching 2012 a little different. In 2011 I spent a lot of time worried about not posting and being busy. I kept asking myself: Am I reading enough? Am I interacting enough? Well, in 2012, I'm going to stop the worrying and go with the flow. I've built some blogging time into my daily schedule and whatever happens in that time frame is what happens. I'm also not setting out to read a certain number of books next year either. I've fallen about 25 books short of this year's goal and to be honest it makes me feel kind of crappy. I read a lot. I read way more than the average American and way more than anyone I know personally. Trying to read a certain number or comparing myself with other bloggers is a waste of my emotional energy, so that won't be happening next year either.
I'm also going to be ditching the Follower box on the blog. As much as I hate to admit it, the numbers matter a little too much to me, or rather, I worry that I'm doing something wrong when they don't go up. Those numbers take the fun out of blogging. There's an RSS button on the top of the blog and Google Reader is super easy to use. I've also connected Read It, See It to
my twitter stream
and you can always get there via that. The Follower box is just one more distraction I don't want to deal with. And with Google Friend Connect going away for all non-Blogger bloggers, well, I think that's going to be a pretty common thing in 2012.
As of December 17 (as I write this post) I read:
73 books
which translates to
23354 pages
10 non-fiction
and
63 fiction books.
On Read It, See It:
133 total posts
, with no posts in June or July for summer break Of those 133,
40 of those posts were Book Reviews
August
was the most post heavy month with
22 total posts
Allowing for the 2 skipped months, Read It, See It
posts 13.3 posts a month
or roughly
every 2.25 days
.
All in all, not a bad blogging year. I'm really excited about 2012 and hope all of you have a wonderful holiday and a happy new year!