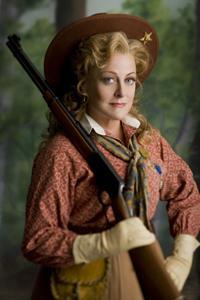 Deborah Voigt locks and loads.
Photo © Glimmerglass Festival
Upstate New York's finest opera company opens its doors (and rolls back its walls) on July 2 for a summer season that runs through August 23. Located in historic Cooperstown, New York, Glimmerglass presents a mix of classic operas, new music, rarities, and the occasional musical. Here's what's on tap for this summer.'
Schedule Note:
Cooperstown is home to the National Baseball Hall of Fame and Museum. Opera-goers are advised to avoid July 22-25--it's almost impossible to get a hotel room.
All operas are presented at the Alice Busch Opera House, at the picturesque north end of Lake Otsego in Cooperstown.
Carmen
by George Bizet
The season opens and closes with this perennial favorite: the story of a Gypsy cigarette roller who winds up on the wrong side of the law, and in a doomed relationship with the soldier Don José. And you thought smoking would kill you.
July 2, 9, 11m, 15, 19, 23, 25m 31m
Aug. 5, 8m, 11, 13m, 20, 23m
Medea
by Luigi Cherubini
Alexandra Deshorties sings the title role as the spurned Greek princess who lends new meaning to the term "hellish vengeance." Jason Collins sings the role of Jason (fittingly enough), the captain of the Argonauts who draws her wrath.
July 8, 10m, 23m, 28, 30m. Aug. 1m, 6, 14m, 16m
A Blizzard on Marblehead Neck
by Jeanine Tesori
Later That Same Evening
by John Musto
A double bill of new one-act operas.
Blizzard
, with a libretto by Tony Kushner (
Angels in America
) is based on an incident from the life of Eugene O'Neill.
Evening
(with book by Mark Campbell) draws its inspiration from the paintings of Edward Hopper.
July 21, 26m, 29; Aug. 7m, 13, 22m
Annie Get Your Gun
by Irving Berlin
Deborah Voigt trades her Valkyrie wings for a Stetson and a six-shooter. The diva takes aim as Annie Oakley in Irving Berlin's beloved musical. Rodney Gilfrey is Frank Butler, but anything he can do, she can do better.
July 16, 18m, 22, 24m, 30
Aug. 2m, 4, 6m, 9m, 12, 15m, 18
m=matinee performance starting at 1:30pm.