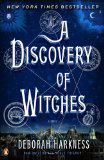 A Discovery of Witches
by Deborah Harkness
Deep in the stacks of Oxford's Bodleian Library, young scholar Diana Bishop unwittingly calls up a bewitched alchemical manuscript in the course of her research. Descended from an old and distinguished line of witches, Diana wants nothing to do with sorcery; so after a furtive glance and a few notes, she banishes the book to the stacks. But her discovery sets a fantastical underworld stirring, and a horde of daemons, witches, and vampires soon descends upon the library. Diana has stumbled upon a coveted treasure lost for centuries-and she is the only creature who can break its spell.
Thoughts
: This was everything I love about reading fiction. It lost me in a different world, there was romance, danger, adventure, and a little bit of magic. It was a brick and a cliffhanger, but I really enjoyed reading it.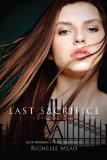 Last Sacrifice
by Richelle Mead
The astonishing final novel in Richelle Mead's epic series! Murder. Love. Jealousy. And the ultimate sacrifice. Now, with Rose on trial for her life and Lissa first in line for the Royal Throne, nothing will ever be the same between them.
Thoughts
: This series is amazing. I was really sad to see it end, but really glad I got to read it all. Bonus points for my teeny tiny hometown appearing in the final book! Check out my review!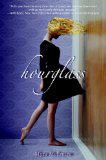 Hourglass by Myra McEntire
For seventeen-year-old Emerson Cole, life is about seeing what isn't there: swooning Southern Belles; soldiers long forgotten; a haunting jazz trio that vanishes in an instant. Plagued by phantoms since her parents' death, she just wants the apparitions to stop so she can be normal. She's tried everything, but the visions keep coming back. So when her well-meaning brother brings in a consultant from a secretive organization called the Hourglass, Emerson's willing to try one last cure. But meeting Michael Weaver may not only change her future, it may change her past.
Thoughts:
This book was just awesome. It was funny, romantic, and original! I loved every single page of it. Check out my review!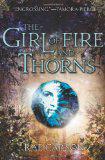 Girl of Fire and Thorns by Rae Carson
Once a century, one person is chosen for greatness. Elisa is the chosen one. But she is also the younger of two princesses, the one who has never done anything remarkable. She can't see how she ever will. Now, on her sixteenth birthday, she has become the secret wife of a handsome and worldly king—a king whose country is in turmoil. A king who needs the chosen one, not a failure of a princess. And he's not the only one who seeks her. Savage enemies seething with dark magic are hunting her. A daring, determined revolutionary thinks she could be his people's savior. And he looks at her in a way that no man has ever looked at her before. Soon it is not just her life, but her very heart that is at stake. Elisa could be everything to those who need her most. If the prophecy is fulfilled. If she finds the power deep within herself. If she doesn't die young. Most of the chosen do.
Thoughts:
Great adventure book. I loved the personal journey that Elisa had to go through. It reminded me a little of one of my favorite reads of 201, Graceling. Check out my review!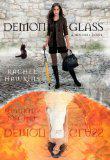 Demonglass (Hex Hall #2) by Rachel Hawkins
Sophie Mercer thought she was a witch. That was the whole reason she was sent to Hex Hall, a reform school for delinquent Prodigium (aka witches, shapeshifters, and fairies). But that was before she discovered the family secret, and that her hot crush, Archer Cross, is an agent for The Eye, a group bent on wiping Prodigium off the face of the earth. Turns out, Sophie's a demon, one of only two in the world—the other being her father. What's worse, she has powers that threaten the lives of everyone she loves. Which is precisely why Sophie decides she must go to London for the Removal, a dangerous procedure that will destroy her powers. But once Sophie arrives she makes a shocking discovery. Her new friends? They're demons too. Meaning someone is raising them in secret with creepy plans to use their powers, and probably not for good. Meanwhile, The Eye is set on hunting Sophie down, and they're using Archer to do it. But it's not like she has feelings for him anymore. Does she?
Thoughts:
This series is so fun. Sophie is hysterically funny. I always come to this series when I want a fun, fast read. Always helps kick me out of a reading slump. Check out my review!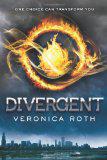 Divergent by Veronica Roth
In Beatrice Prior's dystopian Chicago, society is divided into five factions, each dedicated to the cultivation of a particular virtue—Candor (the honest), Abnegation (the selfless), Dauntless (the brave), Amity (the peaceful), and Erudite (the intelligent). On an appointed day of every year, all sixteen-year-olds must select the faction to which they will devote the rest of their lives. For Beatrice, the decision is between staying with her family and being who she really is—she can't have both. So she makes a choice that surprises everyone, including herself. During the highly competitive initiation that follows, Beatrice renames herself Tris and struggles to determine who her friends really are—and where, exactly, a romance with a sometimes fascinating, sometimes infuriating boy fits into the life she's chosen. But Tris also has a secret, one she's kept hidden from everyone because she's been warned it can mean death. And as she discovers a growing conflict that threatens to unravel her seemingly perfect society, she also learns that her secret might help her save those she loves… or it might destroy her.
Thoughts:
By far my favorite dystopian. People will yell at me, but I liked this one better than The Hunger Games.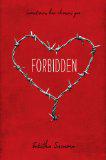 Forbidden by Tabitha Suzuma
She is pretty and talented - sweet sixteen and never been kissed. He is seventeen; gorgeous and on the brink of a bright future. And now they have fallen in love. But... they are brother and sister. Seventeen-year-old Lochan and sixteen-year-old Maya have always felt more like friends than siblings. Together they have stepped in for their alcoholic, wayward mother to take care of their three younger siblings. As defacto parents to the little ones, Lochan and Maya have had to grow up fast. And the stress of their lives—and the way they understand each other so completely—has also also brought them closer than two siblings would ordinarily be. So close, in fact, that they have fallen in love. Their clandestine romance quickly blooms into deep, desperate love. They know their relationship is wrong and cannot possibly continue. And yet, they cannot stop what feels so incredibly right. As the novel careens toward an explosive and shocking finale, only one thing is certain: a love this devastating has no happy ending.
Thoughts:
Gut wrenching and heartbreaking but so good. Check out my review!
Honorable Mentions: