The word on the street is that this 2007 Exclusive Malts Isle of Islay 10 Years is ex-sherry Lagavulin. Having been on the street and heard these words I immediately went out and got a bottle from K&L… where the street learned these words. This odd quasi-metaphore… thing isn't working. So I'm just going to end this paragraph by saying When I got it home, I opened it, tasted it and ordered another – and I'm sorry to tell that coupled with the words "and it's sold out".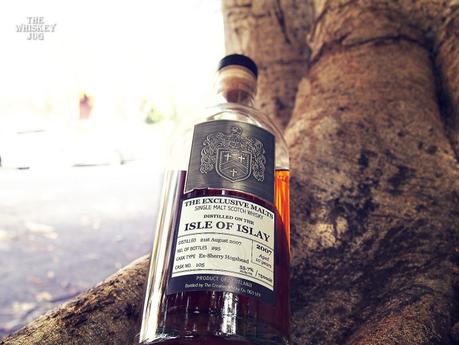 Indie Lagavulin is pretty rare and indie ex-sherry cask Lagavulin is even more rare. The fact that these hit the market for a painful, but oddly reasonable, price ($140) is pretty astounding. But, pedigree alone doesn't make a great whisky. It's all about the experience while drinking it, so let's steer this Scotch review into the important part shall we?
Exclusive Malts Isle of Islay 10 Years Review: Details and Tasting Notes
In K&L's Words: (possibly the shortest they've ever written)
"An unofficial unnamed Lagavulin aged for 10 years in a sherry cask. We don't see a lot of this around and it tastes magnificent."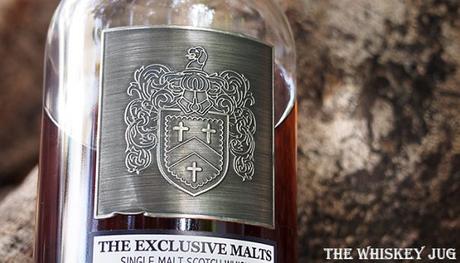 Details (price, mash bill, cask type, ABV, etc.)
Region: Islay, Scotland
Distiller: Undisclosed (Lagavulin)
Mash Bill: 100% Malted Barley
Cask: ex-Sherry Hogshead
Age: 10 Years (07-17)
ABV: 55.7%
Cask Strength | Non-Chill Filtered | Natural Color
Cask: 105
Bottle: 295
Price: NA – Auction, Specialty Store or Private Seller
Tasting Notes
EYE
Rust
NOSE
Sherry, smoked meat, vanilla frosting, X-mas spice, cocoa, leather, honey and some iodine and black tea.
PALATE
Smoked meat, dried dark fruit, X-mas spice, honey, leather, citrus peels, iodine, dried cherries, sweet vermouth and ash.
FINISH
Long -> Smoked meat, dried dark fruit, cocoa, spice and leather.
BALANCE, BODY & FEEL
Great balance, full round body with a heavy oily feel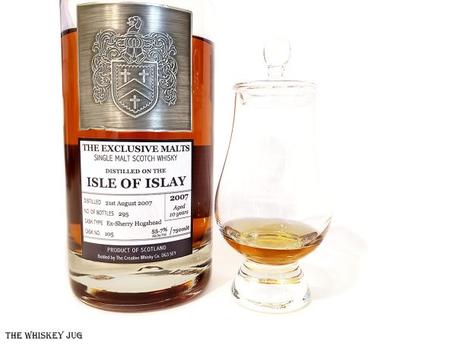 2007 Exclusive Malts Isle of Islay 10 Years Review: Overall and Score
The Aroma is heavy, inky and oily in all the best and most amazing ways, fully accentuating the sweet and smoky profiles; Palate follows suit with a more pronounced and complex sweetness amongst the heavier smoke, leather and spice; Finish is just sublime and if it lasted even longer I wouldn't complain.
I am enjoying the hell out of this whisky; the 2007 Exclusive Malts Isle of Islay 10 Years was a stellar single barrel. Rich and meaty and sweet and spicy and just exploding with a multi-facted aroma and palate — a solid complex dram. If money were no object I'd make whisky like this the minimum quality Islay in my house. It's just fantastic.
SCORE: 5/5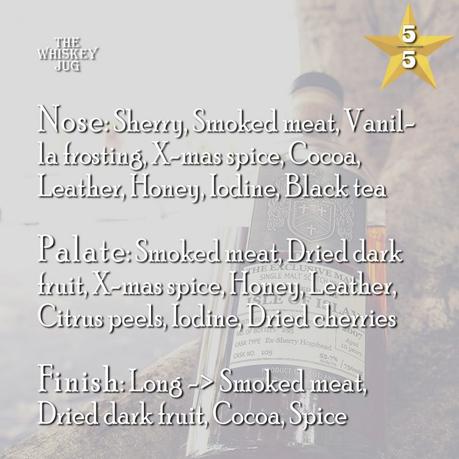 Exclusive Malts Isle of Islay 10 Years Review
$140
Overall
5
Nose

(5)

Palate

(5)

Finish

(5)

BBF

(5)
Sending
User Review
0

(

0

votes)
Comments Rating
0

(

0

reviews)

Exclusive Malts Isle of Islay 10 Years Review Summary
A big heavy whisky that harmoniously folds sweet and meaty profiles together.