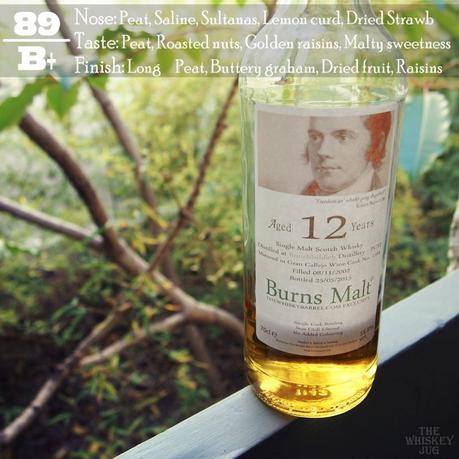 Heavily peated whisky, like this 2002 Burns Malt Port Charlotte 12 years, being made at the Bruichladdich distillery is a fairly new thing in the distillery's history as is the use of "exotic" wine casks for aging and finishing.
Built in 1881 the whisky put out by Bruichladdich has traditionally been lightly peated, as low as 2 PPM, but in 2006 Jim McEwan and team broke that 125 year old tradition by releasing the first Port Charlotte (40 ppm). They further demolished that tradition with the first Octomore (80 ppm) release in 2008 and moved to a completely un-peated standard Bruichladdich releases in 2015.
My Malt Nuts Notes: 2002 Burns Malt Port Charlotte 12 years
"Nose: Peat, buttered toast, salt, caramel, banana bread, malt and spice.
Palate: Peat, SPICE, malt, fruit and buttered bread. This one was a complex spice bomb on the palate – cinnamon, anise, clove, pine, etc.
Finish: Peat, complex spice and mint.
Overall: A- (90-92) I have never had such a wonderful mix of peat, spice and sweetness. It was completely unexpected and I loved how well it worked to create a complex and enjoyable dram. Water did diffuse a bit of the spice bomb while remaining multi-faceted."
So how does my initial blind impression stack up to tasting by itself in a controlled environment? Well you'll have to check out the 2002 Burns Malt Port Charlotte 12 years review below to find out

2002 Burns Malt Port Charlotte 12 years Info
Region: Islay, Scotland
Distiller: Bruichladdich
Bottler: The Whisky Barrel
Mashbill: 100% Malted barley
Cask: ex-Gran Callejo Wine
Age: 12 Years
ABV: 55.8%
Cask Strength | Non-Chill Filtered | Natural Color
Cask: 1164
Price: $100
2002 Burns Malt Port Charlotte 12 years Review
EYE
Golden raisins
NOSE
Peat, saline, golden raisins, malt, lemon curd, dried strawberry and a light bit of toasted pastry and cocoa. Water brings out a bit more of the wine character along with a bit of grapefruit.
PALATE
Peat, roasted nuts, golden raisins, malty sweetness, toasted grain, strawberry frosting, nutmeg and anise heavy spice and a bit of earth and lemon curd. Water enhances the spice and brings out more citrus along with a Chardonnay style minerality.
FINISH
Long peaty fade of buttery graham, dried fruit, raisins, malty sweetness and some spice.
BALANCE, BODY & FEEL
Well balanced, round body and an oily feel.
OVERALL
2002 Burns Malt Port Charlotte 12 years has a soft velvety aroma and a bold deep palate with light sweet notes bouncing of the heavier darker ones. It's changed a bit since I first tasted this at a Malt Nuts event a year and a half ago; it's lost most of its initially bready character and the wine notes have grown more intense. Its flavor and aroma profile have changed a bit, but the quality has stayed relatively the same.
The use of the Gran Callejo Wine cask for its entire aging process gives the 2002 Burns Malt Port Charlotte 12 years a light fruity character that resides under the entire whisky from start to finish. The best way I could describe it is it's like a combination of white grape and strawberry juice and it's a constant thread that moves from nose to palate to finish; elegantly tying the whole dram together.
SCORE: 89/100 (B+)