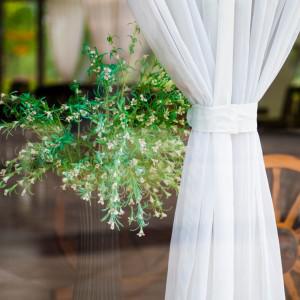 After doing a month of chemo in 2001, I became very sensitive to certain perfumes/smells/odors.  For example, I used to wear a wonderful high-end perfume and now just about all perfumes make me feel ill.  My husband has had to return several colognes because I just could not stand the fragrance.  I have even found that many of the home fragrances do not set well with me and can actually make me sneeze.  However, I love a nice smelling home – who doesn't?  We knowthat "smells" can lift the spirit and actually calm the soul.  Below are some great non-toxic wasy in which to keep your home smelling clean and fresh all year long. 
1) Plants. Plants. Plants. A very natural and easy way to add oxygen to the air. Examples of plants to include are several palms, like Areca, Lady, Dwarf Date, and Bamboo, as well as Rubber Plant, Dracaena, English ivy, Boston fern, and Spider Plant.  Make sure to keep the soil fresh (use organic potting soil) and the plants healthy.
2) Open a window.  Easy and free.  If you live in a heavy industrial or chemical area, be careful that you are not trading one concern for another.  I recommend an effective air purifier.
3) Sprinkle baking soda in garbage cans and diaper pails and rinse with a solution of water and vinegar to remove odors. To remove odors from carpets, sprinkle lightly with baking soda, wait thirty minutes and vacuum thoroughly. Place open boxes of baking soda in areas around the home (don't forget to include the fridge) to absorb odors. Small bowls of white vinegar can also be placed in out of the way areas. As the vinegar evaporates, so do the odors. Sprinkle baking soda in shoes to remove offensive foot odor.
4) On the stove or in a simmer pot, simmer cinnamon, cloves or citrus fruits in water.  Your home will smell scrumptious!
5) Put a drop of pure citrus essential oil on a curtain or blind or on the toilet paper roll in the bathroom.
6) Make an old fashioned pomander like the kind used in colonial times. Easy to make, just stud oranges, lemons, or limes with whole cloves and place in a pretty bowl.
7) Bees wax or soy candles give off a pleasing light fragrance.
8) Even clean homes can smell bad from time to time. Find the source of the offensive odor and remove it — considering that it is not a human.
9) In a spray bottle, mix three parts white vinegar and one part water. Spray to your heart's content (vinegar neutralizes odors on surfaces and in the air).
10) Grow herbs on your windowsill: Basil, mint and thyme can be grown indoors year-round. These naturally fragrant herbs will help clean the air.
11)  Use grapefruit seed extract, tea tree oil, or lavender essential oil. Just a few drops in a gallon of warm water will do the trick. (Make a stronger solution for harder to banish concerns, such as mildew in the bathroom.) This solution can also be used in a misting bottle to add freshness to the air and to fabrics.
12) For odors in your garbage disposal, quarter a lemon or lime and toss it down. Add a few ice cubes to sharpen the blades as you grind everything up, leaving the disposal smelling citrus fresh!
13) Cut an Apple and Soak Up the Smells – This sounds bizarre, but a cut up apple is a great odor absorber.
14) Place several drops of pure essential oil in a glass spray bottle. Fill with distilled water.  Use as a room spray.  You can control the intensity of the smell by how many drops of the essential oil are added.
15) Bathroom – Keep a bottle of peppermint essential oil (peppermint essential oil is very inexpensive) on the toilet tank lid and after flushing put one drop of peppermint essential oil into the tank. Instruct older family members how to do this.
16) Make sure that dirty clothes do not accumulate in piles or in the dirty clothes hamper.  Placing a small pomander filled with baking soda inside the dirty clother hamper will help with odor.
17) Change heater and air-conditioning filters often.  Spray rubbing alcohol on the vents inside your home.  If there is mold on the vents use a solution of Oxy-SC and water to kill the mold.
18) Replace old carpeting.  Wash rugs in the bathroom area at least one time weekly.
19) For bathroom floors (tile and ceramic) invest in one of the smaller steam cleaners that uses water only.  You can also place 1-2 drops of essential oil into the water for a nice fragrance.
20)  Aromatherapy diffusers work well and can actually clean the air of viruses and bacteria.  Be sure to use good quality essential oils. Reed diffusers work well as long as the scent in not laden with chemicals.
The Basic Ten Safe & Natural Cleaning Ingredients for your Cleaning Cabinet
 Stock your home with these ten products, and you can clean just about anything — safely and naturally. 
1) White vinegar: An antifungal that also kills germs and bacteria. 
2) Baking soda: Eliminates odors and works as a gentle scouring powder. 
3) Borax: Borax, the common name for the natural mineral compound sodium borate, eliminates odors, removes dirt, and acts as an antifungal and possible disinfectant. Use with care around children and pets, as it can be toxic if swallowed. 
4) Hydrogen peroxide (3% concentration): A great nontoxic bleach and stain remover, as well as a proven disinfectant. Remember that this acts like a bleach so be careful what it is used on. (Must be diluted with water!) 
5) Club soda (fresh): A stain remover and polisher. 
6) Lemon juice: Nontoxic bleach, grease-cutter, and stain remover. 
7) Liquid castile soap: An all-purpose cleaner, grease-cutter, and disinfectant. "Castile" means the soap is vegetable-based, not animal-fat-based. 
8) Corn meal: Great at picking up carpet spills. 
9) Olive oil: Makes a wonderful furniture polish. 
10) Pure essential oils: Some—such as lavender, peppermint, eucalyptus, lemongrass, neroli and tea tree oils—have antibacterial, antifungal, or insect-repelling properties.
Non-Toxic Cleaners and Fresheners That You Can Make At Home
 All-purpose cleaners: From kitchen counters and appliances to bathroom surfaces and walls. Clean House, Clean Planet author Karen Logan offers this recipe for the all-purpose "Alice's Wonder Spray": Put 2 Tbsp. white vinegar and 1 tsp. borax into a 16 oz. spray bottle. Fill the rest with very hot water and shake to blend until the borax is dissolved. Add 1/4 cup of liquid castile soap only after you've completed the above steps. If you want to scent your spray, also add 10–15 drops of an essential oil, such as lavender, lemongrass, thyme, eucalyptus, rosemary, rose, or clove. The spray will keep indefinitely. 
Glass cleaner: To make windows and mirrors shine, use club soda in a spray bottle. Add 1 tsp. of lemon juice to increase your window cleaner's degreasing power. Logan recommends using a terry-cloth cotton rag for best results. 
Bathroom surface cleaners: Use baking soda or borax as a scouring powder. For a softer scrub, combine 1/2 cup baking soda with enough liquid soap to achieve a frosting-like consistency. You may want to add 5-10 drops of an essential oil for fragrance. Club soda works beautifully on plumbing fixtures. 
Toilet cleaner: Sprinkle baking soda or borax, or pour white vinegar into the toilet, and let sit for a few minutes. Scrub with a good toilet brush. 
Organic grapefruit lavender room spray
 •1 cup distilled water
•1 cup vodka. Vodka helps to freshen and preserves the spray, but in a pinch, it's not necessary. Your house will smell clean even without the alcohol.
•Organic pure essential oil – about 15-20 drops of lavender and 12-15 drops of grapefruit
•One empty refillable glass spray bottle
Mix all your ingredients in the spray bottle. Shake well before each use. Spray around your house.
Organic clove, orange, and cinnamon room spray 
•1 cup distilled water
•1 cup vodka.
•Organic pure essential oil – about 10 drops of clove, 15-20 drops of orange, and 12 drops of cinnamon.
•One empty refillable glass spray bottle
Mix all your ingredients in the spray bottle. Shake well before each use. Spray around your house.
If the scent in either of the above is too strong or too weak you can adjust the essential oil content to suit your needs. Some people (me) like a lot of scent, but if you're scent sensitive, less essential oil may be needed. Also, I'd be careful spraying this near fabrics. This is a safe home air freshener without chemicals and toxins, but it might oil-stain fabrics if you spray too much.