Modern bathrooms are characterized with a sense of serenity that leaves quite an impression. So just what does a modern bathroom look like you ask? Modern bathroom designs are characteristically simple, tending to shy away from ornate decorations and accents. Rather the modern look is clean and inviting as to keep from overwhelming guests.
The shift towards a new style of architecture and design began in the early 19th century. Modern design marked a shift away from traditional decor that was often hand-crafted and intricately detailed. I was looking for images that would capture the essence of modern bathroom design. The results are awe-inspiring yet all the while unique.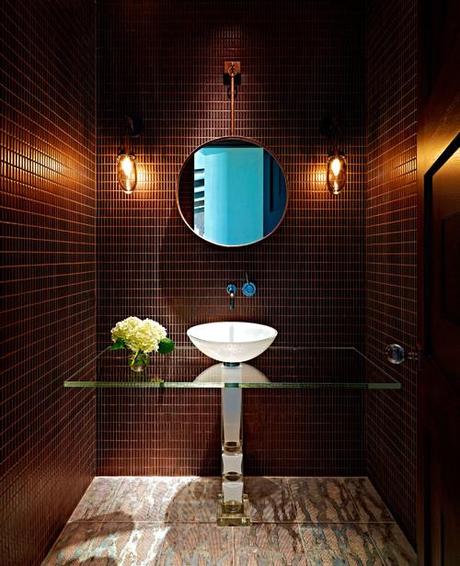 The Qualities of Modern Bathrooms
There is no one single cookie-cutter model that is followed to create a modern bathroom. Modern bathrooms take a piece from the pages of Minimalist bathroom designs which place a clear emphasis on simplicity and sharp lines. Modern bathrooms typically employ black and white ploys, however, a wide range of colors has been seen in contemporary designs more recently. Yes, there is a difference between modern and contemporary.
Modern bathrooms are commonly found with open space designs that create airy and spacious feel. Free-standing showers lace together the luxury feeling that every homeowner desires. Free-standing not your preference? Others choose to go with curbless showers that can replace the existing area in your bathroom.
Originally I wanted to create short list of maybe five to ten modern bath designs but I couldn't help it! Some of these layouts had me in awe. The creativity, thoughtfulness, and the resulting display is powerful. Modern bathrooms can draw out undeniable emotions that leave you inclined to feel a special way.
Modern Bathroom Design Layouts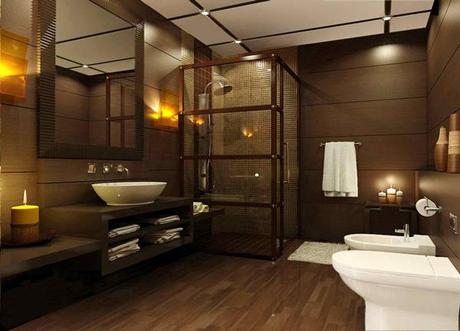 Special attention has been paid to every inch of this bathroom.  From the engineered wood flooring to the smoked ceiling, this is a true masterpiece.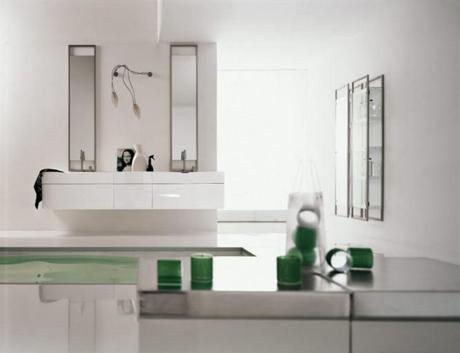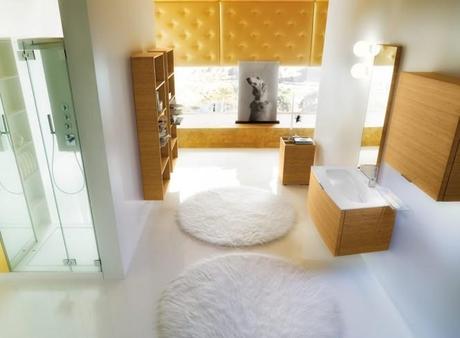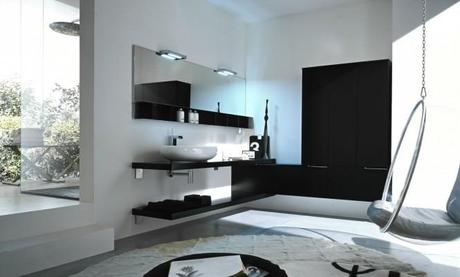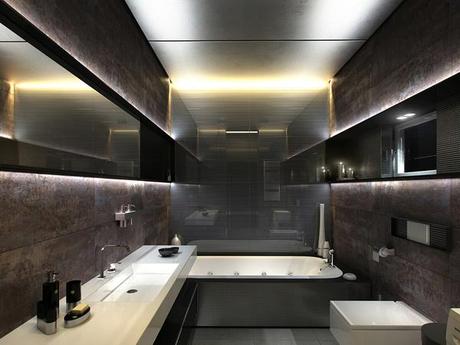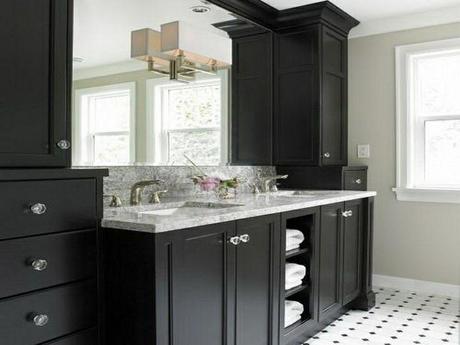 This design is scaled back a bit for those who prefer a traditional glow in their master bath.  This room stands out because of the sconces that are mounted through the mirror.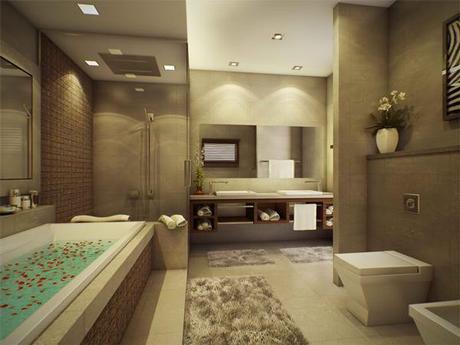 Recessed lighting is a staple in modern home decor.  These ones are framed with chrome accents to really make them shine.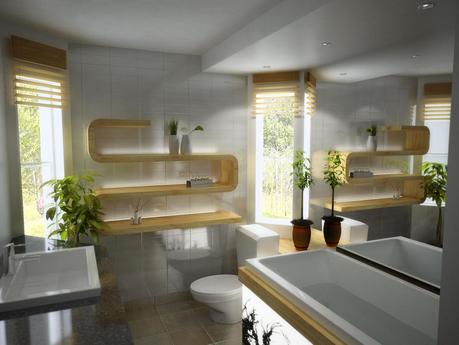 This curvaceous floating bathroom rack is custom built to add a little pizzazz to this modern bathroom.  The wooden shutters and lining along the tub bring together the natural feel of this room.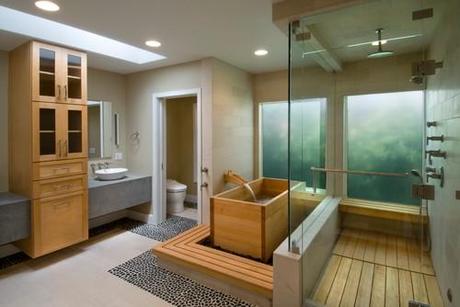 Zen-inspired bathroom in Brentwood, California that focuses around a wooden Japanese soaking tub.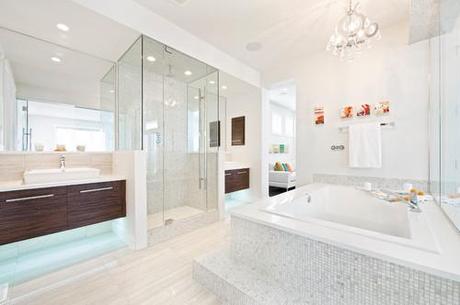 This photo is pulled from the 2011 Stampede Dream Home.  What stands out are the beautiful Tierra Sol, Murano Shell Bianco Mosaic Tiles accompanied by a wall-mounted vanity.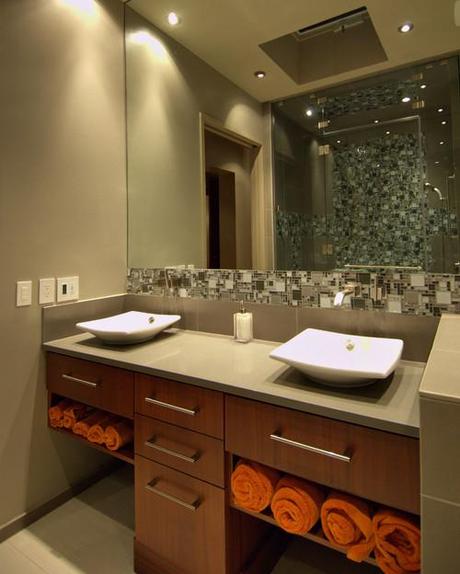 Made from completely sustainable materials, this bathroom shows you that you can go green and without losing any aesthetic appeal!  The open space beneath the countertop makes for an ideal nook to store linens.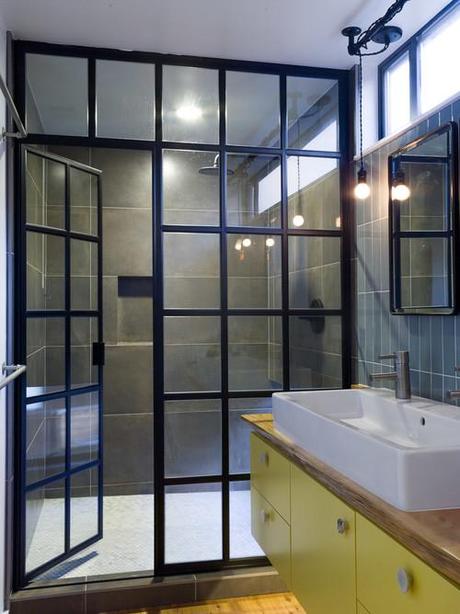 Interior by Robert Nebolon and Sarah Bertmam.  If you look closely, you'll notice that the shower floors are made from small carrara marble tiles.  A window inside the shower allows natural sunlight to pour in.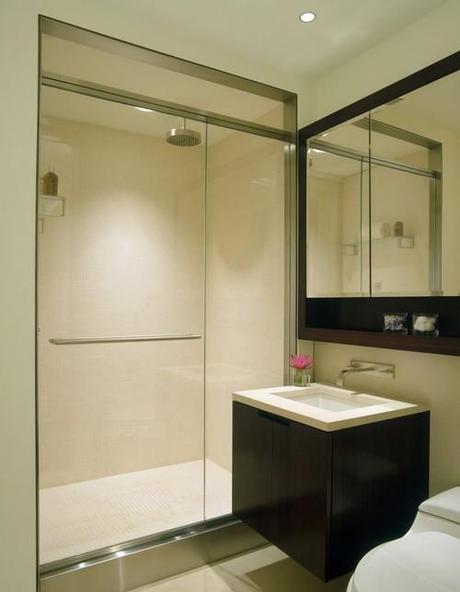 Limestone bath by Josh Mchugh with a custom shower door handle from CR Laurence. Notice the combination of stainless steel and chrome.  This is not very common but worked out well here!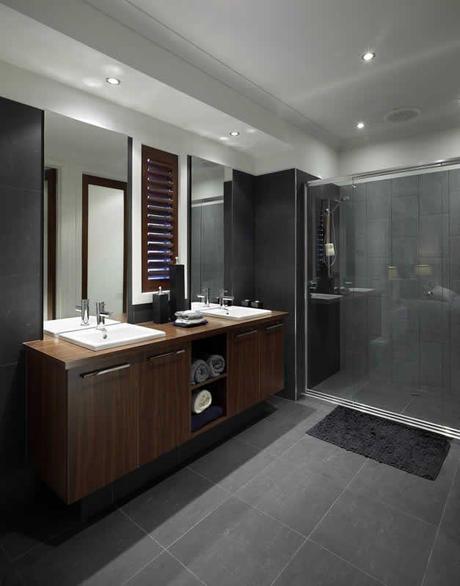 This bathroom blends together very well thanks to the frameless mirrors and the curbless shower.  This eliminates borders to create a holistic spaces.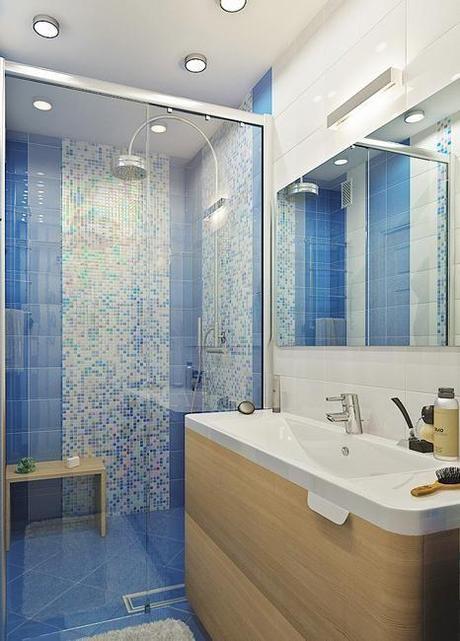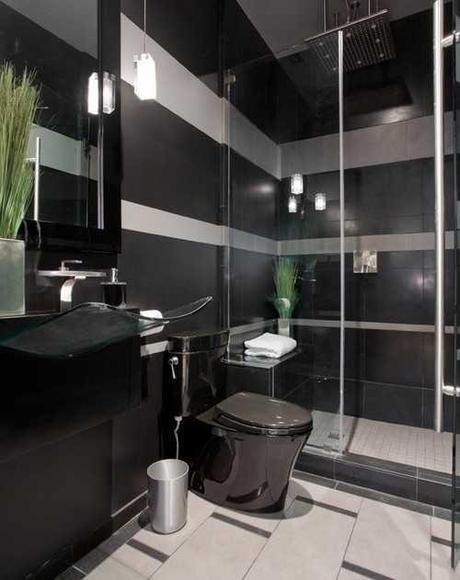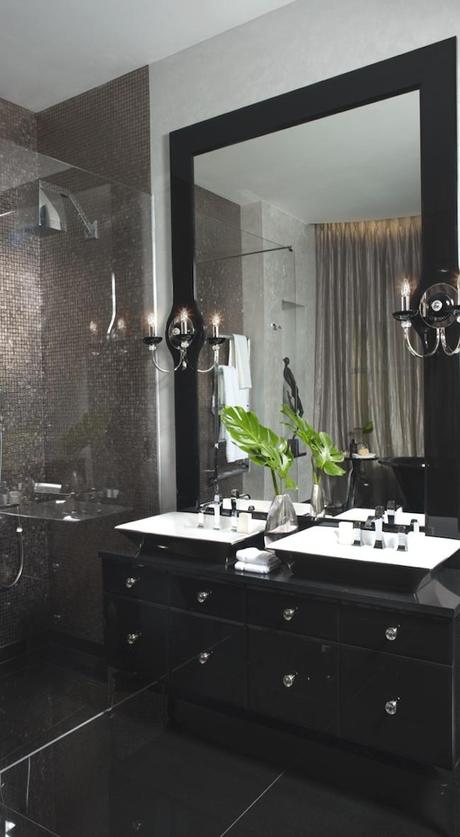 Black wood floors and a black mirror frame.  The inside of the vessel sinks are pure white to contrast the rest of the room.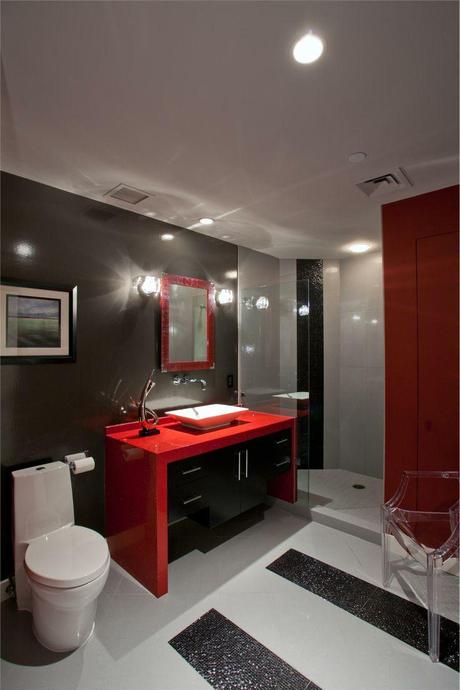 A lacquered sporty red finish adds a flare to this bathroom.  Put alongside a Lucite chair and stripes of mosaic tile running along the floor, this bathroom is surely one of a kind.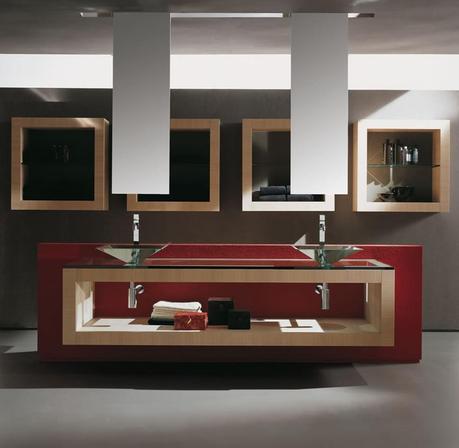 Tradewinds Imports specializes in modern bathroom designs. Here you will find a hand-picked selection of the most unique modern bathroom vanities on the market. Local San Diegans are invited to stop by our Showroom. We're right off the 5 in the Golden Triangle!
Tradewinds Imports
4122 Sorrento Valley Blvd #107B
San Diego, CA 92121
1-888-900-0477
*All Images found via Houzz.com and Pinterest.*
About the Author
Cheryl Khan is a woman who wear many hats. A designer, writer, and arts aficionado, she is able to find interest in many things. Ice breaker question: Are you a morning person or a night person? Definitely a night person but I love getting up early in the morning to get a jump on the days activities!