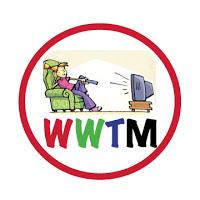 The answer to Thursday's Trivia Question:

The name of the show I was wracking my brain about on TLC was TRADING SPACES and Paige Davis was the host.

FIRST FIVES:  Mike O'Dea, Neil Moffatt, Bobby Aguilera, Phyllis DiCesare & Heather Sparks Honorable Mention: Lillian Doremus
Bonus Trivia Question: Fred Savage directed Wednesday's episode of Modern Family.

Wednesday's Broadcast Top 5

Modern Family-ABC 303/10.0




Criminal Minds-CBS 2.8/12.2




Survivor-CBS 2.4/10.1




The Middle-ABC 2.2/8.3




CSI-CBS 2.1/11.0




Wednesday's Broadcast Trendrr Top 5

X Factor-FOX 492,634




Arrow-CW 34,682




Law & Order SVU-USA/NBC 33,431




The Tomorrow People-CW 31,658




Modern Family-USA/ABC 24,029

Wednesday's Cable Top 5

American Horror Story-FX 2.2/3.9




South Park-Comedy Central-1.5/2.3




The Big Bang Theory-1.3/2.9




NBA Rockets/Mavericks-ESPN 1.0/2.0




American Pickers-History .9/3.3




Wednesday's Cable Trendrr Top 5




American Horror Story-FX 223,945




NBA Rockets/Mavericks-ESPN 88,113




South Park-Comedy Central 35,491




NHL Penguins/Capitals 34,512




Preachers of LA-Oxygen 13,020




Wednesday's Top 5 Primetime Twitter Ratings

X Factor-FOX 260,400 Tweets
American Horror Story-FX 149,600 Tweets
Girl Code-MTV 29,800 Tweets
South Park-Comedy Central 20,800 Tweets
Pro Football Hall of Fame-3,800 Tweets Late Night Ratings for the week of 11/11/13-11/15/13 Leno .8/3.8
The Daily Show.7/1.6 Letterman .6/2.8 Kimmel .6/2.5 Fallon.6/1.9
Colbert .5/1.2 Nightline .4/1.5 Ferguson .4/1.4 Carson .3/1.1 Conan .3/.7 @Midnight .3/.6
Early Morning Ratings for the week of 11/11/13-11/15/13 GMA 1.9/2.2 Today Show 1.8/2.1 CBS This Morning .9/1.0


Park & Rec

What's better than one episode of Parks & Rec? Two episodes of Parks & Rec. The first episode started out with a Play 60/NFL integration that didn't have much to do with the rest of the episode. I guess it was cool that the cast got back on the Colts field and hung out with the team, but in general, it was what it was, a product integration.   I absolutely HATE that Leslie Knope was booted out of office.I hate that Ann Perkins and Chris are moving to Michigan and I have a love/hate relationship these days with Councilman Jamm. All he's done, and all he'll ever do is make Leslie's life miserable. For that, I hate him. However, his hypnotic hair, Benihana cook top, obsession with Michelle Wie and female wrestlers and his "My Mouth Got Jammed" T-Shirts all make watching him so enjoyable, especially the hypnotic hair. I can't take my eyes off it.  A million other things happened in both episodes last night. Ron and Chris built cribs. Ron sold his cabin to April for an asthma inhaler, a gum wrapper and a 50 cents. There was Barks & Recreation, where everyone found their spirit dog. Fun for everyone. Ben got fired from Sweetums, hired at the accounting firm, quit and will now be the new city manager once Chris leaves making him his wife's boss. Pretty sure the town voted for fluoride in the water but now it's called TDazzle or H2Flow or something.  There was so much bamboozling I'd have to go back and rewatch the entire episode to see where we netted out water wise. Best part of both episodes: Leslie and Jamm singing "Summer Nights" from Grease. Jamm took the Sandy part, check it out: http://www.huffingtonpost.com/2013/11/21/parks-and-rec-summer-nights_n_4316001.html


Glee


It was MY FAVORITE, Billy Joel week!!! The cast did a great job, but you can't really screw up Billy Joel, although I did walk out of "Movin Out" on Broadway, that did suck, but I digress. I don't know how many bedrooms there are in that loft, but right now, Kurt, Rachel and Santana are living in it together. You know that if Blaine gets in to NYADA and Sam becomes a male model, the Fab 5 will be living all together under one roof. Well, at least if they all split the rent they may be able to stop ordering in and go out for dinner once in a while. Back in Lima, Artie was helping Becky check out a college so she could stop being Sue's Becretary and learn to live on her own. Of course Sue freaked but she eventually came around. Who'd have thought that the one person to go out on their own would be Becky? Marlie's still heartbroken about Jake cheating on her even though Ryder is WAY too in to her. Ryder annoys me, so I hope Marlie doesn't come around and goes right back to Jake. Who was the big time supermodel making a guest appearance as the HOUSE OF BITCHETTE agent? 5 bonus points if you know who it was. She thought Sam had potential and especially enjoyed his trouty mouth. I especially enjoyed his nearly naked photo shoot. What's with Rachel's eyebrows? Super thick right? Loved Santana getting annoyed that every big decision argument or conversation in the loft (or anyplace else for that matter), has to end with a song. Of course she couldn't stay away when they all sang "Just the Way You Are" to Sam because that's the cure for everything on Glee. SING! Other songs were: "Movin Out," "Piano Man," "My Life," "Honesty," "Innocent Man," and "You May Be Right."  Sort of hoped for a version of "Vienna," but you can't have everything. 


Scandal

2 worst words ever...WINTER FINALE. Not only does that totally suck, but now I have to wait 2 weeks for the big cliffhanger just to start waiting AGAIN! To be honest, I didn't care much at all about the Lisa Kudrow and her sister/daughter storyline. Okay Harrison finally got a little something, but glad that arc is over. So let me get this straight, Olivia's Mom's been locked away in a cell for 20 years with no light, no phones and no TV, but she can kill her doctor, escape AND find her daughter in 10 seconds after eating her veins until they bled?  I love you Shonda, I do, but COME ON!!!! Didn't you freak out when Olivia smashed the Fitzphone? How's he going to get in touch with her? How will they make up? Jake told us he'd find a way and he did. Helicopter to Vermont to reveal the sickest cabin built just for her. That did it. Back in sync, back on track, back together but apart, you know what I mean. Mellie knew the deal as soon as she couldn't reach either one of them. She just knew. Cyrus...O.M.G. I think James got him. Of course we don't believe that James cheated with Steven Carrington. I'm assuming that he turned the tables on Cyrus. One of those be careful what you wish for scenarios right? I hope so because as Cyrus told Mellie, "My husband's not like your husband." I agree. James is one of the good ones. You knew it was only a matter of time before Huck found out about Quinn. TWO WEEKS we have to wait. 5 bonus points for each of the songs from last nights episode.


Parenthood


Of course last nights episode of Parenthood was written by Jason Katims...
Cried watching Victor go to school
Cried watching Julia fall apart
Cried when Hank was talking to Max about girls
Cried when Kristina lost the election and went to the ugly cry when Emma thanked her in sign language
Cried the most when Kristina's friend in the wheelchair showed up to vote.
Needed a Xanax for every scene with Julia and Joel
Needed a Xanax for every scene with Amber and Ryan
Needed another Xanax after the fight scene
Needed a Xanax for anything relating to Drew and Natalie...been there done that big time!
For the record, I didn't take any Xanax.
I knew Crosby didn't vote...he's SO that guy!
Tenafly has computerized voting booths and Berkley doesn't?
Max and Ruby...did you catch that? 
NEWS & INFORMATION:

-A great December roster of hosts and musical guests for SNL in December. 12/7, Paul Rudd and my current favorite boy band, One Direction. 12/14, John Goodman and Kings of Leon and on 12/21, NBC's giving me a late Hanukkah/early Christmas present. My FBFF, Jimmy Fallon and his BFF Justin Timberlake together! Can you imagine how insane that episode could be? OMG can't wait!!!


-FOX made some mid-season programming and scheduling announcements yesterday. I loaded the premieres into my chart for you all. Good news for me, Glee moves from Thursday to Tuesday. Dads wasn't on the schedule, not sure what that actually means yet. No official word from FOX that it's been cancelled. Also not on the schedule anywhere, The Mindy Project. Mysterious moves, but let's wait and see what happens.