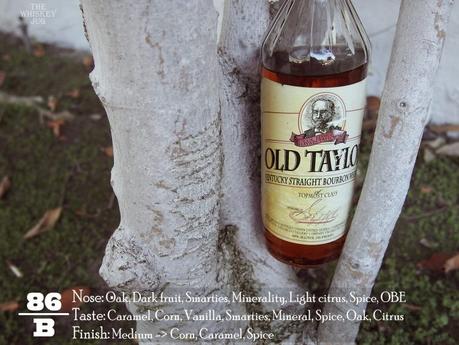 I found this 1997 Old Taylor 6 Years on a dusty hunt here in Los Angeles and it was one of those finds that seemed innocuous at first, but led to a really cool experience. More on that in a minute, first a little about the brand.
Old Taylor has been around since the 1880s and over the years the brand has gone from independent to being owned by National Distillers (1935) to being owned by Jim Beam (1987) to now being owned by Sazerac who owns Buffalo Trace (2009). This bottle being from 1997 means it was distilled at Jim Beam during the time Booker Noe was at the helm, and this is where things get interesting.
Last year we had Booker's son, Fred Noe, come and speak to the SCWC and taste us through the Little Book among some other whiskies. At all SCWC events we like to make sure our members get a little something no other publi club in LA is going to get at a tasting so after discussing it with the co-founder Michael I brought this bottle of 1997 Old Taylor 6 Years (photos taken pre-meeting) for everyone to try.
I brought it to the meeting and while Michael and I were setting up I presented the bottle to Fred and asked him if he'd be interested in talking about the whiskey or at the very least be interested in drinking some of it with us. Fred was more than happy to talk about it and regaled us with stories from that era when ND was bought by Jim Beam and the long and short of it is that a great time was had by all. Anyways, on to the 1997 Old Taylor 6 Years review!
1997 Old Taylor 6 Years Info
Region: Kentucky, USA
Distiller: Jim Beam
Mashbill: 77% Corn, 13% Rye, 10% Malted Barley (unless they used an a-typical JB mash for it back then)
Cask: New Charred Oak
Age: 6 Years
ABV: 40%
Price: NA – Auction, Specialty Store or Private Seller
1997 Old Taylor 6 Years Review
EYE
Toffee
NOSE
Oak, dark fruit, Smarties, mineral water and a light citrus, spice and OBE underpinning.
PALATE
Caramel, corn, vanilla, Smarties, mineral, spice and oak with a bit of citrus, biscuits and OBE.
FINISH
Medium fade of corn, caramel and spice.
BALANCE, BODY & FEEL
Decent sense of balance, medium body and a soft smooth feel.
OVERALL
1997 Old Taylor 6 Years is nothing fancy, just darn good bourbon. Yes, the National Distillers days were a bit better, but this is 6-year-old Beam from 20 years ago crafted under the Big Man himself Booker Noe is good stuff. This was a great era from Jim Beam and getting to drink something like this is a bit of a treat given the current JB trend of bucking age statements.
Because it's Jim Beam and not National Distillers it goes for rather cheap on the secondary market and can sometimes still be found on shelves when out dusty hunting. A lot of hunters have passed it by because it's JB not ND so if you see it grab it, especially if it's sitting there at $15 – $20 like I've found them for. 1997 Old Taylor 6 Years is a heck of a steal at that price… good luck!
SCORE: 86/100 (B)