The last scotch whisky review in our Ledaig mini-run is this magnificent beast: 1997 Chieftain's Ledaig 21 Years. It costs 50% more than The Munros Ledaig 20 ($150 vs $100) and so there is a question to be discussed… is it worth it?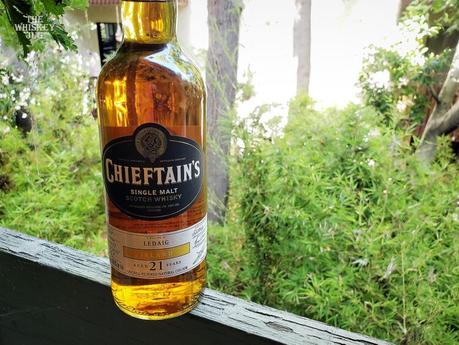 Let's first say that in today's whisky world, with prices rising and tariffs dumping fuel on the fire, $150 is really not an insane price for a 21 yo cask strength sherried single malt. And $100 is an insanely good deal for a 20 yo. Setting aside the direness of the world (40MM+ losing their jobs, many in industries I love), the question of value and quality is always there.
I picked this up before my own full-time employment (known as a day job) slashed my pay to try and avoid lay offs that inevitably came anyways. Since that day I've purchsed very little booze so if you're looking at this with crisis in mind please know… I get it. I'm currently missing a significant chunk from my monthly paychecks – there's no way I would have made this purchase now. But let's push past that and dive into what we're here to do and that's review this Ledaig.
1997 Chieftain's Ledaig 21 Years Review: Details and Tasting Notes
"We've had a good deal of independents offer us Ledaig over the years, but it's almost always young stocks in very quiet hogsheads. That's simply because the mark is only produced a few weeks out of the year and is turning out to be pretty sought-after by drinkers across the world, so we're not seeing high quality older expressions very often. When we do it's NEVER in sherry. This distillery needs these barrels for their limited releases and rightfully so – there's nothing better than an old smoldering Ledaig in an active sherry."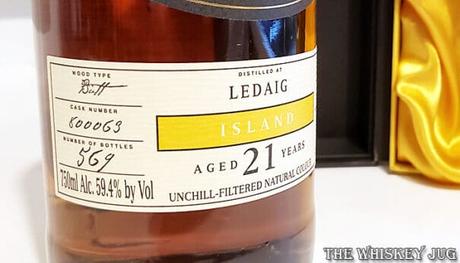 Details (price, mash bill, cask type, ABV, etc.)
Region: Islands, Scotland
Distiller: Tobermory
Bottled For: K&L Wines
Mash Bill: 100% Malted Barley
Cask: ex-Sherry Butt
Age: 21 Years (1997 – 2019)
ABV: 59.4%
Cask: 800063
Bottles: 569
Price: $150
Tasting Notes
EYE
Drying blood
NOSE
Smoky char, dried dark fruits, lemony citrus, wax, sulfur, cocoa and a touch of leather.
PALATE
Smoke, dried dark fruit, grilled meat, soot, grilled orchard fruit, citrus, wax, roasted nuts and a touch of tar and some herbal notes.
FINISH
Long -> Chocolate covered cherries, smoked meat, copper and herbal notes that fade to leathery dark fruit, ash and spice.
BALANCE, BODY & FEEL
Perfectly balanced, full body and a heavy rich feel.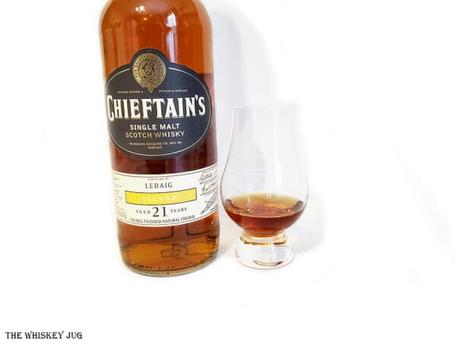 1997 Chieftain's Ledaig 21 Years Review: Overall and Score
The aroma starts out heavy and almost inky, but after a few minutes in the glass it blossoms to this intensely rich, dark, funky and powerful aroma that runs from dark fruit to sweets to oily-sooty-wax and back; Palate runs the same path but pulls up more herbal and tar notes that further darken this whisky, pulling it into a nexus of heavy dark notes; Finish is one of the most expressive and long running I've had in a while. This is everything you want from a sherried Ledaig.
Adding water to the 1997 Chieftain's Ledaig 21 Years brings out more sticky dark fruits on the aroma and some copper and stickier dark fruits on the palate. This is a fantastic Ledaig and the only reason it's not grabbing a 5/5 is it doesn't quite cross that internal quality line, it's just a hair away from it.
Don't get me wrong, I think it's worth the 50% price jump over the Munros Ledaig, and if I was in the financial position to do so I'd buy a case of this, but I'm just not getting that last little something that pushes it over the edge. And while I can't truly afford it today, I think it was worth every penny when I could justify it as an x-mas present to myself.
SCORE: 4.5/5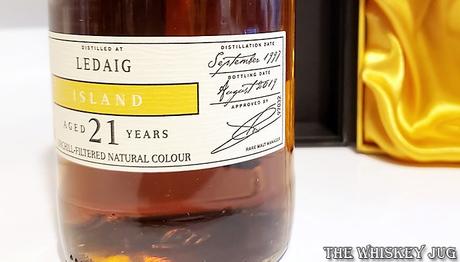 1997 Chieftain's Ledaig 21 Years Review
$150
Overall
4.6
Nose

(4.5)

Palate

(5)

Finish

(4.5)

BBF

(4.5)
Sending
User Review
0

(

0

votes)
Comments Rating
0

(

0

reviews)

1997 Chieftain's Ledaig 21 Years Review Summary
This is EVERYTHING you could want from a heavily sherried Ledaig. It's deep, it's dark, it's funky and it hits in a way that will be utterly divisive with few in the middle. I just happen to fall on the side that loves what it's bringing to the glass.
''''''''''''