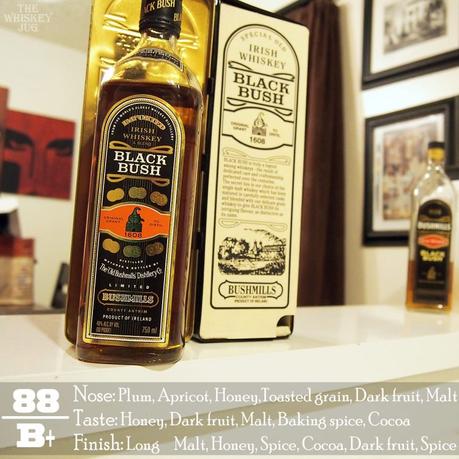 Trying things like this 1990s Bushmills Black Bush is a treat. Beyond just being a snapshot into what the Bushmills of old was like it's a snapshot into what whiskey drinkers were enjoying before I truly discovered whiskey. Back in the late 90s the extent of my whiskey consumption was shots of Jack, Jim and Crown at parties. We never would have splurged on something that came in a spiffy metal box and used adjectives like "Old" "special" or "limited".
In Bushmills' Words: 1990s Bushmills Black Bush
"Black Bush is a product of Ireland's Old Bushmills Distillery – the World's oldest licensed distillery.

Originally, it was known as "Old Bushmills Special Old Liqueur Whiskey," so named because of the unique process of triple distilling single malt whiskey and then aging it in sherry casks.

As the brand quickly gained popularity, it was colloquially ask for by avid devotees as "BLACK BUSH", a shorted form of the original brand name combined with reference to the distinguished black label."
The obvious question is how does it compare to current Black Bush, which we'll get into in the 1990s Bushmills Black Bush review below. The next obvious question is how do I know this is from the 90s. Well, it carries a Government warning and UPC so it's 1989 or later. The bottle says it was imported by Brown Forman who imported Bushmills from 1967 – 2001. Finally, based on magazine photos it doesn't look like this label was used past 2000.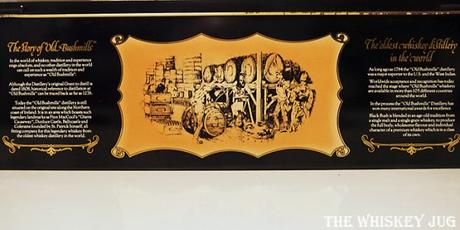 1990s Bushmills Black Bush Info
Region: Northern Ireland
Distiller: Bushmills
Blend: 80% Malted Barley, 20% Grain Whiskey
Cask: ex-Sherry
Age: NAS
ABV: 40%
Price: NA – Auction, Specialty Store or Private Seller
1990s Bushmills Black Bush Review
EYE
Ruddy copper. Next to the current Black Bush it's a shade or two darker. Could be e150, but it could also be the sherry.
NOSE
There was a bit of OBE at first, but most of it blew off after an hour of being open. 90s bottles don't tend to harbor too much of that Old Bottle Effect. After the OBE blew off notes of plums, apricots, honey, toasted grain, dark fruit, malt, dark sweets and a bit of spice showed up. There was a nice earthy, almost oaky, note underpinning the whole dram.
PALATE
Honey, rich dark fruit, malt, baking spices, cocoa, brown sugar, sherry sweetness and a bit of sulfur, smoke and citrus. There's an overall nutty quality that rides through the palate, but doesn't dominate. This is truly quite nice.
FINISH
Long sweet and dark drawl of malt, honey, baking spice, cocoa and dark fruit that fades out to a more herbal spice with a bit of sulfur before disappearing completely.
BALANCE, BODY & FEEL
Well balanced, medium body and a silken feel.
OVERALL
I now understand why this was so popular. 1990s Bushmills Black Bush is fantastic stuff and tasting it next to the current Black Bush is like drinking two different whiskeys; I was more than a little surprised at how different they were.
The first thing I noticed about the1990s Bushmills Black Bush was the amount of sherry sweetness rolling off the aroma and palate. It was immediately present and there was even a bit of sulfur on the finish – a common hallmark of old sherry casks. Compared to the current Black Bush it also carried a greater sense of age and depth and was a generally richer whiskey.
Like the current release, the 1990s Bushmills Black Bush is 80% malt so it seems like the change primarily comes from the use of sherry. The back of the bottle mentions sherry casks and I found several write-ups from the 90s that mention the malt in Black Bush coming solely from ex-sherry casks.
The modern version uses both ex-Oloroso and ex-Bourbon, but based on how it tastes and smells it's either mostly ex-Bourbon or very tired ex-Oloroso casks. In every single way the 1990s Bushmills Black Bush is far superior to the current version.
SCORE: 88/100 (B+)