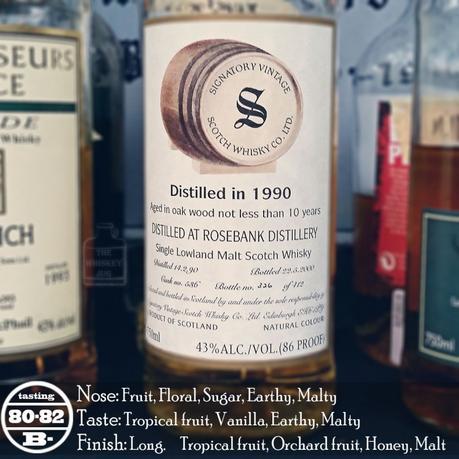 1990 Signatory Vintage Rosebank 10 years is, for those of you know don't know, from a dead distillery. Rosebank distillery was founded in 1840 in the lowland region of Scotland, though an illegal version of the distillery could have existed on the site as early as 1790. But as you'd expect records for that time and for that kind of activity aren't exactly the most reliable or forthcoming so it could have been earlier or later. Few people detail out their illicit activities.
Rosebank timeline via Malt Madness
1840 – Officially, and legally, founded by James Rankine
1861 – James Rankine buys the near-by Camelon distillery
1865 – R.W. Rankine (James' son) turns Camelon into a maltings for Rosebank
1914 – Rosebank is a founding member of Scottish Malt Distilleries (SMD)
1919 – SMD is swallowed up by DCL (Distillers Company Limited)
1968 – Maltings replaced and upgraded
1986 – Acquired by United Distillers (Guinness Group)
1993 – Closed
2002 – Sold to British Waterways Board for redevelopment.
1990 Signatory Vintage Rosebank 10 years Info
Region: Lowland, Scotland
Distiller: Rosebank (1840 – 1993)
Mashbill: 100% Malted Barley
Cask: "Oak Wood" (likely hogshead)
Age: 10 Years (1990 – 2000)
ABV: 43%
Cask: 586
Bottle: 326
Price: N/A – Auction or Specialty Store
1990 Signatory Vintage Rosebank 10 years Review
EYE
So light it's almost clear
NOSE
Lightly fruity and floral with sweet and sugary undertones that mix and mingle with earthy and malty undertones. There's an enjoyable crispness to the aroma, but it's a little light overall.
PALATE
Reminds me of the Glenmorangie 10 year with it's sweet tropical fruitiness and touch of vanilla. Some darker earthy and malty undertones ride beneath, but are so light they don't add much to the party.
FINISH
Long and mostly fruit driven with a combination of tropical and orchard fruit notes and a touch of honey and malt.
BALANCE, BODY & FEEL
The sweet hangs a little too heavy to call it fully balanced. The medium body and smooth mild texture aren't too interesting either. It comes across as just another average whisky in this department.
OVERALL
The 1990 Signatory Vintage Rosebank 10 years is decent, but it didn't stand out at the tasting and is a fairly standard whisky in today's marketplace. I'm glad I tried it, but this bottling isn't one I'd scour the earth to find again. I know there have been some great Rosebank releases and the distillery as some cult-like followers out there so they obviously made some killer juice at some point in their history; this just didn't happen to be one of them, but I'd love to try one someday.
SCORE: 80-82/100 (B-, not consumed at home)