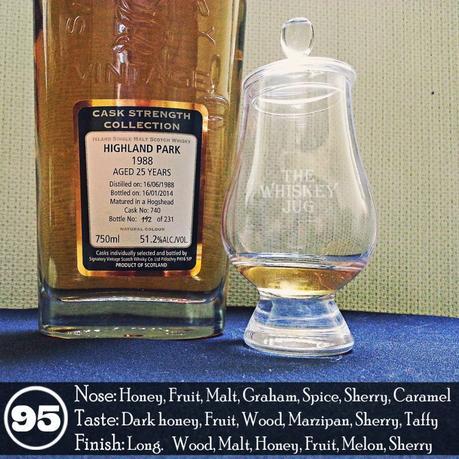 1988 Highland Park 25 years Signatory Vintage is, in a word, magnificent. A cask strength single cask release of their infamous 25 year old whisky that is sublime from beginning to end. Long known for their high quality single malts, Highland Park has been around since about 1826 and has gone through some upgrades and makeovers at the hands of it's current owners the Edrington group.
Here in Los Angeles a typical bottle of Highland Park goes for anywhere from $210 – $450 and so when K&L got this in a while ago I thought it quite the steal. If you're not familiar with Signatory they're an NDP who regularly puts out insanely good whisky at not-completely-insane, but still not cheap, prices. Over the years they've become my favorite NDP and end up going for their releases over OB releases about 19 times in 20. If you've never picked something up from them I'd recommend giving them a shot.
Highland Park 25 Signatory Vintage Info
Region: Islands (Orkney), Scotland
Distiller: Highland Park
Mashbill: 100% malted barley
Cask: Hogshead
Age: 25 years
ABV: 51.2%
Cask Strength | Non-Chill Filtered | Natural Color
Cask: 740
Bottle: 192
Distilled: 6-16-1988
Bottled: 1-16-2014
Price: $280
1988 Highland Park 25 years Signatory Vintage Review
EYE
Golden Honey
NOSE
Holy mother of honey and orchard fruit. Think of a nice warm dark honey drizzled over a bowl of pears, apples, apricots, peaches and so on. Now add some sweet malt, graham crackers, cinnamon sherry sweetness, caramel, dried strawberries, hay, toffee and vanilla and we'll be getting close to the initial nose.
PALATE
Dark honey kicks it off and again its main partner in crime is a complex orchard fruit that's picked up some soft notes of tropical fruit and a solid bit of wood. Marzipan like sweetness mixes with some sherry, red berries like strawberries and raspberries, salt water taffy, graham, vanilla, caramel, malt, char and a hint of spice. If you add a splash of water that hint of spice opens up and becomes a spice rack.
FINISH
Woody and malty this short end is accented by notes of honey, orchard fruit, melon and sherry. They combine gracefully and harmoniously but die way too fast. Live tasty & die fast is the motto here.
BALANCE, BODY & FEEL
Perfectly balanced with a rich, round & full body. The texture is so silken I forgot it was 102.4 proof this whisky is graceful and dangerously easy to drink.
OVERALL
No joke, the 1988 Highland Park 25 years Signatory Vintage feels like luxury in a glass and adding water rockets this thing into pure opulence. You want a complex whisky you can sniff and sip for hours? Find a bottle of this and then settle in for the evening. Every time I go back to this whisky I find something new and interesting to like about it and the finish is the only thing keeping it from the higher 90s. It's so tragically short, but when that's the only negative it's hard to get any more than mildly miffed. Superb stuff.
SCORE: 95/100