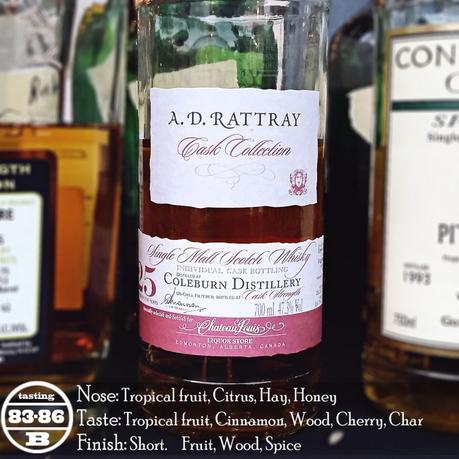 1983 A.D. Rattray Coleburn 25 years is a decent whisky from a dead distillery that fell victim to the whisky crisis of the 1980s and never opened their doors again. Like so many of its fallen brethren this distillery never got a chance to see its potential in the new millennium and so we have to live vicariously through these dwindling releases.
Though maybe that's not a bad thing. Maybe it's better to have died a sudden death than to slowly loose its age statements and fade to mediocrity like so many others are beginning to do.
Coleburn timeline via Malt Madness
1897 – Founded by John Robertson & Sons
1913 – Closed
1916 – Sold to Clynelish
1917 – Sold to J. & G. Stewart
1930 – Sold to DCL
1985 – Closed for the last time
1983 A.D. Rattray Coleburn 25 years Info
Region: Speyside, Distillery
Distiller: Coleburn (1897 – 1985)
Bottler: A.D. Rattray (for Chateau Louis)
Mashbill: 100% Malted Barley
Cask: ex-Sherry
Age: 25 years
ABV: 47.3%
Cask Strength | Non-Chill Filtered | Natural Color
Price: N/A – Auction or Specialty Store
1983 A.D. Rattray Coleburn 25 years Review
EYE
Golden
NOSE
A rich ripe tropical fruit comes sliding out of the glass first followed by some nice citrus notes, hay and honey. Not wildly complex, but what's there is pretty nice.
PALATE
Tropical fruit, cinnamon, wood, cherries, some char, a bit of ambiguous spice and a subtle sweetness that runs through it. Like the nose it's not complex, but what it has is fairly tasty.
FINISH
Short and mostly composed of fruit and wood with a dash of spice.
BALANCE, BODY & FEEL
It has a decent balance with nothing sticking out much, a full body and a nice smooth texture.
OVERALL
I liked the 1983 A.D. Rattray Coleburn 25 years, but didn't love it. A fairly simple dram that's straight forward with an almost rustic undertone. Overall it has the classic Speyside notes of fruit, honey and malt that's just complex enough to be interesting, but not quite captivating.
This 25-years-old Coleburn It appears to have been aged in a refill sherry cask, but that cask seems to have imparted more color than it did flavor.  Still, it's something that hails from a dead distillery so it's worth a taste if you get the chance. It's always fun to drink a bit of history.
SCORE: 83-86/100 (B, not consumed at home)