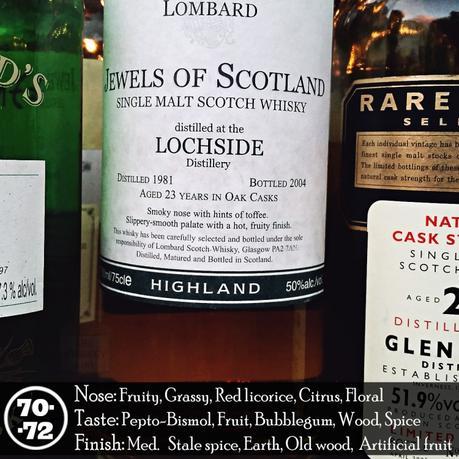 1981 Lochside 23 year Lombard Jewels Of Scotland comes from the Lochside distillery which closed down the same year as the iconic Stitzel-Weller here in America (1992). Lochside was yet another victim of corporate shenanigans, but instead of being the usual suspect (DCL) it was Pernod Ricard who shuttered this distillery that got its start in 1781 as a brewery.
However, it wasn't until 1957 when it was bought by Joseph Hobbs (Ben Nevis, Bruichladdich, Glenury Royal, Glenkinchie and North Esk) that it started distilling whisky. Very little of Lochside single malt was ever released as 99% was used for blending. It was the base malt in the Sandy Macnab blend which is a whisky that also no longer exists.
Lochside timeline (via Malt Madness)
1957 – Rebuilt as a malt and grain whisky distillery by Macnab Distilleries from the old Deuchars' Beer Brewery
1972 – Bought by a subsidiary of Domecq
1973 – Coffey still (for the grain whisky) removed
1992 – Bought by Allied Distillers and closed almost immediately
1997 – Lochside warehouses closed and the distillery equipment dismantled
2005 – Lochside burned down
1981 Lochside 23 year Lombard Jewels Of Scotland Info
Region: Highland, Scotland
Distiller: Lochside (1957 – 1992)
Mashbill: 100% malted barley
Age: 20 years
ABV: 50%
Cask Strength | Non-Chill Filtered | Natural Color
Cask #: 604
Price: NA – Auction / private sale
1981 Lochside 23 year Lombard Jewels Of Scotland Review
EYE
Pear
NOSE
Fruity and grassy it reminds me of Glenmorangie, but somehow hollow. Notes of banana heavy tropical fruit and grassy malt aimlessly flit about with some stale red licorice, citrus and a floral character. Which is a poetic way to say "meh" because it didn't come together nearly as well as it sounds.
PALATE
Woah what the what. The palate does not fit the nose. Pepto-Bismol, overripe tropical fruit, earth, bubblegum, wood and baking spices clash and fight each other for dominance. It's gone from meh to bleh.
FINISH
Medium and driven by a stale spice and littered with notes of earth, old wood and and artificial "fruit" flavor.
BALANCE, BODY & FEEL
Oddly enough it's an overly sweet character that knocks it off balance for me. Though the medium body and oily texture are rather nice…
OVERALL
Nope. nope nope nope. I don't like the 1981 Lochside 23 year Lombard Jewels Of Scotland at all. The whole thing comes across as substance-less and foul. I don't know how else to describe it, but it's like trying to eat 7 differently flavored gnats all at once. I've read that it was once tasty stuff, and I won't speak ill of the dead, but let's just say that wasn't my experience and I won't be beating down any doors to track down more of this anytime soon.
SCORE: 70-72/100 ( Range due to a single glass & not tasting at home)