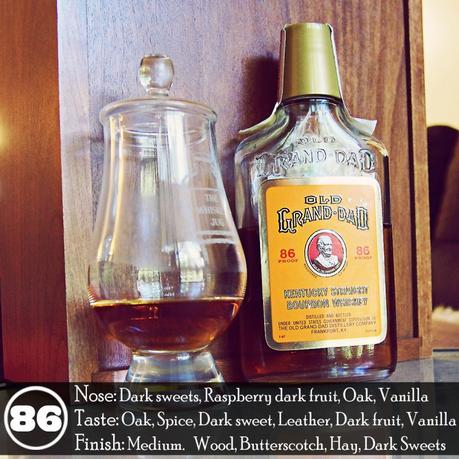 This particular 200 ML bottle of 1980s Old Grand-Dad 86 proof comes from the later end of the 80s as it has a bottle stamp of '87. That doesn't mean that the whiskey itself was put in the bottle in '87, just that the bottles itself was created 1987. It's an important distinction because I see some people using that as a solid date, but as far as I know bottle makers don't double as clairvoyants; knowing when the bottle will be filled.
Besides just looking rather neat this bottle of 1980s Old Grand-Dad 86 proof is interesting because it comes from National Distillers who owned the brand before Beam bought them and shut down the distillery. Once that happened the production was moved to the Jim Beam distillery, along with the other ND brands they acquired, and the flavor of the whiskey changed dramatically. To see how this brand differs under the two producers check out yesterday's Old Grand-Dad 86 proof review.
1980s Old Grand-Dad 86 proof Info
Region: Kentucky, USA
Distiller: National Distillers
Mashbill: High rye bourbon
Cask: New charred oak
Age: NAS
ABV: 43%
Price: NA – Dusty
1980s Old Grand-Dad 86 proof Review
EYE
Coppery brass
NOSE
Rich dark sweets, raspberry-like dark fruit, oaky overtones, vanilla undertones and a nice like spice riding up the middle. It's a nice inviting nose with a solid character to it. There's nothing to not like about it.
PALATE
Oak marches out first followed by spice, dark sweets, leather, a touch of dark fruit and a light vanilla. There is a bit of dusty "old-bottle-effect" going on here, but that's to be expected since it's been sitting on the shelf for nearly 30 years.
FINISH
Wood, butterscotch, hay and dark sweets on a medium fade.
BALANCE, BODY & FEEL
Nice balance, medium-full body and a warm heavy feel.
OVERALL
1980s Old Grand-Dad 86 proof (National Distillers) is a far cry better than the OGD 86 proof that Beam was putting out in the early 2000s. Even though the array of aromas and flavors that register here are limited they're rich and I enjoy them a lot more than having a wide array of "meh" notes. There is a distinctly different character to these old ND Old Grand-Dads and I wish it was something we could still easily get today.
SCORE: 86/100