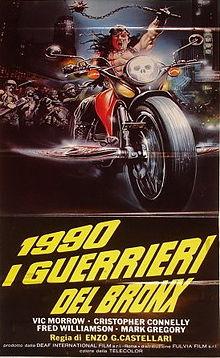 1990 - Bronx Warriors (1983, d. Enzo G Castellari)
Vic Morrow before his untimely helicopter-aided demise in Twilight Zone - The Movie plays a futuristic Mike Hammer. Fred Williamson goes around Italian suburbs that look more like the East End than the Bronx. Castellari's daughter Stefania Girolami plays Anne, daughter of an arms dealer/post-apocalyptic Little Orphan Annie who runs away to a post-apocalyptic Bronx, meets the Zombies, a camp hockey stick-wielding rollerskating gang in white Nazi outfits, basically Lionel Blair's Gestapo who then lead her to the wooden Mark Gregory as sub-Michael Beck off the Warriors Trash. A sporadically entertaining Escape from New York mockbuster.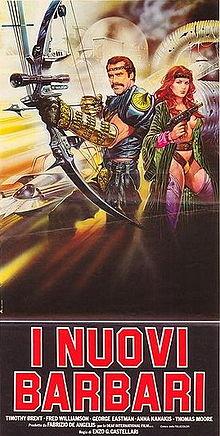 Warriors of the Wasteland (aka New Barbarians, 1983)
Part of director Enzo G Castellari's (the original Inglorious Bastards) Mad Max/Escape from New York-ripping "Bronx Warriors" trilogy. This has US Blaxploitation star Fred Williamson and Italy's answer to James Hazeldine, Giancarlo Prete (alias Timothy Brent) and Bob from Fulci's House by the Cemetery, Giovanni Frezza as respectively, a black badass dressed as a Roman sadomasochistic Batman, a vengeful bloke in a sheepskin jacket and a Feral Kid off the Road Warrior-type boy mechanic. It has gangs of homosexuals who kill via sodomising machines, a beheaded man riding a motorcycle, Italian heavy George Eastman with a Mohawk/ponytail, futuristic  cars played by golf buggies and station wagons tarted up with fibreglass, and is sleazy violent fun.
Bronx Warriors II - Escape from the Bronx (1985)
The final installment of Castellari's trilogy, only enlivened by Henry Silva as an evil property tycoon leading an army of sinister White Van Men, and a hero  called Toblerone. Mark Gregory stiffly returns. Not good.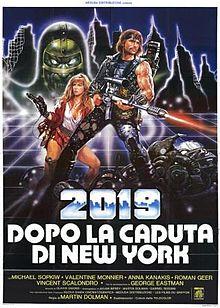 2019 - After The Fall of New York (d. Sergio Martino, 1983)
The director of 1973's Torso and 1972's All the Colours of the Dark gives us an even battier post-apocalyptic Italian view of New York. Model/4-time actor Michael Sopkiw plays Snake Plissken-alike Parsifaal who after winning a mannish hippie denim-chick named Flower at a demolition derby thanks to a robot clown, is sent by Edmund Purdom as the British President of the United States to find the last fertile woman, so they can use her eggs to create a new dawn of humanity. Teaming up with a blonde and a dwarf, a cyborg and others in a stagey NY, they find that the cryogenically frozen girl is being raped by a gang of circus gypsy ape-men headed by George Eastman in earrings and an orange silk blouse. Imagine a sleazy Italian version of Children of Men (2007) and you got this piece of entertaining, WTF bit of B-movie gold.
Bonus review - Fred Williamson in Blaxploitation kung fu picture from Universal - That Man Bolt (d. Henry Levin/David Lowell Rich, 1973) - Uninspiring Bond knockoff, African-American courier becomes a secret agent for bowler-hatted Brits John Orchard and Byron Webster in Hong Kong. Lazy action scenes. Becomes boring. TV director Lowell Rich or Hollywood vet Levin (behind the1959 Journey to the Centre of the Earth) can't handle the Blaxploitation boogie or the kung fu. Watch Brian Trenchard-Smith's 1975 Lazenby-vs-Wang Yu in Australia HK-Ozploitation The Man from Hong Kong instead. It's better! It has hang-gliding, racist Ocker bastards, and the sight of an ex-James Bond on fire, genuinely.