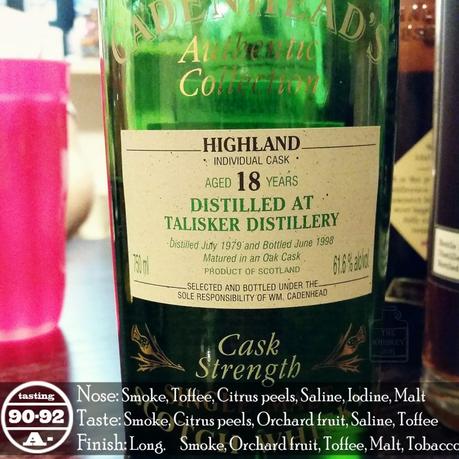 Bottled in the old tall green Cadenhead's bottles this 1979 Cadenhead's Talisker 18 Years is one of four indie Talisker's I've tasted in my "career" as a whiskey drinker. The other three occurred at our intense Malt Nuts Talisker Tasting (2014). That night the Dun Bheagan bottling was rather boring, the Speakeasy was light and spirity, but interesting, and the Old Malt Cask was great. Though if this was there it would have stolen the indie show and been among the top bottles of the night.
Located on the the Isle of Skye, Talisker is an interesting distillery with a ton of character. Before we get into the 1979 Cadenhead's Talisker 18 Years review here's 3 interesting facts about them.
They get their malt from Glen Ord
Peat level is 22 PPM
Talisker was triple distilled until 1928
1979 Cadenhead's Talisker 18 Years Info
Region: Islands, Scotland
Distiller: Talisker
Mashbill: 100% Malted Barley
Cask: ex-Bourbon
Age: 18 years
ABV: 61.6%
Cask Strength | Non-Chill Filtered | Natural Color
Price: N/A – Specialty shops and auctions.
1979 Cadenhead's Talisker 18 Years Review
EYE
Straw
NOSE
Smoke, toffee, citrus peels, saline, iodine and a bit of malty sweetness and orchard fruit. It's a crips balanced aroma and I'm digging it.
PALATE
Smoke, citrus peels, orchard fruit, saline, toffee, malty sweetness, iodine and spice. No real light notes on the palate, but water expands the spice a bit and it picks up a pepper-like note.
FINISH
Long and smoky with notes of orchard fruit, toffee, malty sweetness and a tobacco-like earthiness to it.
BALANCE, BODY & FEEL
Nicely balanced, medium body and a warm oily feel.
OVERALL
1979 Cadenhead's Talisker 18 Years is a tasty dram and a fantastic representation of Talisker. Smoky, sweet, crisp and salty across the senses it would perfectly compliment a walk along the beach… or maybe it would be even better in the desert? Maybe the lack of humidity and saline in the air would make this whisky pop even more, giving it a stark contrast to its surroundings. Maybe I'm over thinking this.
BE it beach or desert the 1979 Cadenhead's Talisker 18 Years is a pleasant and sippable whisky with a crisp austere nature and a nice bouquet of classic Talisker characteristics. I won't go out on a limb and say it's magical, but it sure is an excellent pour any night of the week.
SCORE: 90-92/100 (A-, not consumed at home)