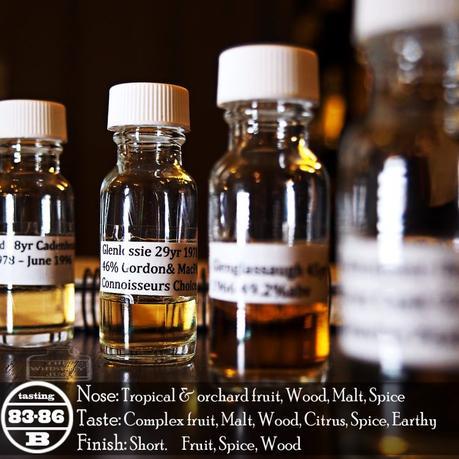 1978 Connoisseurs Choice Glenlossie 29 Years is a fine dram that comes from a quiet little distillery (3 wash 3 spirit) that doesn't have any OB releases on the market today. This means everything you get from them comes from independent bottlers like Gordon & MacPhail. Used primarily for blends, the Glenlossie distillery was built by hotelier John Duff who also built Longmorn and Benriach.
One of the more interesting facts about about Glenlossie is that it's also home to the Mannochmore distillery. Located on the same grounds it isn't too much bigger than Glenlossie, but it puts out 1,000,000 more liters of alcohol than Glenlossie each year. For a while the workers on the site would switch between the two distilleries, operating each for about 1/2 the year, but as of 2007 both are running full time. This means the 1978 Connoisseurs Choice Glenlossie 29 Years comes from that era of 6 month distilling runs.
1978 Connoisseurs Choice Glenlossie 29 Years Info
Region: Speyside, Scotland
Distiller: Glenlossie
Bottler: Gordon & MacPhail
Mashbill: 100% Malted Barley
Cask: Refill Sherry Hogshead
Age: 29 years (1978)
ABV: 46%
Non-Chill Filtered | Natural Color
Price: NA – Specialty store / auction
1978 Connoisseurs Choice Glenlossie 29 Years Review
EYE
Yellow
NOSE
The aroma comes across rather flat but has some interesting notes of tropical and orchard fruit, wood, malt, spice, touch red fruit and a touch of earthiness.
PALATE
More dynamic than the nose, but still not amazing by any means. There's a complex fruit that dominates with some light bits of wood, citrus, spice and earth to keep it from being fully one dimensional.
FINISH
Short fade of fruit, spice and wood.
BALANCE, BODY & FEEL
Ok balance, medium body and an average warm whisky feel.
OVERALL
What's there is good, but the 1978 Connoisseurs Choice Glenlossie 29 Years lacks complexity overall. Despite its lack of complexity it manages to retain an aura of "interesting" about it with the light notes gently making their way through the overall big fruity nature of this dram. There is something vaguely satisfying about this whisky. It's not something I'd go out of my way to get ahold of, but given the chance to sip on it again for a decent price I'd happily do it.
SCORE: 83-86/100 (B)