www.olympicceremony.org 1972 Munich                                                                                                             Moscow 1980 The Games of the XXI Olympiad Montreal, Canada
1976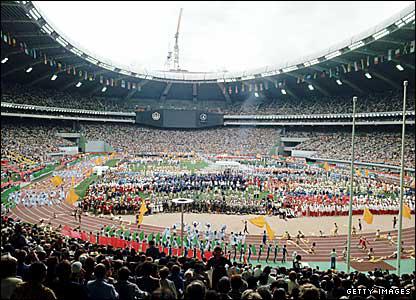 The Opening Ceremony of the 1976 Olympics in Montreal
Olympic Ceremony Records 
italics indicate records at the time
First Olympic Cauldron Lit by Two People

First Videoboard

Most Olympic Events (198) - previous Munich 1972 (195)
Olympic Torch Relay Records
italics indicate records at the time
Shortest Olympic Torch Relay - 775km (previous Rome 1960 - 1,863km)

First Electronically Transmitted Olympic Flame (as described in the official report:  "She then presents the Olympic Flame to the sensor, which detects the ionized particles, converting them into coded impulses that are transmitted by satellite to Ottawa, where they activate a laser beam which instantly recreates the Olympic Flame in its original shape."  - while the statement that it could recreate the flame in its original shape is laughably false, this statement is hyperbole  - simply, the flame touched a sensor in Athens causing a computer in Ottawa to shoot a laser)

First Olympic Cauldron Lit by Two People
Opening Ceremony
Olympic Stadium (73,000)
July 17, 1976
Video
Temporary Low Quality Video - HQ Video available around Midnight CT (it takes several days to upload a 14GB video!) - THIS IS THE WORLD'S FIRST PUBLICLY AVAILABLE DIGITAL FILM OF THE 1976 OLYMPIC OPENING CEREMONY
Official Report
(many photos; click the black arrow for larger view)
Opening Ceremony Highlights
Montreal displayed a ceremony quite similar to that of Munich in 1972.  It was however somewhat odd, in that they "electronically transferred" the Olympic Flame to Canada as a demonstration of scientific innovation, even though this gimmick was nothing more than a computer creating a spark (not necessarily advanced technology if you consider that thousands of nuclear bombs were exploded this way, and long range communication wasn't difficult - humans were visiting the moon only 4 years before).  Also, with new construction (you can see that the Olympic Stadium isn't even complete) these games were so expensive that the city of Montreal is still paying off loans almost 40 years later.
Queen of England and dignitaries arrive
National Anthem performed by the World Youth Orchestra
Parade of Nations, marching to "March of the Athletes" arranged from music by Andre Mathieu performed by the Olympic Orchestra - interesting, the Official Report designates this music as neo-romantic, but it is certainly not; if anything, it is a pop fusion of the classical tradition and "modern" dance - e.g. rock, disco
Queen of England declares the games open
Olympic Flag enters stadium; Olympic Hymn performed by the Orpheus Choir; flag raised
64 dancers, 16 musicians, 8 singers dressed in Bavarian costume accompany "Antwerp" flag dancing to Bayrischer Defilir; Flag presented from Munich to Montreal; same number of Quebec dancers dance to a medley of French dances
Canons fired; pigeons released from bow containers
Olympic Fanfare played; Olympic Flame enters the stadium; Cauldron is lit by Sandra Henderson and Stephane Prefontaine (15 year-old athletes selected for their heritage, representing Canada's founding peoples); Olympic Cantata by Louis Chantigny performed
Children of Montreal perform gigantic ballet on the track to music by Andre Mathieu
Athlete's and Official's Oaths
National Anthem
Photos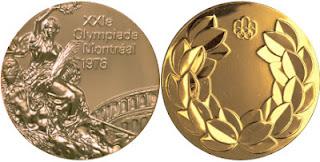 Gold Medal from the 1976 Olympics in Montreal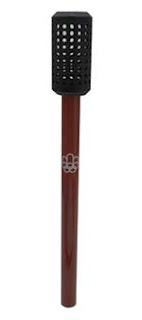 Olympic Torch from the 1976 Games in Montreal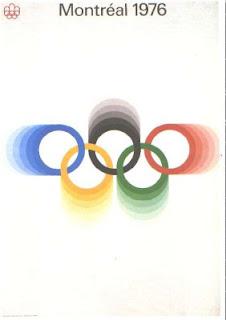 Official Poster of the 1976 Olympics in Montreal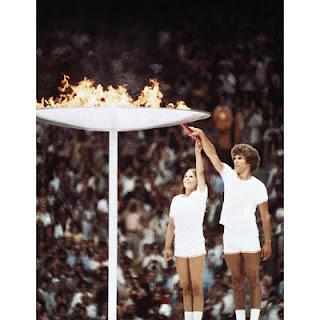 Lighting the Olympic Cauldron in Montreal 1976 - this was the only Olympic Flame to  be extinguished because of rain. It was relighted using a reserve flame.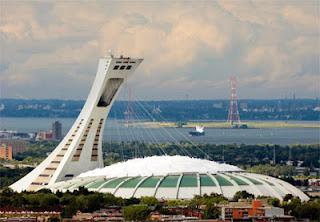 Montreal Olympic Stadium - the tower nor retractable roof were complete by the beginning of the Olympics in 1976
OLYMPIC CEREMONY DATABASE 1896 - 1900 - 1904 - 1906 - 1908 - 1912 - 1916 - 1920 - 1924 - 1928 - 1932 - 1936 - 1940 - 1944 - 1948 - 1952 - 1956 Equestrian - 1956 - 1960 - 1964 - 1968 - 1972 - 1976