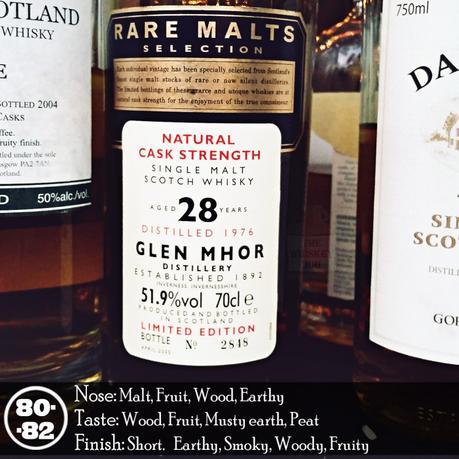 1976 Glen Mhor 28 years Rare Malts comes from a distillery founded in 1894 and stood for 92 years in the Scottish Highlands. A small distillery equipped with only 1 wash and 1 spirit still, Glen Mhor was somewhat of a leader in distilling innovation during its time on this planet. It was the first distillery to use a Saladin Box and was among the first distilleries in Scotland to implement steam heating. However, all of this innovation and couldn't keep the little guy in production.
Glen Mhor Timeline (via Malt Madness)
1892 – Founded by John Birnie and James Mackinlay (Charles Mackinlay & Co)
1894 – First whisky produced (December )
1906 – Glen Mhor Company was formed
1920 – Glen Mhor Company took over the Glen Albyn distillery
1954 – Installed a Saladin Box
1963 – Converted from direct to steam heating
1972 – Sold to DCL (along with Glen Albyn)
1980 – DCL ceased using the Saladin Box
1983 – DCL closed the distillery
1986 – Distillery demolished
1976 Glen Mhor 28 years Rare Malts Info
Region: Highland, Scotland
Distiller: Glen Mhor
Mashbill: 100% Malted Barley
Age: 28 years
ABV: 51.9%
Cask Strength | Non-Chill Filtered | Natural Color
Bottle: 2848
Price: N/A
1976 Glen Mhor 28 years Rare Malts Review
EYE
Apple juice
NOSE
Malt heavy nose with a load of fruit, wood, vanilla and a dark earthy character. Not overly complex, but I like the duality of sweet and earthy going on.
PALATE
Wood, fruit and a heavy musty earthy character with a bit of wilted peat. Again, not very complex and the darker tones overtake the sweeter ones a bit giving it a lopsided duality. Still… I've had worse.
FINISH
That earthy character dominates but fades out quickly with some hints of smoke, fruit and wood.
BALANCE, BODY & FEEL
A bit off balance from that musty earthiness having moved in so heavily on the palate and finish. Medium body and smooth featureless texture.
OVERALL
1976 Glen Mhor 28 years Rare Malts is not a very exciting whisky. The heavy dark earthy tones give it a one dimensional feeling everywhere except the nose which has a nice balance between the darker earthy notes and the lighter sweet notes. If that balance had kept up across the palate and finish it would have scored at least in the mid 80s. As is, that aromatic balancing act is the only thing that kept if from scoring in the 70s.
SCORE: 80-82/100 (Range due to a single glass & not tasting at home)