A few months after finding the 1981 Old Forester I found this 1975 Old Forester Bonded. I stumbled upon it, tucked away in the back of a liquor store, on a dusty hunt. It was in fantastic condition, but one thing about it stood out immediately: the color. It looked a little darker than some of the other OF BiBs I've had from the 70s and 80s. Though I wouldn't be able to confirm till I got it home…. which I did.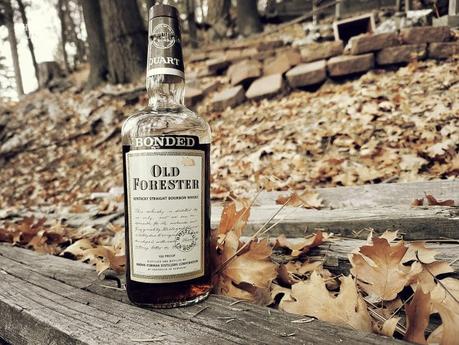 I pulled out the '81 and the '43 Old Forester and sat the three of them side-by-side. The color difference was shocking. A shade or two is to be expected, but the deep hue of this 4 1/2-year-old-bourbon was more like something you'd expect in a whiskey aged 3x that. This was unsual.
Color is almost never an indication of quality, so that's not where my fascination lay with this whiskey; more around what exactly caused it. Did all the barrels from the top of the warehouse where the liquid was oversaturated with oak? A screwup that bottled older stuff than was supposed to? A mix of overoaked top and underoaked bottom barrels? So many possibilities, hopefully tasting it can yield some answers.
1975 Old Forester Bonded – Details and Tasting Notes
Whiskey Details
Style: Bourbon (Straight)
Region: Kentucky, USA
Distiller: Old Forester
Mash Bill: 72% Corn, 18% Rye, 10% Malted Barley
Cask: New Charred Cask
Age: 4+ Years (Fall 1970 – Spring 1975)
ABV: 50%
Price: NA – Auction, Specialty Store or Private Seller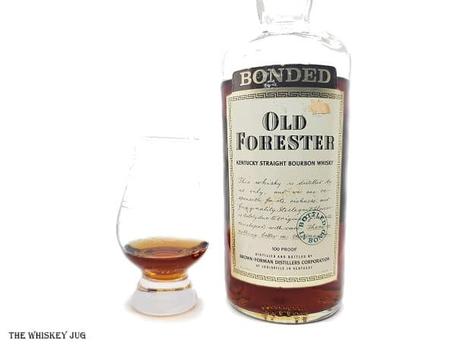 "This whisky is distilled by us only, and we are responsible for its richness and fine quality. Its elegant flavor is solely due to original fineness developed with care. There is nothing better in the market." – Old Forester
1975 Old Forester Bonded Tasting Notes
EYE
Mahogany
NOSE
Dark fruit leather, oak, dark roast coffee, toffee, vanilla pod, strawberry shortcake, old leather and some baking spice and hazelnuts with a touch of sandalwood and a hint of OBE.
This is so rich, and fresh, it's incredible. I was expecting a ton of that musty old bottle effect to float out, but no. It's barely noticable.
PALATE
Vanilla custard, butterscotch, oak, cherry and raspberry-heavy dried dark fruit, toasted bread, hazelnuts, black tea and baking spice with a hint of OBE.
Again, the OBE on this is nearly non-existent. I've only had one other 70's bottle like this and it was kept in a cool dark place (basement) the whole time. Wonder if this stayed on the floor in the back storage room of that liquor store the whole time?
FINISH
Med-Long -> Dried dark fruit, oak, caramel and baking spice fade to a chocolate pastry note.
BALANCE, BODY and FEEL
Perfectly balanced, medium-full body and a warm heavy feel.
---
1975 Old Forester Bonded – Overall Thoughts and Score
I can't get over how dark this thing is for a 4.5-year-old whiskey. Normally the color isn't something you can truly go by, but when you smell and taste the depth and weight of this whiskey it makes me wonder what part of the rickhouse this came from. Being Bonded, I doubt this was a mistake bottling, so it has to be from the barrels.
There is a lot of oak, but it's not an oak bomb like I'd expect from all top rack barrels that had pulled in a ton of extra oak. Was this maybe a magic selection of honey barrels blended together? The barrel composition of this is as much a mystery as exactly where/how it was stored before I bought it to keep a lot of that OBE at bay.
I picked it up in the backroom of a liquor store that had changed owners and they let me clear out their dusties. But was it there the whole time? This was the only OF BiB back there so maybe it stayed in that dark corner the entire 40+ years… but who knows. Though what I do know is that this 1975 Old Forester Bonded is an exceptional example of this whiskey.
SCORE: 4/5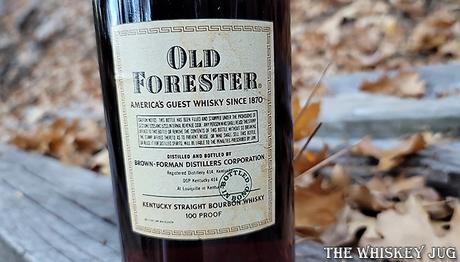 1975 Old Forester Bonded Review
$NA
Summary
This is proof our forefathers drank very well at times. This is a real gem, snatch it up or give it a taste if you get the chance.
Overall
4
Nose

(4)

Palate

(4)

Finish

(4)

BBF

(4)
Sending
User Review
0

(

0

votes)
Comments Rating
0

(

0

reviews)