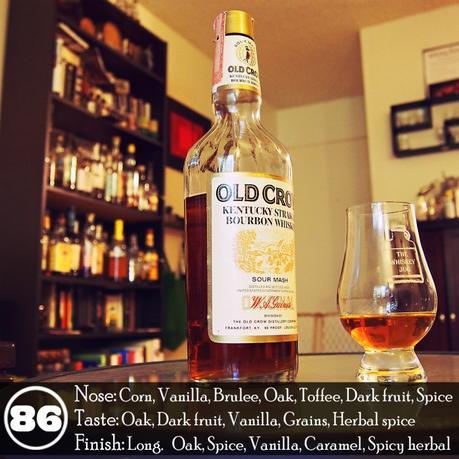 In the 1970s Old Crow was owned by the now defunct National Distillers who also owned a bunch of other bourbon brands like Old Grand-Dad, Bourbon deLuxe, Sunny Brook, Old Taylor and whole lot more. National Distillers sold to Jim Beam in 1987 and all ND distilleries were closed and operations moved to the Jim Beam distillery. Some brands were slowly phased out, like Bourbon deLuxe, but others, like Old Crow and Old Grand-Dad, Beam has continued to produce on through the present.
However, if you taste the brands side-by-side there is a stark difference between the two. The current Jim Beam Old Crow is nothing more than young Jim Beam White. The National Distillers Old Crow used a different mashbill, yeast strain, techniques, stills and aged them in different warehouses. On a side-by-side the ND Old Crow is much richer and the rye spice is much more noticeable. Current Old Crow is "meh" at best, but 1970s Old Crow is something worth making a bit more noise about.
This review is part of a group review I coordinated and you should check out everyone else's take on this whiskey by checking out their blogs below. If they're not live when you click, just check back later

Sku's Recent Eats
The Coopered Tot –  http://www.cooperedtot.com/
Axis of Whisky – http://axisofwhisky.com/
It's Just The Booze Dancing http://boozedancing.com/
Bourbon and Banter https://www.bourbonbanter.com/ (coming soon, but check out their blog anyways)
1970s Old Crow Info
Region: Kentucky, USA
Distiller: National Distillers
Cask: New charred oak
Age: NAS
ABV: 40%
Price: NA – Dusty
1970s Old Crow Review
EYE
Worn woolen driver's cap
NOSE
Corn, vanilla, brûlée, oak, toffee, dark fruit, spice and a bit of musty "old bottle effect" all come barreling through, but there is a nice harmony to the aroma. I'm enjoying this quite a bit.
PALATE
Oak, dark fruit, vanilla, grains, herbal spice and caramel heavy dark sweets roll across the palate followed by lighter notes of citrus peel and pumpkin seeds at the end. Like the nose I'm enjoying what's happening here.
FINISH
Long and oaky with bits of spice, vanilla, caramel and a spicy herbalness.
BALANCE, BODY & FEEL
Decently balanced, medium body and a warm but stern feel. Like a military grandpa who is just warm enough to let you know he doesn't dislike you.
OVERALL
1970s Old Crow isn't amazing blow-your-socks-off bourbon, but it's good – though compared to the current Old Crow it's mind meltingly good. Current Old Crow is weak and watery stuff where as this has a significantly richer and fuller character. There is a decent complexity to the nose, palate and finish that keeps it interesting even on your second glass. It's fair to say I dig the 1970s Old Crow quite a bit.
SCORE: 86/100