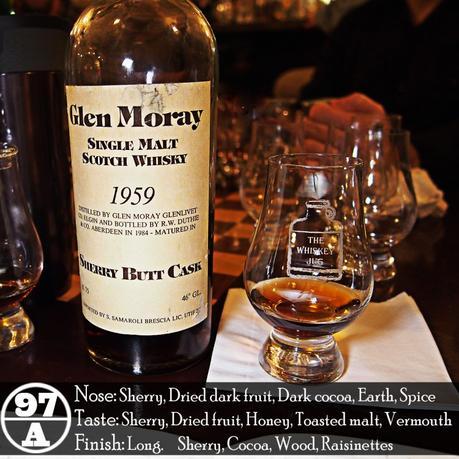 In 1959 Glen Moray placed some new make into a first fill sherry butt and in 1984 Samaroli bottled that sherry butt which resulted in this stunning whisky, the 1959 Samaroli Glen Moray 25 years. Tasting this whiskey was both thrilling, enlightening and a bit infuriating. Thrilling because it was so damn tasty, enlightening because it shows the caliber of whisky Samaroli used to build their reputation and infuriating because it shows what Glen Moray is capable of.
Modern Glen Moray is, at best, a mere shadow of this whiskey and to be honest I scoffed a bit internally when this was broken out at the tasting because the only thing I could think of was the current Glen Moray 12 which is about as boring and lifeless of a whisky as you can find on the shelves today. If you've had it then you know what I'm talking about, but the two couldn't be further apart.
There is a denseness to the 1959 Samaroli Glen Moray 25 years that's hard for any current whisky I can think of, outside the $400 Glenlivet, to come close to matching. In '59 Glen Moray utilized in house malting using a Saladin Box and was a small 2 still operation that likely did things a bit different back then.I'm Sure the 50s first fill sherry butts helped a lot, but it's hard to imagine the limp spirit they're putting out today coming close to this even if they used the best sherry casks around.
1959 Samaroli Glen Moray 25 years Info
Region: Speyside, Scotland
Distiller: Glen Moray
Bottler: Samaroli
Mashbill: 100% Malted Barley
Cask: Sherry Butt
Age: 25 years (1959 – 1984)
ABV: 46%
Price: NA – Collectors / auction
1959 Samaroli Glen Moray 25 years Review
EYE
Deep red
NOSE
Dank, chewy, and funky sherry slides out of the glass followed by dried dark fruit, dark chocolate, a touch of earth, a complex bit of spice and a light floral character. A heavy sherried malt that screams excellence.
PALATE
Same dense sherry as before layered with notes of dried fruit, honey, toasted malt, vermouth, ash, toffee and a touch floral. I would feel like a king if I could drink stuff like this everyday.
FINISH
Long doesn't even begin to cover it. Sherry, cocoa, wood and Raisinettes.
BALANCE, BODY & FEEL
Could stand on pin it's so balanced, probably the fullest bodied whisky I've ever encountered with a thick syrupy mouthfeel. In a word… luxurious.
OVERALL
This 1959 Samaroli Glen Moray 25 years is among the most luxurious and decadent whiskies I've encountered. Nose, palate and finish all take deep and rich to another level, delivering something unique and special. For my tastes the only major competitor it has is the Bowmore Bicentenary that utterly floored me the same night. Those two whiskies were vying for favorite of the night by most at the tasting and a vatting the two yielded, for me, a whisky that was a hair away from sherried perfection, needing only a tad more dimension.
Today Samaroli has a reputation of being one of the top tier whisky NDPs around and tasting one of their early bottlings like this shows exactly how they came to have the reputation they do, why their bottles command crazy prices and why tasting them is a double edged sword. On one hand I feel lucky, honored even, and on the other hand I feel like it makes me a bit more jaded about modern whisky because I've yet to taste anything bottled in the last 5 years that's even close (my first 5 years spent drinking whisky in UT don't really count).
Don't get me wrong, there are some great heavily sherried whisky out there today, like the 1981 Signatory Glenlivet 33, but I'm not confident we'll be seeing whisky like this anytime in the near future. Though if it does show up it's going to be set at a price that only a handful of people, who will likely never open it, can buy. Which is the agony and the irony of modern whisky in a nutshell.
SCORE: 97/100