Progress report. Progress has been made!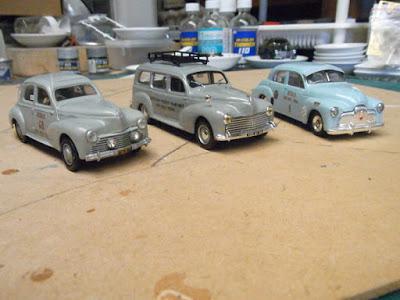 I'm working on all three cars simultaneously, so while paint dries or glue sets on one, I then work on another. So far, all three cars are partly done, but none is complete.
From the left: the plastic model of the winning 203A sedan has been assembled, but I still need to finish off the decals, fill one or two minor gaps and touch up with paint, and also create the wind-deflector on the bonnet.
The 203 Commerciale wagon has a long way to go yet. I need to scratch-build the winch mounted on the front bumper, add the extra spotlights, more decals, correct number plates and make various bags and other gear for the roof rack.
The Holden FX also needs more decals and its extra headlights. I've finished the sun visor over the front windshield, which looks the part here, but if you examine it close up it's not perfect. However, it will be in the background in the diorama, so my sun visor (made from an aluminum can) does the job well enough.
Once I finish each car I'll do a separate blog posting about the build and the mods.