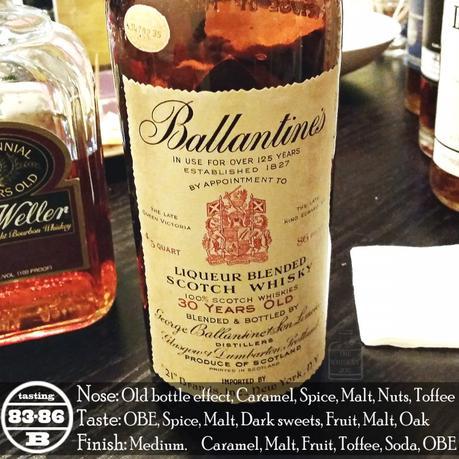 This bottle of 1950s Ballantine's 30 Years was something we tried at a get-together here in Los Angeles that involved tasting some old, rare and out-of-print bottles. It's not the oldest whisky I've ever had (by bottle date or age statement), but it was something interesting and fairly rare to experience. Though I guess rare might be a bit of misnomer as it's not too difficult to find bottles of Ballantine's from the 50s – 80s scattered around the internet in online shops and auctions. As far as dusties go it's fairly common.
Being a blended whisky with an age statement means that every whisky in this 1950s Ballantine's 30 Years has been aged for a minimum of 30 years and, increasingly so, that's no easy task. Especially when you consider that Ballantine's uses 50 different single malts and 4 different grain whiskies to create their signature flavor and aroma profile. Though to help ensure the supply of their base malt and grain whisky the company bought Miltonduff and Glenburgie in 1937; then in 1938 the Dumbarton grain distillery was built for the brand. However, being a 30 year old blend from the 50s this expression is 100% pre-Dumbarton grain whisky.
1950s Ballantine's 30 Years Info
Region: Scotland
Blender: George Ballantine & Son Ltd
Cask: Various
Age: 30 years
ABV: 43%
Price: N/A – Auctions or specialty stores
1950s Ballantine's 30 Years Review
EYE
Ruddy caramel
NOSE
Lots of old bottle effect in play here, but it's paired off nicely with notes of caramel, spice, malt, nuts, toffee, dried fruit and light notes of sherry, spice and char.
PALATE
OBE of course comes first, but the spice explodes followed by a roll out of malt, dark sweets, fruit, malt, oak, sherry and a light note of smoke that's mixed with a combo of grape soda and cola.
FINISH
Medium wind down of caramel, malt, fruit, toffee and that same grape soda meets cola "soda pop" quality from the palate. It all trails off to that musty OBE.
BALANCE, BODY & FEEL
Ok balance, medium body and a soft easy feel.
OVERALL
This 1950s bottle of Ballantine's 30 Years is a fascinating sip. It's a curious whisky that, while not cohesive, has all kinds of interesting facets to explore across the senses with plenty of room for the imagination to roam. Which is the best thing about old blended drams like this; you can let your mind wander, and wonder, about what's in there. What closed distilleries and legendary single malts might be lurking about as a fraction of this beautiful old bottle? Drams like this, especially in a group of whisky geeks, are perfect points of conversation, research and education.
That all said 1950s Ballantine's 30 Years isn't something I'd want as a daily drinker so it hits a B. In the end, the mental gymnastics of what's in this whisky are far more interesting than the final execution of the whisky itself. Even though it had aired out for several months there was a strong mustiness to it which you'd expect with bottles of this age, but you'd also expect to blow off more than it did. It's not something that should dissuade you, just something to expect should you snag sip for yourself.
SCORE: 83-86/100 (B, not consumed at home)