Gorgeous silhouettes, simple and understated? Yes please! That's 1940's fashion in a nutshell! It was during the time of World War II where trend development wasn't top of the priority list in a poor economical time. Thankfully someone came up with the genius idea of 'make do and mend'! The richer women were still adorned with furs and dazzling diamonds whilst the less fortunate still rocked their new and improved clobber!
Simplification was key and you wouldn't walk down a street without seeing a woman dressed in her clean cut uniformed shape dress and jacket with a boxed padded shoulder for a classy, edgy touch. Love it! A cheeky pleat or ruffle wouldn't go a miss either for a sassy feminine touch! Women still knew how to look amazing despite industry hardship!
It's amazing what women can do with a needle and thread! It can completely transform an outfit or fix one that is looking a tad sorry for itself! Check it out- this is the sort of thing the women wore in the 1940's;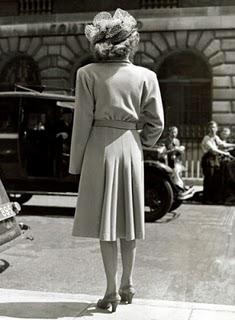 Simple and beautiful! Vintage is all about timeless looks and this style returns to the trend scene again and again! The military look influenced by war periods was also a hot style in the form of the trench coat with its chunky silver buttons and well tailored clothes with dramatic shoulder and collar details. 2011's answer to 1940's ladies fashion for us is definitely the flawless Dita Von Tease. She always looks bang on trend whilst also nailing that timeless vintage look of elegance, influenced by her passion for 1940's cinema and the retro look. We all secretly want to flaunt those gorgeous vintage wartime silhouettes like Dita does! What a bombshell!