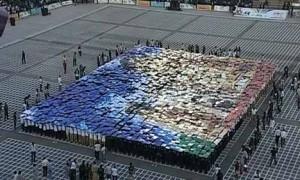 1936 Pakistanis students break largest human mosaic record
1936 Pakistani students on Monday set world record by making the largest human mosaic at the National Hockey Stadium during Punjab Youth and Sports Festival in Lahore.
The student made the model of Shahi Qila (Lahore Fort) to break the record which was previously held by 1458 South Carolinian people.
The representatives of Guinness Book of Records, who were present at the ceremony, made the official announcement of the new record.
On Saturday more then 70000 people had sung national anthem to establish a new world record for the most people singing a national anthem simultaneously.
The students will also attempt to make the world's largest human flag later on Monday.