1928 Amsterdam
                                                                                            Berlin 1936 The Games of the X Olympiad Los Angeles, California
1932

Opening Ceremony of the 1932 Olympics in Los Angeles - the second largest crowd in Opening Ceremony History
Olympic Ceremony Records
italics indicate records at the time
First Use of a Victory Podium

First Use of a Mechanical Scoreboard

Last Olympics Without a Torch Relay

Largest Crowd to Attend the Opening Ceremony (105,000) - Previous Athens 1896 (80,000)
Largest Stadium to Host the Opening Ceremony (105,000) - Previous London 1908 (68,000)
Opening Ceremony
Olympic Stadium - Los Angeles Memorial Coliseum (105,000)
July 30, 1932
Video
(newly re-edited by myself - the Official Olympic Film incorrectly accounted the order of events of the ceremony - here is the ceremony in its most complete version with some previously unreleased footage)
VIDEO STILL LOADING AT TIME OF POSTING - COME BACK LATER FOR VIDEO
Official Report
(many amazing photos - click the black arrow for large pics)
Opening Ceremony Highlights
The Opening Ceremony of the 1932 games was significantly the largest in scale of any preceding Olympics - they shattered the old attendance record from 1896 (80,000) to a whopping 105,000. Set amidst the backdrop of the beginning of the Great Depression, Los Angeles created gigantic stadiums and artistic displays that jolted life into a community "
shaken from the lethargic preoccupation in its routine of existence 
into intense anticipation" as the official report claims
.  The Organizing Committee had a professional musician staff of 3,500! - 1,200 choristers, 1,500 band members, and 800 members of the drum and bugle corps.  These ceremonies mark a significant step in the artistic evolution of the Olympic Opening Ceremony as they describe in their official report: "
Success or failure of the Opening Ceremony might well 
mean the success or failure of the Games . No effort had been spared to insure 
the perfection of every detail in the magnificent pageant shortly to be unfolded." Here are events of the ceremony:
The first mechanical scoreboard writes out this quote by the founder of the modern games, Baron Pierre de Coubertain "

The important thing in the Olympic Games is not winning, but taking 

part. The essential thing is not conquering, but fighting well.""

Vice President of the United States enters with dignitaries to "The Stars and Stripes Forever" by Sousa

The Star-Spangled Banner is performed by the 3,500 musicians in the chorus and band

The Parade of Nations (marches performed throughout)

The Vice President of the United States declares the games open

Six trumpeters blast a fanfare - a canon fires ten times - the Olympic Cauldron is ignited (this will be the last Olympics without a torch relay, unknown "Torch Man" ignites the cauldron on the 8th canon blast according to his duties report above)
Olympic Flag raised to "Hymne Olympique" by Bradley Keeler
Hundreds of doves released
Benediction read and hymn performed (specifics unknown)
Athlete's Oath
"Recessional" by DeKoven words by Rudyard Kipling performed by chorus and band
Photos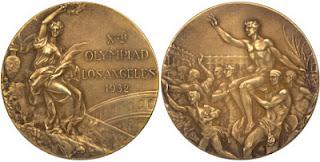 Gold Medal of the 1932 Olympics in Los Angeles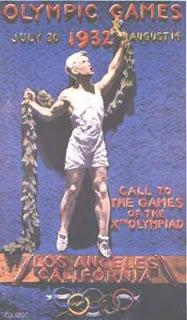 Official Poster of the 1932 Olympics in Los Angeles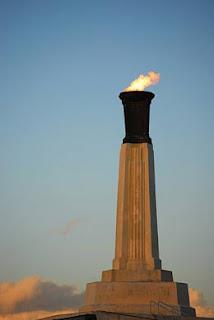 1932 Olympic Cauldron
OLYMPIC CEREMONY DATABASE
1896
 - 1900 - 1904 - 1906 - 1908 - 1912 - 1916 - 1920 - 1924 - 1928 - 1932