1924 Paris
                                                                                          Los Angeles 1932
The Games of the IX Olympiad Amsterdam, Netherlands
1928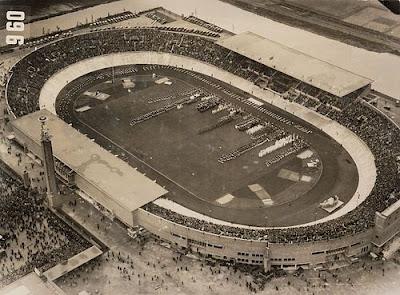 The Opening Ceremony of the 1928 Olympics
Olympic Ceremony Records
italics indicate records at the time
First Olympic Flame (officially - there is a possibility that the first symbolic Olympic Flame was lit at the Olympic Stadium in Stockholm during the games in 1912)

First Olympics Designated as the "Summer Olympic Games"

First Parade of Nations Led by Greece and Concluded by the Host Nation

First Large Open-air Play Performed at the Olympic Games

Most Nations Participating (46) - previous Paris 1924 (44)
Opening Ceremony
Olympisch Stadion (31,600)
July 28, 1928
Video
Official Report
(many pictures from the Opening Ceremony)
Opening Ceremony Highlights
Following the traditions originating in the 1920 Olympics, the 1928 Amsterdam Olympics elaborated on them with extensive musical settings with a very large chorus in particular.  The success of these ceremonies, in front of only the second true sold-out ceremony (1896 being the only other), the Amsterdam ceremonies were a massive success and were seen around the world in some of the first video newsreels in theaters.  Amsterdam took a great step forward from the less ambitious ceremonies of Paris 1924.  Amsterdam would be the bridge to a new era of grand ceremonies with Los Angeles 1932 and Berlin 1936.
The Prince Consort of the Netherlands arrives and is greeted by a 1,200 person choir singing "Wilhelmus van Nassauw" (Dutch National Anthem) by Marnix van St. Aldegonde (old arrangement) accompanied by the Royal Military Band and the Band of the Royal Marines
The Parade of Nations
1,200 singers perform "Wilt helden nu treden" from "Gedenck Clanck" by Valerius accompanied by the aforementioned bands.
The Prince Consort of the Netherlands declares the Games open
Bugles sound a fanfare followed by the shooting of guns
Homing pigeons released; the Olympic Flag is raised while the 1,200 person choir sings "The Flag Song" (no composer given)
Olympic oath given
1,200 person choir performed "Holland's Glorie", a cantata by Richard Hol
The First Olympic Flame is lit in the cauldron on top of the Marathon Tower at the Olympic Stadium - more than a flame, plenty of black smoke billowed throughout the course of the games.  The torch was lit by an unknown employee of the Electric Utility of Amsterdam.
Amsterdam also experimented with open air plays, which would be very influential to Berlin 1936.  Information is provided in the official report excerpts above.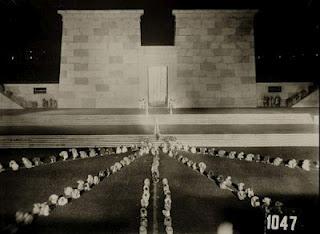 Photo from the open air play "Ichnaton" during the 1928 Olympics
Photos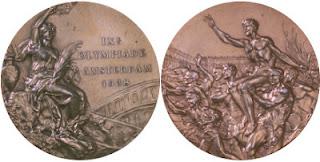 Gold Medal from the 1928 Olympic Games - this design would be the predominant official design until 2004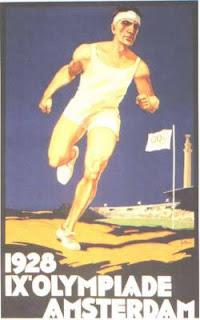 Official Poster of the 1928 Olympics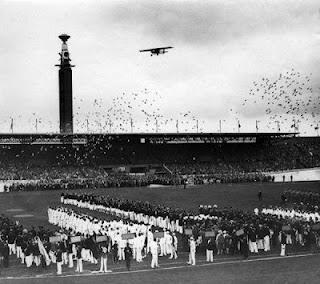 The Olympic Stadium with cauldron, plane flyover and the release of pigeons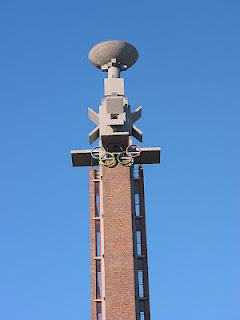 The Amsterdam Olympic Cauldron
OLYMPIC CEREMONY DATABASE 1896 - 1900 - 1904 - 1906 - 1908 - 1912 - 1916 - 1920 - 1924 - 1928