The Games of the V OlympiadStockholm, Sweden
1912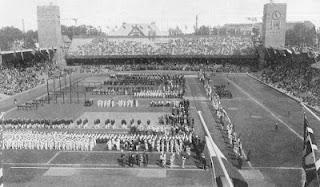 1912 Opening Ceremony in Stockholm
Olympic Ceremony Recordsitalics indicate records at the time
First to Award Medals in Artistic Events (Architecture, Literature, Music, Painting, Sculpture)

First Official Olympic Poster

First Olympics Competed by Teams from All 6 Inhabited Continents

First Use of a Christian Hymn (Our God, He is a Castle Strong to the hymn tune EIN FESTE BURG)

First Christian Prayer Read

First Mass Demonstration Performed at an Opening Ceremony (mass Gymnastics display)

First Dancing Display in the Opening Ceremony

First Mass Artistic Demonstration Performed at an Olympic Games (The Great Choral Festival)

POSSIBLY THE FIRST OLYMPIC FLAME - The two towers of the stadium were fit with oil-burning beacons used previous to the 1912 games and later during the 1956 Equestrian Games.  It is unknown but VERY LIKELY that this was the first Olympic Flame in history as the extended official report (not included) details the specifics of the beacons, that they would burn during the "greatest festivals" held at the stadium, and the IOC President first mentions the "Olympic Flame" in his speech at the Closing Ceremony - Officially, the first Olympic Flame was lit in 1928 in Amsterdam, and the first Olympic Torch Relay was in 1936 in Berlin.
Most Nations Participating (28) - previous Paris 1900 (24)
Most Athletes Participating (2,406) - previous London 1908 (2,008)
Opening Ceremony
Stockholm Olympic Stadium (33,000)
July 6, 1912
(at the time of its posting, tomorrow marks the 100th anniversary of these Olympic Games)
VideoOfficial Report
(many photos of the Opening Ceremony including every nation entering the stadium - click the black arrow in the upper right corner to see large pictures - ALSO, the entire score reduction of the Olympic Games Triumphal March is included!)
Opening Ceremony Highlights
In 1912, the Stockholm games certainly held the greatest Opening Ceremony yet.  The official report states that "every last inch" of the stadium was filled with spectators, but it obviously wasn't, given the many photos of the event.  This small stadium held one of the smallest Opening Ceremony crowds, but certainly the grandest ceremony.  Here is the brief chronology of events:
Royal procession by automobile (still rare at this time) to the Olympic Stadium
Parade of Nations
Hymn performed unaccompanied by everyone in the stadium Our God, He is a Castle Strong (to the hymn tune EIN FESTE BURG)
Prayers in Swedish and English performed
Speech by the Crown Prince introducing the King Gustav V of Sweden who declares the games open
Fanfare performed from the tops of the stadium's two towers from trumpeters dressed in medieval attire - as in 1908, three cheers were given to the King of Sweden
Swedish Choral Association performs the National Anthem of Sweden
Athletes paraded away to "The Olympic Games Triumphal March" by H. Alexandersson (the entire reduced score can be seen in the official report above)
Gymnastics demonstration performed by the Swedish national team
Dancing demonstration performed by the Russian national team
12 bands performed in an evening concert
Several mass artistic displays were performed as well including the following (more information and pictures can be found in the official report above)
1,200 Boy Scouts displayed mass gymnastics, 400 person contest of Tug of War (the most popular official Olympic sport at this time), Scout Band performance, mass display of First-Aid techniques, and mass display of camping skills in the Olympic Stadium
The Great Choral Festival was held as part of the 1912 Olympics - a temporary stadium seating 8,000 was erected for only this event!  The greatest event of the festival was held at the Olympic Stadium - 27,000 attended; the concert had over 6,000 singers entering in a large parade. Large platforms were brought in by horse, and the concert was the most exciting cultural event of the games showcasing patriotic songs.  The King and Queen attended, and the concert drew many encores.
Photos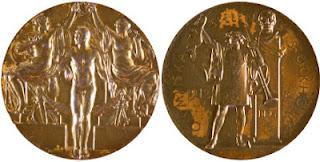 Gold Medal at the 1912 Olympics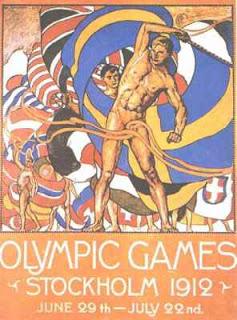 First Official Olympic Poster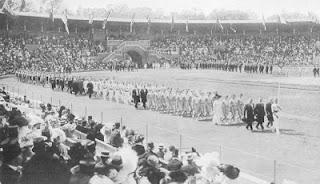 Finland marching in the Parade of Nations in the 1912 Opening Ceremony