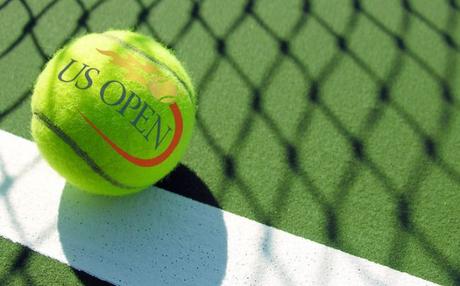 The U.S. Open is the fourth and final grand slam tennis event of the year, and for this two-week event, Flushing Meadows transforms into the tennis capital of the world. Tennis fans and celebs alike bring the party to the National Tennis Center, while local food trucks serve up delicious nom noms, and live musicians perform on the grounds. It is truly THE place to be!
This being said, the US Open can be pretty intimidating, so here are some important things you should know that will make your experience much more enjoyable:
When is the 2016 U.S. Open?
This year, the U.S. Open runs from August 29 through September 11, in Flushing Meadows-Corona Park in Queens.
How do I get tickets for this year's U.S. Open?
While Ticketmaster is the best option, you can also get individual tickets by going to the official U.S. Open site, calling 800-OPEN-TIX or by visiting the box office at the USTA Billie Jean King National Tennis Center in Flushing Meadows.
How much are U.S. Open tickets?
There are options fitting every budget, ranging from single match tickets starting at $68 for the cheap seats to $545 for seats closer to the action, to a full pass starting at $2,125 that will allow you to see all the games and gain you access to some pretty sweet perks, like a personal concierge.
Should I take my chances on the queue for day tickets?
Unless you're the gambling type, I wouldn't do it. Although a (very) few tickets will be released the day of the games, it's best to get your tickets in advance online.
What happens if it rains?
The general rule of thumb is that you'll be able to exchange your tickets for credit or a full refund, but you may be ineligible if more than 90 minutes of a game has been played. You may also be able to exchange your tickets for next year's tournament. Check the U.S. Open site for full details.
How do I get to Flushing Meadows?
There are several ways to get to the US Open grounds. Take the subway, take the LIRR, but whatever you do, DON'T take your car. Driving is a pain in the butt, parking is expensive and far from the Open, and the crazy traffic will kill your fun-loving mood. Taking the bus is something else I'd pass up because even though you aren't actually driving, you still have to sit in traffic - and who knows who you'll have to sit next to!
The #7 subway is cheap ($2) and stops a short walking distance from the US Open. So does the LIRR (Long Island Railroad), and though it's a little more expensive, the advantages of the LIRR over the subway are the set schedule, comfier seats, and faster trip from Manhattan's Penn Station.
Are there places to eat? Can I bring my own food?
You can bring in small quantities of snacks and food for infants and those with special dietary needs, and only in one bag (no larger than 12″W x 12″H x 16″L) per person, but you must go through insanely long security lines to have it checked, which can take well over an hour. Those without bags/purses can go through speed lines, which I highly recommend.
Along with the best tennis and entertainment in the world, the US Open also offers a fantastic selection of dining experiences. Whether you are in the mood for a light snack, lunch, dinner, meeting friends for cocktails or satisfying a sweet tooth, its restaurants will satisfy even the most finicky eaters.
There are food options for those on a budget as well. Rather than pay $5.25 for a hot dog, or $16.50 for burger, fries, and drink, simply get your hand stamped, and grab lunch off a food cart in Flushing Meadows Park for half the price. There are numerous food carts immediately outside the East Gate, or near the Unisphere outside the South Gate. You can also walk further into the park toward the soccer fields, and you'll find a couple Ecuadorian and Peruvian snack carts for even less money.
You should also keep your alcohol intake at a respectable level. Being a drunken mess at a New York Jets game is perfectly acceptable; you'll blend right in. However, being a drunken mess at the U.S. Open is not, so you'll stand out like a sore thumb. Not only that, but thanks to the magic of smartphones and social media, you could very well end up an internet meme for the rest of your life.
What should I wear? Is there a dress code?
The players are the ones with a dress code, but that doesn't mean spectators are entirely off the hook. While it isn't expressly forbidden to show up in a torn Metallica shirt, it certainly isn't the best idea if you're looking to fit in. Think dress-casual: short-sleeve shirts and nice pants/shorts for guys, and casual wear for women. Would you wear it to your mother's house? If not, then don't wear it to the U.S. Open. Be sure to accessorize with sunglasses and/or a hat/visor, and use plenty of sunscreen, because there's not a lick of shade at Flushing Meadows.
August Averages - High 83°F (28°C) - Low 69°F (21°C)
September Averages - High 76°F (24°C) - Low 61°F (16°C)
What's the proper etiquette when attending the US Open?
Just like league tennis, there are rules of etiquette to which spectators must adhere.
Stay seated AND silent while the ball is in play. Be patient and respectful of the player's need for total concentration, and when the point is over, THEN you can cheer, scream, cry... do whatever you want, but try to keep your responses encouraging and upbeat. No one enjoys an unruly heckler at a tennis match.
If a rogue ball flies into the stands and you catch it, DO NOT keep it - throw it back. The players only have 6 balls to smack the crap out of play with at a time, so each and every one is necessary.
Silence your phone. Whether you turn it off, keep it on vibrate, or toss it into a nearby stream, DON'T let your phone ring during a match. Without much surrounding noise, a ringing phone can clearly be heard throughout the stadium. The players need to stay fully focused, so save the phone calls for later.

Stay seated until a change over. Spectators walking about in the stands is not only distracting to the players, but to the other spectators as well. So unless it's an absolute emergency, please stay in your seat until the next change over, and then exit the stands as quickly as possible. Likewise, when you are allowed back in, make your way back to your seat as quickly as possible.
When taking pictures at a night match, please refrain from using your flash, as it is distracting to the players.