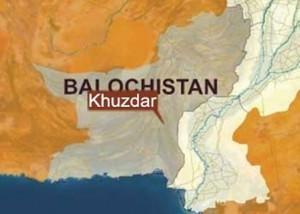 18 killed in fuel station attack in Khuzdar
At least eighteen people were killed several others were wounded in Balochistan town of Khuzdar on Friday when unknown gunmen opened fire at a petrol pump, sparking a whopping blaze.
Seven women and four children, who had been sitting in a passenger van standing at fuel station, were among the dead.
"At least 18 people have been killed in the fire. The dead included seven women and four children sitting in the passenger van," A senior local official Abdul Mansoor Kakar told AFP.
According to sources, eight undisclosed armed men driving a car opened fire at the fuel station when the van, which was moving from Khuzdar to Qambar area, stopped at the station for refueling.
Some of the fired bullets struck the petrol drums which triggered a fire, overwhelming the petrol pump, the van, three motorcycles and five shops. The attackers fled right away in an unidentified location.
As a result of inferno eight people were died on the spot while ten others succumbed to their wounds on the way and in the hospital. Some injured are still said to be in critical condition and causality toll is feared to climb.
The police and fire fighters later extinguished the fire.
No group has claimed the responsibility for the attack so far but banned organization a separatist militant group – Balochistan Liberation Army – is constantly blamed for unrest in the southwestern province.
Meanwhile Chief Minister Nawab Aslam Raisani, strongly condemning the attack, has summoned a report of the incident and ordered to provide the best possible treatment to the injured.