Bathroom vanities with dovetail drawers are sought after because of their strength and resilience. Dowels have the tendency to come loose after opening and closing drawers many times. This requires constant retightening of bolds and adjusting the alignment of the drawers to make sure that everything is fitting. Nobody wants a vanity that's going to fall apart.
Those who are looking for quality vanities that will last for decades know that the type of joint used on drawers is very important. It's just as important as the material being used to make the cabinets. Here is a list of 18 of my favorite bathroom vanities made with dovetail drawers.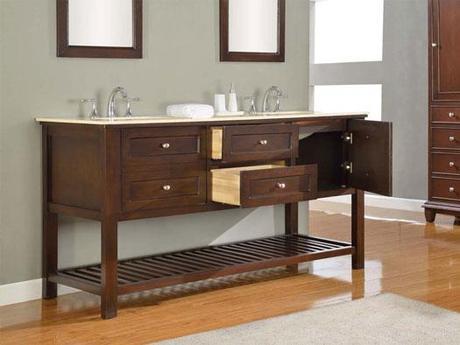 The Waterbury Vanity.  Click on images to learn more about each product.
What are Dovetail Drawers
Dovetail drawers are built using dovetail joints, a special type of joint in cabinetry that is known for its resistance to being pulled apart (tensile strength). A dovetail joint uses a series of pins cut in a way that extends from the end of one board and interlocks with a series of "tails" cut into the end of the other board. These pins are shaped into the form of a trapezoid. Light glue is used as an added precaution but after that, dovetail joints do not need any screws, bolts, or brackets.
Dovetail drawers are much, much stronger than dowels seen in low-grade furniture. This is why some vanities look the same but cost much more. They are made of high quality materials like solid wood and rubber wood.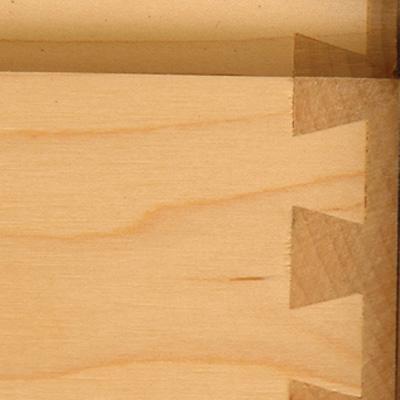 A close up shot of dovetail joints. Each pin interlocks with the other board, making a tight fit that stay put for decades.
Sagehill Designs makes their vanities with dovetail drawers. They've created this excellent slideshow that demonstrates the care and attention that they put into the construction of their cabinets.
18 Vanities with Dovetail Drawers
1. Java Single Bath Vanity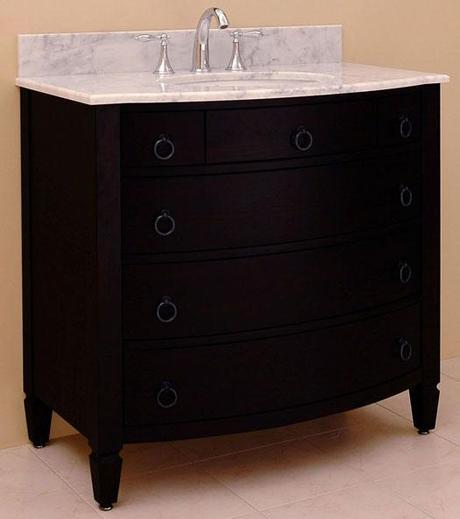 The 36″ Java Single Cabinet made is crafted using Dovetail Drawers.
2. Bridgeport Double Sink Vanity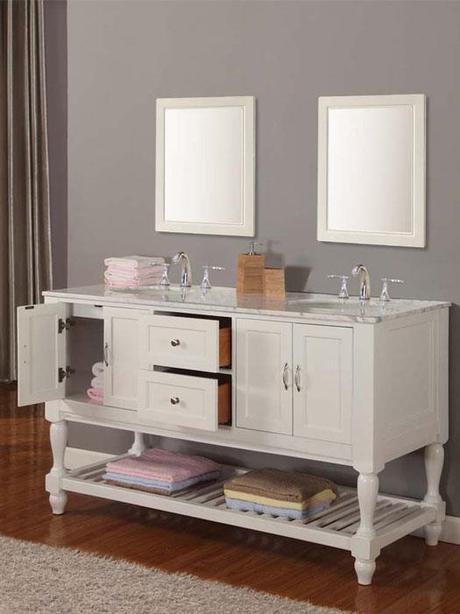 The Bridgeport Vanity comes with a gorgeous carrera marble top and hand-crafter dovetail drawers.
3. Blakely Manor Single Vanity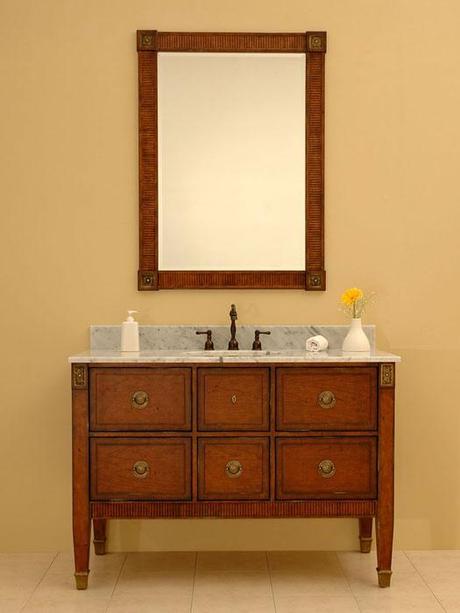 The Blakely Manor Bathroom Cabinet has an eclectic style that can be used to compliment many different themes.
4. Continental Double Sink Vanity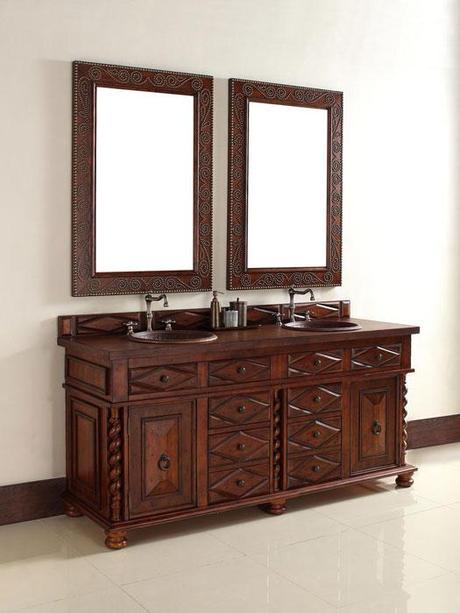 The Continental Vanity is also available as a single sink vanity. Both versions feature dovetail drawers that match the craftsmanship of this beautifully designed vanity. The details are simply amazing.
5. Union Square Vanity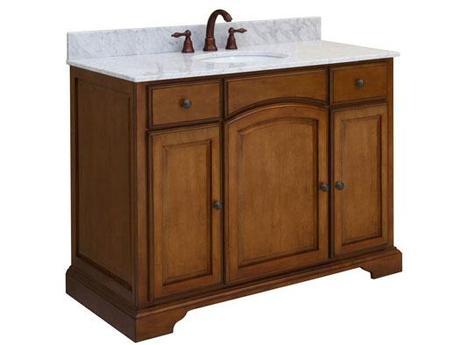 The Union Square Vanity is made with Solid Wood Drawers, something that is not very common in the industry. Many solid wood vanities have solid wood frames but drawers are made of plywood or MDF.
6. New Haven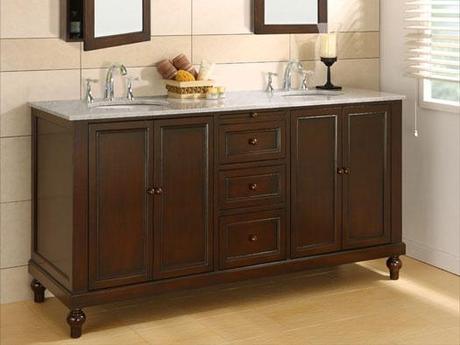 The 70″ New Haven Vanity has a natural brown finish that hides dovetail drawers behind each door.
7. Cottage Retreat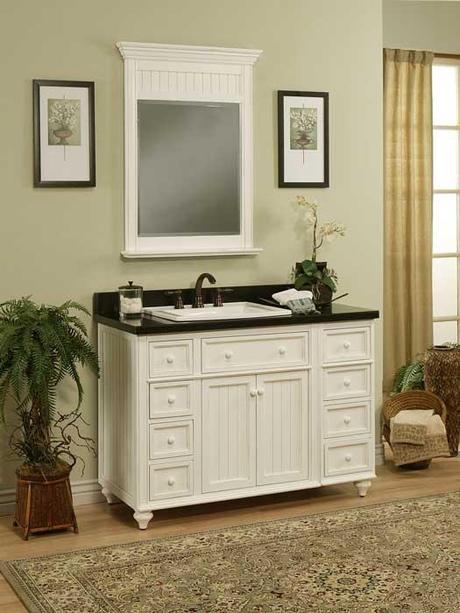 The 48 inch Cottage Retreat Cream White Vanity features beveled door panels, dovetail drawers, and tailored pilaster legs for a custom finish.
8. Fairfield Honey Double Sink Vanity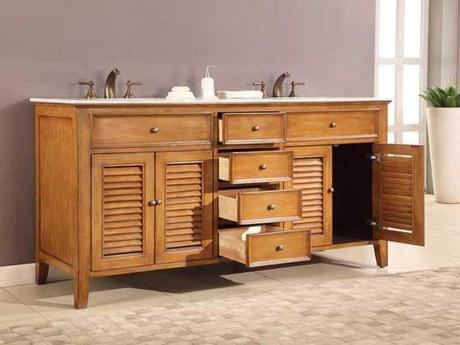 The Fairfield Vanity comes in a glowing honey finish. Most of the cabinets construction is made from birch wood and the drawers are made using dovetail joinery.
9. Worotan Single Bath Vanity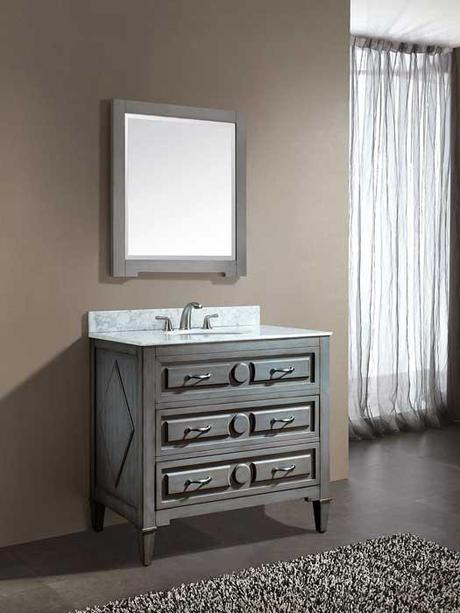 The Worotan cabinet has a unique finish that shows hints of gray and blue. This would complement a gray and blue coastal theme and could be highlighted with pure white accents and splashes of yellow.
10. American Craftsman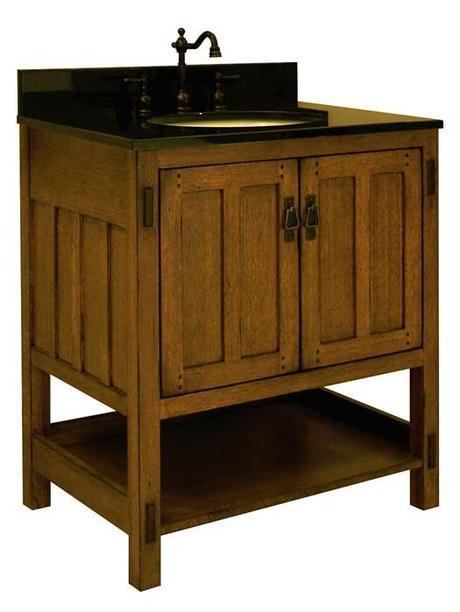 The American Craftsman Vanity has a simple yet rugged look that's perfect for a country bathroom design with a flare for the great outdoors. Of course, this cabinet is constructed with durable dovetail joints.
11. Pearl White Milford Vanity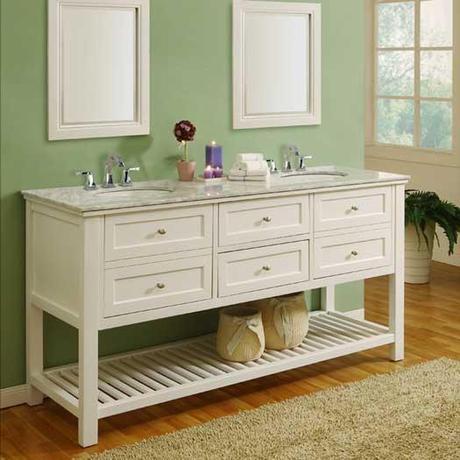 The Milford Vanity features a whimsical open space design. The entire bottom row is left open on all sides to allow a comfortable spot to seat linen towels or decorative accents as seen in this picture. This model features 6 hand-crafted dovetail drawers that will last a lifetime.
12. Richview Single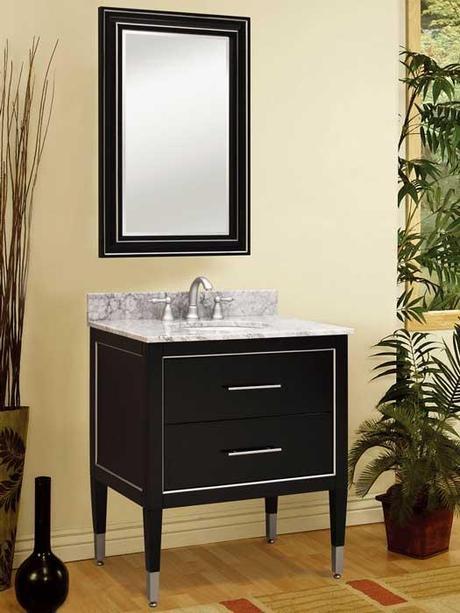 A modern espresso is outlined with silver accents to exude an aire of elegance from this petite vanity. Aptly title the Richview Vanity, this model is perfect for those seeking to design a first-class luxury bathroom.
13. Victorian Single Vanity with Dovetail Drawers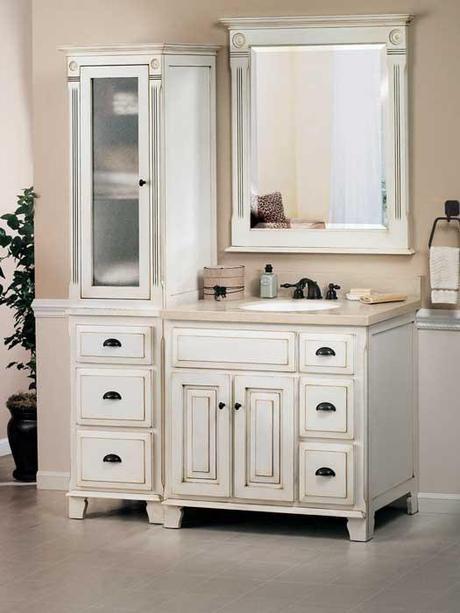 This is an aged Victorian Vanity with an off-white finish. It has cupped bronze hardware that is reminiscent of this fantasized historically period. The white glaze finish is applied by hand and dovetails joints are crafted by skilled woodworkers. Special attention is paid to the small details as the edges of cabinet bevels are stained in a brownish-gold tone to give off the appearance of a heirloom item that's been in the family for ages.
14. Causal Essence Dovetail Vanity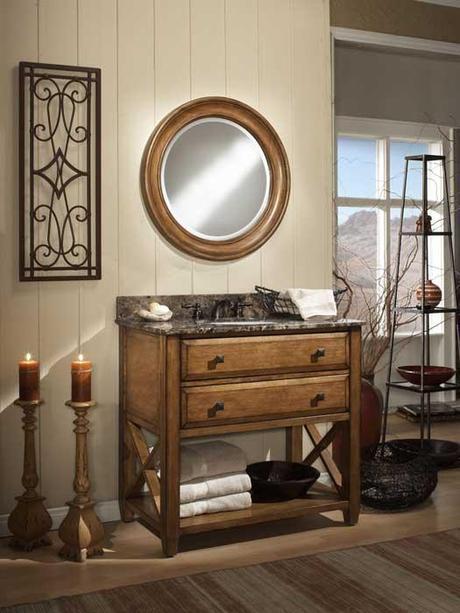 The The Casual Essence Dovetail Cabinet has a playful appearance. Two large drawers provide plenty of hidden storage space with the option to stow away items beneath in the open area. Also available with a precious oak finished mirror that will bring out your deeper beauty.
15. 70″ Luton Open Space Vanity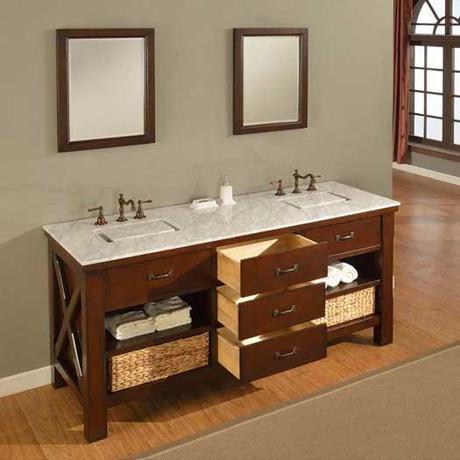 The Luton Vanity comes with a Carrera Marble Top and infinty sinks. This is where the face of the sink is covered. Water trickles down the edge of the infinity sink to create a flowing draining system. The Luton is handmade with handmade dovetail drawers.
16. Somerset Single Bath Vanity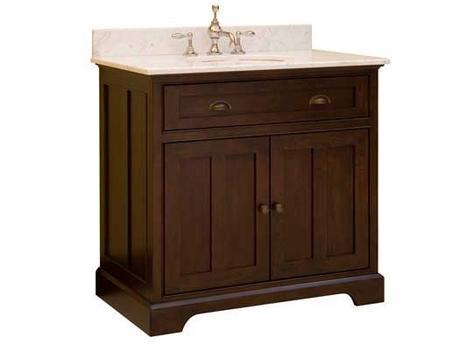 The Somerset Vanity has an antique allure with a dark brown finish and bronze drawer pulls that were signatures of the industry's past time. The door panels are beveled to add some diversity to the smooth lines that flow along the bottom of the face of the vanity.
17. Lincoln Street Floating Bath Vanity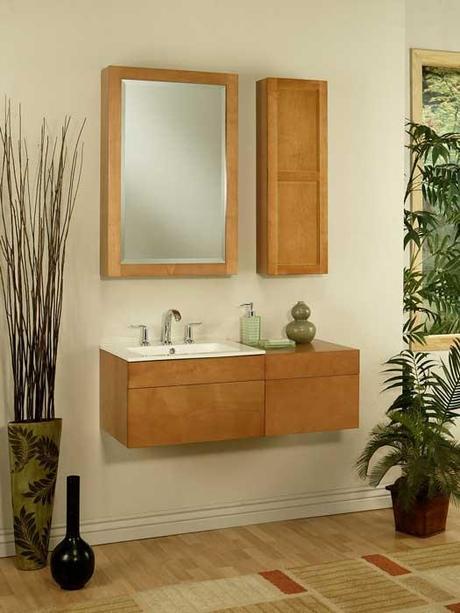 The Lincoln Street Wall Mounted Vanity. It's a petite unit that saves floor space while infusing your bathroom with an enthralling maple finish. Perfect for small bathroom with a modern style.
18. Pearl White Colchester Double Sink Vanity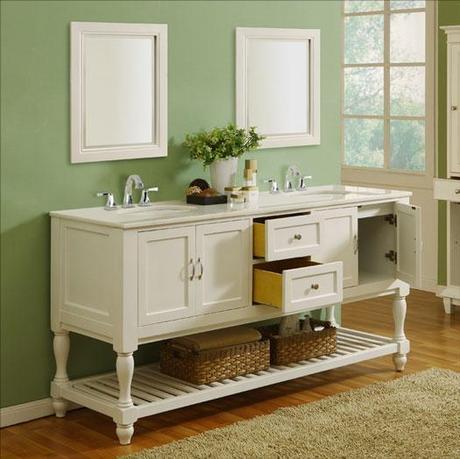 The 70″ Colchester Vanity is fashioned after transitional styling that blends modern and antique into one. You can tell that these vanities are handcrafted by the perfectly tapers legs and the fact that all drawers are made from solid wood and feature dovetail joints.
Tips to Help You Buy a Quality Vanity:
The 5 Best Bathroom Vanity Brands
What's the Best Material for a Bathroom Vanity Cabinet
The Best 48 Inch Bathroom Vanities for Mid-Sized Layouts
Comfort Height Bathroom Vanities: A Shift to the New Standard
About the Author
Cheryl Khan is a designer and writer at Tradewinds Imports.com, an online specialty site dedicated to retailing fine bathroom furnishings. She has extensive knowledge about all the finer details that go into planning the perfect bath renovation project and is an expert on all things bathroom! Send her your bathroom Q's on twitter @SuperInteriors!