Don't we all just love those "buried treasure" type of stories. You know the ones about some guy who buys a painting at a yard sale and it ends up being worth a million dollars? Or the couple in who finds $50,000 tucked in the walls of their newly renovated home? We love these stories, perhaps because we all hold out hope that someday, yes someday… it may happen to us.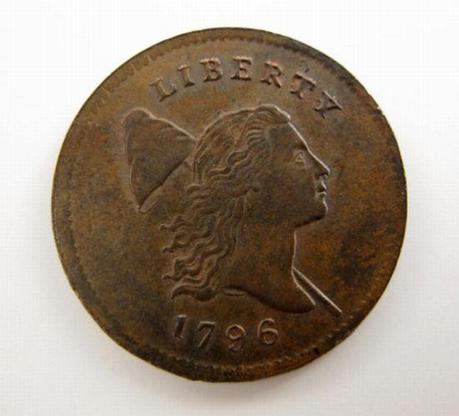 Well there's another story to add to the list. It is a story of a small coin.
The coin was found in England, in a cardboard cabinet that was made of match boxes. The boxes were thought to be junk, but in them was a small copper coin that apparently had been hidden by its previous owner over 50 years ago. The coin was made of copper and appeared to be in very good condition. The date 1796 was emblazoned on it.
The coin apparently belonged to Mark Hillary who collected coins as a boy. Unfortunately, Hillary died in 1963 the result of a climbing accident, at the young age of 20. It was his Hillary's brother who discovered the coin and brought it to an auction house in Southwestern England. It turned out to be an American half-cent, minted in Philadelphia, over 200 years ago. Many of these early American coins were brought back to England as there wasn't much of a market for them in the early days of the colonies.
Since it was minted in a year when the Philadelphia mint began producing five and ten dollar gold coins, the tiny half-cent never received much attention.
According to the auctioneer, less than 1400 of these coins were minted originally, with only perhaps a few dozen surviving. Less than a dozen are thought to be in such good condition.
Well, here it is at auction, far away from home, found in some throw away boxes, discovered by chance and now on the auction floor.
Final sale price: $358,000.
The coin was bought by a Florida based coin seller.
Have you ever found something that turned out to be exceptionally valuable? Tell us about it!
Raymond Z for Raymond Lee Jewelers, South Florida's premiere source for buying and selling luxury watches and designer jewelry.