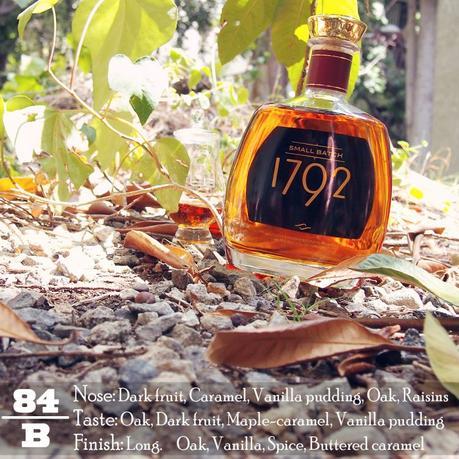 1792 Small Batch Bourbon is the modern / recent replacement for the Ridgemont Reserve we looked at yesterday. Like the 1792 RR, the 1792 Small Batch Bourbon is made in Bardstown by the Barton 1792 distillery and is made using the same mashbill as the Very Old Barton brand. Of the VOB releases I've only tasted the current Very Old Barton 6 and an older release of the Very Old Barton 6 Years bonded.
In the past, the main distinction between VOB and 1792 releases like this 1792 Small Batch was that everything bottled for the 1792 used to come exclusively from the most famous of their 29 warehouses; Warehouse Z. Their updated site makes no mention of Warehouse Z and instead says that the 1792 Small Batch is made from a "high rye" recipe and is a "marriage of select barrels carefully chosen by our Master Distiller." Take from that change what you will.
1792 Small Batch Bourbon Info
Region: Kentucky, USA
Distiller: Barton 1792 Distillery
Mashbill: 75% Corn, 15% Rye, and 10% Barley
Cask: New-Charred Oak
Age: NAS
ABV: 46.85%
Price: $27
1792 Small Batch Bourbon Review
EYE
Auburn
NOSE
Can an aroma be smooth? Because thats how this one comes across. Dark fruit, caramel, vanilla pudding and oak with light notes of raisins, biscuits and baking spices. This is a different, better, experience compared to the Ridegemont Reserve.
PALATE
Oak, dark fruit, maple-caramel hybrid, vanilla pudding, pine-like herbal spice, toasted corn and a light biscuity character. It's a solid flavor and works well with the aroma.
FINISH
Long slow fade of oak, vanilla, spice and something that reminds me of mixing the caramel and the buttered popcorn in those 3-corn tins that show up around the holidays.
BALANCE, BODY & FEEL
Decent balance, medium body and a warm slick feel.
OVERALL
1792 Small Batch Bourbon is a bit fruitier than a "standard" bourbon and I'm surprised there isn't more spice for being a "high-rye" bourbon. Regardless it's still quite nice and represents the full array of "standard" bourbon notes like oak, dark fruit, caramel, vanilla and spice. In a nut-shell it's a fairly standard bourbon that's a bit heavy on the sweet notes but still manages a decent balance.
SCORE: 84/100 (B)