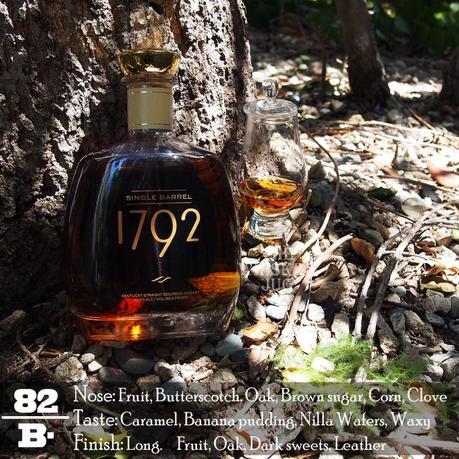 The liquid in this 1792 Single Barrel Bourbon all comes from a single barrel at the Barton 1792 Distillery. Listed as a "Limited Edition" on their website this 1792 release seems to have also eschewed the exclusive use of the famous Warehouse Z as it states that "to create this unique bourbon, the finest barrels are selected and tasted from the best aging warehouses. Only those barrels deemed "exceptional" are then bottled individually, one by one. This preserves the distinct character of each barrel". Emphasis mine.
Being a single barrel release your experience with the 1792 Single Barrel Bourbon might be a bit different from mine unless you get a bottle from the same barrel as me. The problem is that there's no way of knowing which barrel that is. When you pick up a Four Roses Single Barrel it's easy to tell if you and I are drinking from the same barrel because the warehouse and barrel number are on the label. With the 1792 Single Barrel there is no such identifier and I think that's a HUGE failing on Barton's end.
1792 Single Barrel Bourbon Info
Region: Kentucky, USA
Distiller: Barton 1792 Distillery
Mashbill: 75% Corn, 15% Rye, and 10% Barley
Cask: New-Charred Oak
Age: NAS
ABV: 49.3%
Price: $37
1792 Single Barrel Bourbon Review
EYE
Chestnut
NOSE
Fruity AF! Apples, cherries, raspberries, bananas and apricots roll out first followed by notes of butterscotch, oak, brown sugar and fresh corn. A bit of clove and rosemary-like spice try to help balance it out but they're weakand can't fully balance it.
PALATE
Dancing on the border of cloying, it's densely sweet with notes of caramel, banana pudding, Nilla Wafers, waxy cherry licorice, strawberry soda, cocoa, oak and toffee. Some light notes of cinnamon and leather try to help the oak balance it out, but they can't fully right this sweets laden ship.
FINISH
Long and fruity with chunks of oak, dark sweets and leather showing up along the way.
BALANCE, BODY & FEEL
Unbalanced and overly sweet with a medium body and an average nondescript feel.
OVERALL
The 1792 Single Barrel Bourbon is a weird whiskey. It's so fruity, but I kind of like how it works in its final execution. At the outset the fruity sweetness is a bit distracting, but it evolves a bit as it opens and backs away from the cloying cliff it threatened to dive over at the outset. It could possibly evolve more with time and end up being less of a one-sided bourbon than it currently is, but it hasn't changed much in the 3 weeks its been open.
I've also had whiskeys go the other way on me and they end up being worse than how they started and every subsequent glass was another step on a downward spiral. It'll be interesting to see which direction, if any, the 1792 Single Barrel Bourbon ends up going.
SCORE: 80/100 (B-)