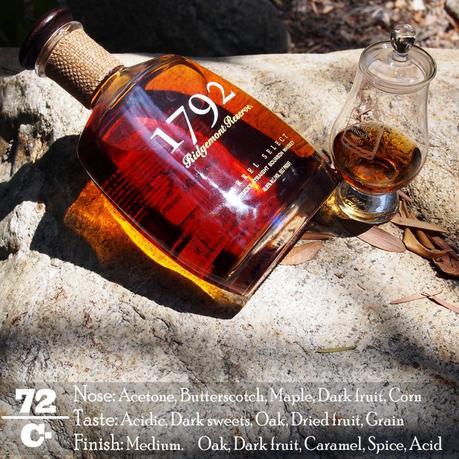 1792 Ridgemont Reserve comes to us from the Barton 1792 distillery. When they first released this bourbon a few years ago it carried an 8-year-old age statement on it, but the later releases lost that numerical statement like oh so many others and joins the ranks of no-age-statement bourbons (NAS). Which I don't have anything against so long as it's a product that matches the price.
In case you're wondering, the 1792 in the 1792 Ridgemont Reserve is in reference to the year that Kentucky became a state. This might be one of the reasons why the 1792 Ridgemont Reserve was the "official toasting bourbon" of the Kentucky Bourbon Festival for so long. Before diving into the review I should mention that the Ridgemont Reserve is no longer around and has been replaced by the 1792 Small Batch – consider this a look at recent history.
1792 Ridgemont Reserve Info
Region: Kentucky, USA
Distiller: Barton 1792 Distillery
Mashbill: 75% Corn, 15% Rye, and 10% Barley
Cask: New-Charred Oak
Age: NAS
ABV: 46.85%
Price: $24
1792 Ridgemont Reserve Review
EYE
Copper
NOSE
Sharp yet a bit watery, it hits aggressively with acetone notes of butterscotch, maple, dark fruit, toasted corn, oak and light notes of freeze dried strawberries and spice.
PALATE
The palate comes across aggressive and acidic with hitting notes of dark sweets, oak, dried dark fruit and raw grains. Lighter notes of pumpkin seeds, biscuits and spice leisurely dance through.
FINISH
Medium fade of oak, dark fruit, caramel and spice that's drenched in acid.
BALANCE, BODY & FEEL
Off balanced, light body and a thin acidic feel. It's quite hot and jarring.
OVERALL
The aroma of the 1792 Ridgemont Reserve is sharp yet watery and below average in its depth. The palate gives off this sweet and sour quality with the acid and near cloying sweetness battling it out till the brash acid washed finish. It was hot and harsh from beginning to end and after 3 glasses over the course of 2 weeks it didn't improve in the slightest. A dram I won't miss.
SCORE: 72/100 (C-)