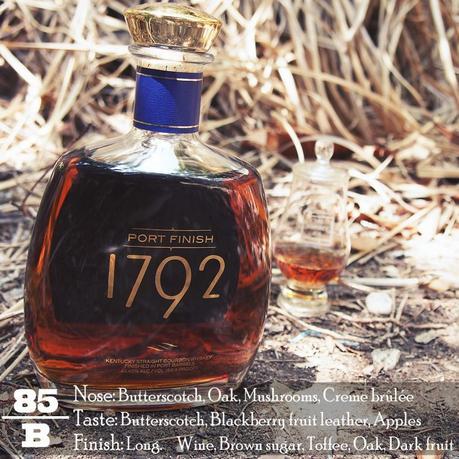 According to Barton the 1792 Port Finish Bourbon was created by first aging their traditional bourbon for "…many years in new white oak barrels before spending another two years extracting the subtle, yet sweet flavors from port wine barrels." Which leaves me with one question. How old was it before getting the 2 year port barrel treatment?
Is this a 1792 Small Batch that was aged for two additional years? Was it only two years old before hitting the port barrels making this 4 years old – half aged in each? Since all of the Barton releases are NAS it's hard to figure out exactly what the timeline for the 1792 Port Finish Bourbon is. It would be great if they would release more info surrounding it because right now it sounds purposely obfuscated and that always draws a wee bit of suspicion.
1792 Port Finish Bourbon Info
Region: Kentucky, USA
Distiller: Barton Distillery
Mashbill: 75% Corn, 15% Rye, and 10% Barley
Cask: New-Charred Oak and ex-Port Casks
Age: NAS
ABV: 44.45%
Price: $37
1792 Port Finish Bourbon Review
EYE
Ruddy copper
NOSE
A wave of butterscotch pulls along notes of oak, earthy mushrooms, creme brûlée, chocolate oranges and light notes of leather and grappa.
PALATE
Butterscotch again leads the charge with notes of blackberry fruit leather, apples, grapes, oak, toasted grains and vanilla taffy working to balance it out with some light bits of spice lending an assist.
FINISH
Long sweet winey finish layered with bits of brown sugar, toffee, oak and juicy dark fruit.
BALANCE, BODY & FEEL
Despite the sweetness it manages a precarious balance with a medium body and an oily feel.
OVERALL
On aroma alone I don't know if I'd be able to nail down the 1792 Port Finish Bourbon as a bourbon. I'm pretty sure I would after tasting it, but the 2 years spent in port casks really do a number on the nose and resembles the port more than the bourbon. This imbalance between the port notes and the bourbon notes on the nose make me a little suspicious of the age of the whiskey.
Without knowing more about the bourbon before it went into the port casks the 1792 Port Finish Bourbon could easily be a two-year-old bourbon that went into the port barrels; making it a 50/50 aging and could be why the port is so much more pronounced in the aroma. Whatever the full backstory on this is, it's a decent bourbon worth a try if you get the chance.
SCORE: 85/100 (B)