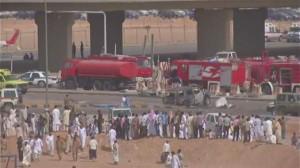 Riyadh industrial building hit by massive explosion
At least 14 people were killed and 60 others wounded in Saudi capital Riyadh on Thursday when a fuel tanker exploded near an industrial building.
According to Al-Arabiya television, the explosion took place in the eastern Riyadh when the truck driver hit a bridge on Shaikh Jaber road.
The witnesses said the building was co mpletely destroyed by the large explosion. Several vehicles and nearby houses were also damaged due to the intensity of blast.
"I was inside the building when the blast came. Then boom, the building collapsed. Furniture, chairs and cabinets blasted into the room I was in," survivor Kushnoo Akhtara, a Pakistani worker, told Reuters news agency.
"My brother is still inside under the rubble. There are lots of people in there."
The reason of explosion is not yet clear but officials said there is no suspicion of immediate terrorist links.
The injured including the driver were rushed to the nearby hospitals. Some injured are said to be in critical condition and death toll is feared to climb.
It was the second catastrophe in the conservative Muslim Kingdom in two days. On Tuesday, at least 25 people were killed and 30 others wounded due to the fire sparked by celebratory gunfire at a wedding in an eastern province.
More than 100 emergency officials are combing the site of the explosion site in a search for victims.