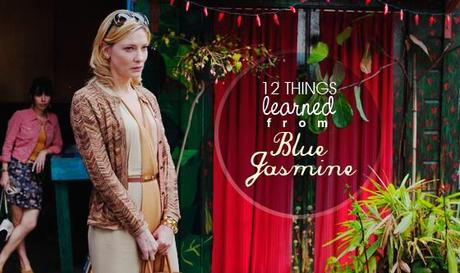 First of all, congratulations to the talented Cate Blanchett who just won Golden Globes for Best Actress in Motion Picture – Drama! Very well deserving :D  Blue Jasmine, the newest movie by Woody Allen, was one of the movies I look forward early in 2014. Luckily, I have managed to see it before too long.
Aside Cate Blanchett as the lead, it also starred Alec Baldwin, the lovely Sally Hawkins and Bobby Cannavale. The basic of the story is a socialite woman, Jasmine or Jeanette (Cate Blanchett) dealing with bankruptcy because of the illegal work of his wealthy husband, makes her forced to live in San Fransisco with her step sister (both adopted), Ginger (Sally Hawkins) and her kids. The class difference between both sister is one of the changes Jasmine have to deal, hard as it is for her. Jasmine also suffers nervous breakdown, which makes her talk to herself and panic attack that makes her hard to breathe.
Not much of Woody Allen movies have connected with me, but they always mesmerizing in cinematography, city scenery, jazz atmosphere and interesting talks. Sometimes too much talk and less action for my taste. He always have a talkative lead, mostly men and even he himself cast as the lead. And this time it's a woman, who suffer from nervous breakdown. A quite beautiful but arrogant woman, Jasmine. Blanchett was extraordinary and should have a recognition for his role (and she did just won Golden Globes). She can be very charismatic and together, intimidating rich woman, and the next thing she falls apart and defensive. The best thing about her performance is she showed vulnerability beneath the powerful image she have, without being too exhausting to see, with the help of satire comedy Allen choose to see her. So Blue Jasmine isn't one of the most inspiring film, but it choose to be one of the movies where the lead is the joke and trapped with her own choices.
I was impressed with this satire comedy, it feels like a perfect comedy drama one should watch. Here's 10 things I learned from it (two points below reveal spoilers) :
1. Finish your school before you got married. As Jasmine tells to the old lady who sits next to him on a plane to San Fransisco, she quit her school a year before graduated because she got married to her husband. Though she said early in the film she couldn't be an anthropologist if she did graduate, later she regrets she never finished it. Even when your husband is wealthy, you should have a back-up plan for your career, just in case.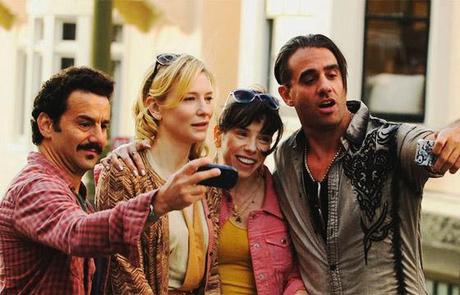 2. People will come and go, but family is family.
Jasmine and her only sister, Ginger seem to live in two different worlds. Jasmine lives in a higher society while Ginger is in the opposite. Even without blood connection, they are still sisters. Unfortunately, when Ginger and her husband visits New York, it burdens Jasmine and she tried to ignore spend more time with them, especially in public. In the end, Jasmine have no one to turn to but her sister, which accepts her pretty well and loving.
3. What goes around comes around. Again, after Jasmine think poorly of Ginger and her life choices, now she doesn't have much choice but to depend on her. After Hal (Alec Baldwin) used Angie's money until making him out of it, Jasmine must faced the consequences. Treat people well, you'll be thankful someday that you did it. Unless you live in a Kingdom, no one's higher than another. Either way, your previous actions will come bite you in present/future. Thinking highly of yourself won't get you anywhere but making fool of yourself.
4. Nothing is ever that perfect. You have a wealthy romantic husband who gives you your dream house and beautiful clothes, a respectable image and social class. But, still it's not a fairy tale. There's still work and problems. Jasmine seem to be trapped with the fantasy she have in her mind about her perfect life.
5. The higher the position, the stronger the wind. While many people want to be wealthy and rich, the reality is many people got trapped by the world once they are in it. For gorgeous looking and rich man like Hal, it's the attractive women around him. It's not very obvious if there's something missing with his relationship with Jasmine, or he's just the man who needs a lot of women, though.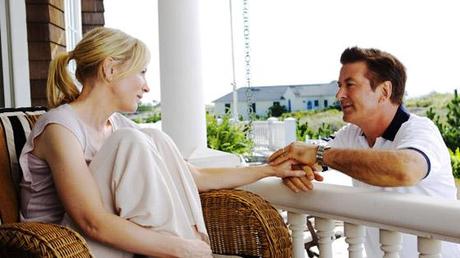 6. Don't settle. It's one of the big tip from Jasmine to Ginger that I actually agree. Jasmine thinks Ginger's men choices are too low for her and she needs to find better men. Though there won't ever be a perfect man for someone by the angle of a loving sister, sometimes you need to seek one that simply deserves you and treat you well.
7. Image is a false happiness. Wearing designer clothes, get approval from higher society and be a respectable person are some things that could get us have better image. Unfortunately, if we focus too much to it, we can be trapped by it. So, seek true ones by be true to your roots and the right ones will come along.
8. One have different life paths than the other. While you have your goals and priorities set for yourself and it fits, you can't force someone else to do the same because people have different priorities and goals. Like Ginger who are happy enough bag groceries and have two sons, while Jasmine have bigger things in mind but tortured by her own standard.
9. When life knocks you down, it's the opportunity to re-invent yourself. Instead of doing regular work, Jasmine decides to follow her passion. She chooses to learn interior design online. Though it's a challenge, it's a great way to ditch your old self and find your new one.
(spoilers ahead)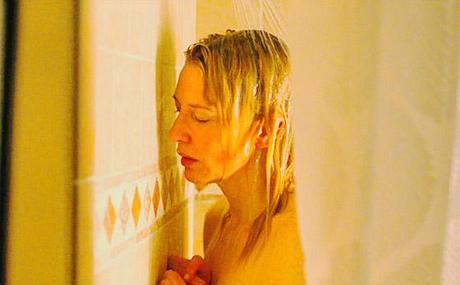 10. Think twice, thrice or more when you have kids. Whatever reason you have for doing spontaneous decisions, remember how it will effect your child. Especially when you're mad with your spouse, your anger towards him can destroy your child too. Jasmine only son, Danny, ended up being mad at her and decide to cut her off his life.

11. When your own best friend never tell you one big secret that everybody knows about, you have picked the wrong friends. Apparently everyone seem to know Hal's affair except Jasmine herself. Her best friend even didn't tell her the big secret. It seems that Jasmine have picked some wrong friends to be close to her, because best friends wouldn't want her friend to be miserable.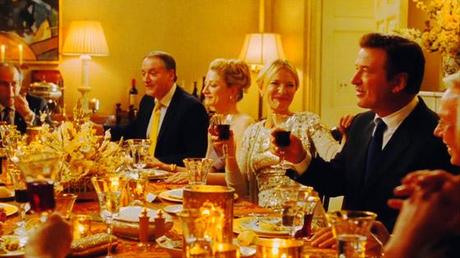 (end of spoilers)
12. Always keep an eye on your back. Jasmine admits she trusts fully whatever her husband do and therefore never try to understand his business. But as one of the ladies said to her, she should keep an eye of herself. Even when you're married or in a couple, couldn't hurt to check on things for your life sake.
Movie Score :

*****************
Readers, have you watched Blue Jasmine? Do you love or hate it? Thoughts are welcome!