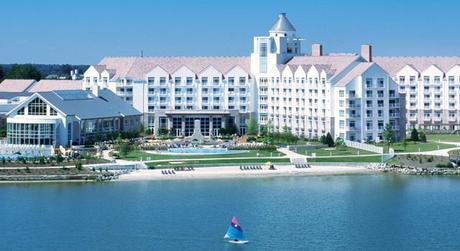 Chesapeake Bay Hyatt has a gorgeous salon and spa. Look for places close to you where you can spend the day… Photo credit: Chesapeake Bay Hyatt
Next week is our university's spring break, and I'm not going anywhere. Don't cry for me Argentina. Some of our students and our department chair will head to Ireland on a fantastic trip while others will head to New Orleans on a service trip, however, I'll be home doing my motherly duties with my children. My husband and I hope to steal away for a short vacation in May after the semester ends depending on various situations. We shall see.
In the meantime, just because you can't physically get away during break doesn't mean you can't have some good fun during that time off. It's chilly here in Maryland, and we've had a lot of snow recently, so some of my ideas relate to "wishful" spring and summer thinking.
Let me know if you have any additional ideas for all of us in the same boat. We'd love to hear from you!
Go get a facial or a massage at a spa. Treat yourself to a little pampering and indulge just a little bit in a spa service of some sort. It's amazing what an hour away can do for the psyche.
While I've never done it and some of my friends have, a spray tan will help you feel the glow without having to hurt your skin in a tanning bed.
Pick up that book you've been dying to read that you've heard so much about. It doesn't matter what genre it is—allow yourself to be taken away into the storyline.
Catch up on some good flicks. The Oscars just aired on Monday, and so we now know the nominees and winners. Head to the theater or hunker down with some friends for a movie night.
Go have lunch with someone you miss. Maybe you don't see her or him regularly…now is the time to catch up and enjoy something savory.
Even if it's cold outside, bundle up and head to your favorite city that's within driving distance. Stroll the shops, grab a coffee or hot chocolate, and sit and peruse a magazine.

Head to your local nursery and get inspired by some of the spring plantings, shrubbery, and decorations for your home. Get some ideas for flowers for the spring.
Sign up to do that volunteer work you've been longing to do. Take time to visit your kids' classroom, help with an event, visit a senior center, or whatever it is you'd like to do.
Organize an outing with your friends—go bowling, hit the driving range, grab some wine and paint some pottery, head to a book talk or poetry reading, or just get together for dinner and drinks. There are lots of things to do, you just have to check your area's calendar for some things that are scheduled.
See a show at a theatre, whether it's your local community theater or a larger one in your city. Broadway Across America comes to the Hippodrome in Baltimore, where we are blessed with many great shows. See what's coming to your area.

The Hippodrome in Baltimore.

Do a "Kids Day Out." Ask your kids what they'd like to do for the day (within reason), and do it. Don't make excuses.
Whatever you do, try not to make it a time to only clean and organize the house. I did that last spring break because we were preparing to move, and when I returned to work, I was tired. Take some time for yourself and do something fun. You won't regret it.