Saree is one of the major traditional outfit in Indian culture and it has long been persevered with. We have all seen it, whether it's our grandmother or our mother or even the young girls, all donning the saree as part of their wardrobe. Saree is often times the unspoken formal attire for women in parties, marriage and even on programs.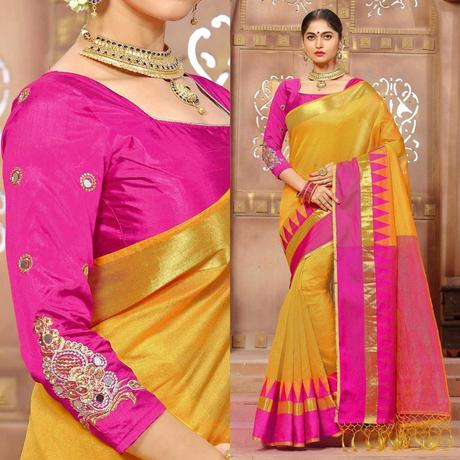 Sarees themselves come in different types and variety. There's silk sarees, chiffon sarees, cotton sarees net sarees and much more available in the market. Among these itself, are quite a lot of varieties running down the line.
We here are looking into the types of silk sarees as part of our series today. Read along as we present to you the 11 different types of gorgeous silk sarees befitting for every bride.
1) Raw Silk Saree
This saree gets its name from the silk type that it uses. This one uses the freshest form of silk and comes with a fairly plain type of design. But that's what makes it more palpable. It's uniqueness and different proposition. This saree is a bit hard than other silk types because it is made from its raw and purest form.
Raw silk saree generally comes with a bland design and doesn't even have a lot of border work ongoing.  But it does have a contrasting border to go with.
2) Kanjeevaram Silk Saree
One of the epitome of silk sarees around, this one is a class apart in itself. Having originated in Tamil Nadu, Kancheepuram to be exact, it's a reason how it gets its name, this saree is on the top list for every girl.
Kanjeevaram sarees come in vivid colors and have quite floral designs in them. It also comes with check designs and has contrasting borders to match the look. The sarees are well worn by many celebrities and you can find Vidya Balan and Rekha wearing these often.
3) Banarasi Silk Saree
Another popular name in India, Banarasi silk saree is originated and made in Varanasi, India. this one comes along with an intricate looking design and harbors Mugal-based designs and feels. It is also quite comfortable to wear along. It comes with different designs and looks and has plenty of onlookers raving about them.
Many Bollywood celebrities often resort to these sarees and it is much popular all over the nation. You can find Sonakshi Sinha donning the Banarasi Saree quite often.
4) Mysore Silk Saree
Mysore Silk saree are often one of the best and purest forms of silk sarees available around. These come with pure silk and lasts quite an eternity. These sarees are made with silk fabric and are painted along with the use of natural based colors. These colors do not fade away with time like others.
The saree comes with minimalistic design and has a very elegant type of look. It also comes with a class apart feel that makes it one of the most needful sarees for your wardrobe.
5) Muga Silk Saree
Next one on our list is the Muga Silk saree, a quite a rare piece of silk saree available around. This saree is known for its exclusive nature and is thus priced at quite a premium price. It is priced just a bit lower than gold, such is the rarity of it.
Muga silk saree we found only in the state of Assam and has a yellowish tint to it. Actually,Muga in Assamese means yellow and thus it derives the yellow tone.
6) Paithani Silk Saree
Paithani Silk Saree is based out of Maharashtra and is one of the main staples of the Maharashtrian women and ladies. It comes with bright based colors like green, blue, peacock blue, magenta and much more, further laden with the golden based prints and more.
It also has borders that are laden with bright colors. The saree often resembles the statues of Ajanta and also of Ellora such is the nature of it.
7) Tushar Silk Saree
This saree is found all over the nation and there's always some store nearby you that will sell these sarees. Tushar Silk Saree comes with the silk that is soft to touch and has a deft feel. These sarees are made in Kolkata and are then exported all over the nation.
The color tones and designs are quite distinctive for these sarees and are found in different tones.
8) Dharmavaram Silk Saree
Coming straight from Andhra Pradesh, this saree comes with a classy appeal. This one often one of the major wedding based essential sarees that are worn in Andhra Pradesh and comes with major emphasis on the culture therein.
This saree normally comes in bright color base and has peacock and elephant designs to go with. It also comes with golden based borders and posses quite a touch to the heritage of Andhra Pradesh.
9) Patola Silk Saree
Next up is the Patola Silk Saree, one that mirrors one of the most expensive silk sarees around. These sarees are based out of the small town in Gujarat named as Patan where most of the Patola based silks are made. These sarees have quite an alluring feel to it.
It comes with geometrical based shapes and designs and has quite an authentic feel to it. It's one of those sarees that should always be on your wardrobe list.
10) Chanderi Silk Saree
Chanderi silk saree originates from the state of Madhya Pradesh where it is made along. The saree has a very distinct feature of being lightweight and comfortable to wear for. It comes with an elegant look and feels and that is the reason why many Bollywood celebrities wear these around.
11) Konrad Silk Saree
Konrad Silk Saree started out as for the temple statues and goddess statues. But these have now made its way towards homes. Konrad Silk Sarees are quite a staple in Tamil Nadu and are worn by women and ladies therein at special occasions.
India is home to many varieties of silk sarees. Out of which these 11 are one of the must-have for every bride in town. We hope you liked this one.